Hilary Duff Took Her Feud With Her 'A**hole' Neighbor Public on Instagram
"We know you've never worked a day in your life—must be nice."
---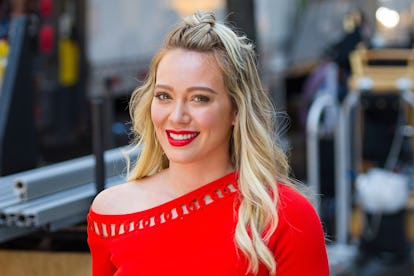 Gotham/GC Images
Neighbor horror stories: We all have them. Hilary Duff, however, isn't just letting hers go. In a true power move, Duff used her platform of nine million followers and counting to call out her "a*hole" neighbor who has been "reeking" havoc on her apartment in New York, where Duff is filming the fifth season of Younger*.
"Calling all New Yorkers with a–hole neighbors—really open to any advice you have," Duff said on her Instagram story. "My neighbor smokes cigarettes and weed all night long. My apartment reeks. Seriously, what do I do?"
Duff didn't just rant about him, though, she also called him out by name and shared his Instagram page. "Worked 15 hours yesterday and back at work again at 5:30 a.m. This is the real world Dieter the ?," she said, referencing her neighbor, Dieter Addison, before telling him to "get a vape." "Your smoking ain't delicious… We know your parents pay your rent. We know you've never worked a day in your life—must be nice. Have some respect for your neighbors who work hard to live in that building. Don't be a dick dude—and put your trash down the shoot [sic]."
Outside of his smoking and not properly discarding his trash, Duff also lamented the noise coming from Addison's apartment. "Stop breaking all your furniture when you fight with your girlfriend or boyfriend," she said. "It scares me and my [son, Luca]. Therapy is cheaper."
She has a point there. Hilary Duff doesn't consider herself to be a confrontational person, but, as a mom to 6-year-old Luca, she isn't hesitant about letting her "inner Mama Bear" out. "There is a line that gets crossed, and that's when you say something—but knowing where that line is?," she told Parents magazine. "That's the tricky thing. It's funny though, because my inner Mama Bear came out. That's not something that had happened to me before!… I just think that there's so much judgment in the world, whether it's coming from women in general or from men onto women — it's a lot. And when it comes to being a mom, I wish everyone could band together and realize that everyone has different beliefs, different styles, and different things that work for them and their family. Hopefully you can speak up when you absolutely need to, but otherwise keep your mouth shut." With this situation, it was clearly the former.