Hillary Clinton Once Again Makes Burning Republicans on Twitter Look So Easy
Never make the mistake of asking Hillary Clinton what her plan is.
---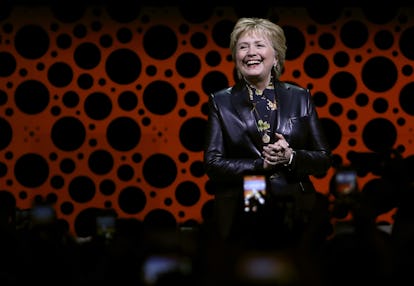 Justin Sullivan/Getty Images
Don't make the mistake of asking Hillary Clinton if she has policy plans. Oh dear lord, she had so many political plans ready to go. Just pages of pages of them. They were concrete. She could recite them and defend them at will. She had more sections of positions and promises on her campaign website than anyone else who ran in 2016. Sure, perhaps certain parts of the media covered the 2016 election in a way that put a premium on actual policy instead of sensationalistic soap opera (or professional wrestling) worthy dramatics, but, dammit, she had that policy read to go.
Perhaps the Republican party forgot that, because, today, for some reason they decided to engage in some trolling of the former Democratic party candidate by asking her if she had any ideas for healthcare reform. It's basically like they were setting her up to clap back. Of course she did. And she didn't even have to use any video from Wrestlemania in the process.
Republicans control both houses of Congress and the presidency, but so far have been unable to pass a health care reform bill and what they're currently working with now remains controversial. So, for some reason, they've unveiled a social media campaign push to blame their problems on Democrats with a video of notable Dems criticizing certain aspects of what is popularly known as "Obamacare."
They then tweeted clips of the video to those Democrats (even those who no longer actually hold elected office, and hence aren't involved in the process anyway), and asked them "Whats your plan?" because this is just the time we live in now. Never mind that Senate Republicans have been criticized for keeping much of the decision-making around their version of the healthcare plan behind closed doors. Never mind the fact that they technically don't need any Democratic votes to pass a bill.
Clinton naturally responded by tweeting out a page to her healthcare plan, and quipped, "Right here. Includes radical provisions like how not to kick 23 mil ppl off their coverage. Feel free to run w/it."
See What's Trending on W Video: