How Hiplet, a Powerful Fusion of Hip Hop and Ballet, Is Redefining the Dance World
"We've traveled all over the world and gotten over a billion views," says Hiplet's founder Homer Bryant.
---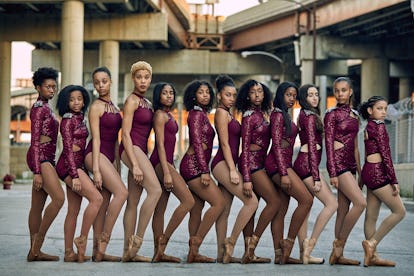 Photo by Danielle Levitt
Back in the early 1990s, Homer Bryant, who founded the Chicago Multi-Cultural Dance Center in 1981, attended a rap concert in Canada and noticed how the cadence of the music allowed the kids to easily remember the lyrics. "I thought if I put rap and ballet together, I might have a hit on my hands," he recalls. (And indeed he did, though it would take over two decades for it to be realized.)
Backed by music he'd written himself—"My name is Homer and I'm here to say that I am the guru of rap ballet. Ballet put your body in touch with your mind. And the rap beat keeps you stepping in time"—he began developing what would become Hiplet, a dance movement he eventually trademarked in 2009 that blends ballet on pointe with hip-hop. And in the two years since he first posted a video online of his students performing it, Hiplet has become an all-out cultural phenomenon.
"We've traveled all over the world and gotten over a billion views," says the St. Thomas-born Bryant, who was a former principal with the Dance Theatre of Harlem.
Much of the appeal of Hiplet is the sheer newness of seeing classically-trained ballet dancers plié and pirouette and then break out into a sassy nae-nae. But also, its social impact: In giving African-American dancers, who have often struggled to fit into the world of ballet, a space to shine, Bryant is empowering a community of kids. Among them, Zipporah Wilson, 17, who has been studying with Bryant for the last four years. "Ballet was not meant for African American girls," she says. "Balenchine wanted these long, skinny girls in pink tights and pink ballet shoes. That's not always the case for us." And as Bryant notes, little has changed. "You have Misty Copeland who's a principal at American Ballet Theatre, and there are like five or six other African-American dancers there," he says. "I have over 285 students of color in this school, and there are more girls who want to be Hiplet dancers than be Misty."
As such, Bryant's dream is to find investors and turn his basement-situated troupe, which is funded by parents, many of whom struggle to pay the tuition, into a professional Hiplet Dance Company, with male dancers. "We can pull 50 men off the street and start training them," says Bryant. "The discipline of dance is a wonderful thing." He also envisions one day Hiplet on Broadway or The Hiplet Nutcracker.
"This is a feel-good Chicago story—there's nobody killing and shooting here," says Bryant. "We just need people to start looking at us now with a serious eye."
Go Behind the Scenes with the Hiplet Dance Company
Behind the scenes of Danielle Levitt's documentary, exploring "Hiplet", a Chicago based dance pioneered by Homer Hans Bryant that fuses classical ballet training with hip-hop moves, creating a whole new genre of dance. The documentary highlights the young girls at the center of it, showcasing how the dance has shaped their lives, and allowed for an outlet of self-expression through their own evolution of ballet.

Photo by Danielle Levitt
Behind the scenes of Danielle Levitt's documentary, exploring "Hiplet", a Chicago based dance pioneered by Homer Hans Bryant that fuses classical ballet training with hip-hop moves, creating a whole new genre of dance. The documentary highlights the young girls at the center of it, showcasing how the dance has shaped their lives, and allowed for an outlet of self-expression through their own evolution of ballet.

Photo by Danielle Levitt
Behind the scenes of Danielle Levitt's documentary, exploring "Hiplet", a Chicago based dance pioneered by Homer Hans Bryant that fuses classical ballet training with hip-hop moves, creating a whole new genre of dance. The documentary highlights the young girls at the center of it, showcasing how the dance has shaped their lives, and allowed for an outlet of self-expression through their own evolution of ballet.

Photo by Danielle Levitt
Behind the scenes of Danielle Levitt's documentary, exploring "Hiplet", a Chicago based dance pioneered by Homer Hans Bryant that fuses classical ballet training with hip-hop moves, creating a whole new genre of dance. The documentary highlights the young girls at the center of it, showcasing how the dance has shaped their lives, and allowed for an outlet of self-expression through their own evolution of ballet.

Photo by Danielle Levitt
Behind the scenes of Danielle Levitt's documentary, exploring "Hiplet", a Chicago based dance pioneered by Homer Hans Bryant that fuses classical ballet training with hip-hop moves, creating a whole new genre of dance. The documentary highlights the young girls at the center of it, showcasing how the dance has shaped their lives, and allowed for an outlet of self-expression through their own evolution of ballet.

Photo by Danielle Levitt
Behind the scenes of Danielle Levitt's documentary, exploring "Hiplet", a Chicago based dance pioneered by Homer Hans Bryant that fuses classical ballet training with hip-hop moves, creating a whole new genre of dance. The documentary highlights the young girls at the center of it, showcasing how the dance has shaped their lives, and allowed for an outlet of self-expression through their own evolution of ballet.

Photo by Danielle Levitt
Behind the scenes of Danielle Levitt's documentary, exploring "Hiplet", a Chicago based dance pioneered by Homer Hans Bryant that fuses classical ballet training with hip-hop moves, creating a whole new genre of dance. The documentary highlights the young girls at the center of it, showcasing how the dance has shaped their lives, and allowed for an outlet of self-expression through their own evolution of ballet.

Photo by Danielle Levitt
Behind the scenes of Danielle Levitt's documentary, exploring "Hiplet", a Chicago based dance pioneered by Homer Hans Bryant that fuses classical ballet training with hip-hop moves, creating a whole new genre of dance. The documentary highlights the young girls at the center of it, showcasing how the dance has shaped their lives, and allowed for an outlet of self-expression through their own evolution of ballet.

Photo by Danielle Levitt
Behind the scenes of Danielle Levitt's documentary, exploring "Hiplet", a Chicago based dance pioneered by Homer Hans Bryant that fuses classical ballet training with hip-hop moves, creating a whole new genre of dance. The documentary highlights the young girls at the center of it, showcasing how the dance has shaped their lives, and allowed for an outlet of self-expression through their own evolution of ballet.

Photo by Danielle Levitt
Behind the scenes of Danielle Levitt's documentary, exploring "Hiplet", a Chicago based dance pioneered by Homer Hans Bryant that fuses classical ballet training with hip-hop moves, creating a whole new genre of dance. The documentary highlights the young girls at the center of it, showcasing how the dance has shaped their lives, and allowed for an outlet of self-expression through their own evolution of ballet.

Photo by Danielle Levitt
Behind the scenes of Danielle Levitt's documentary, exploring "Hiplet", a Chicago based dance pioneered by Homer Hans Bryant that fuses classical ballet training with hip-hop moves, creating a whole new genre of dance. The documentary highlights the young girls at the center of it, showcasing how the dance has shaped their lives, and allowed for an outlet of self-expression through their own evolution of ballet.

Photo by Danielle Levitt
Behind the scenes of Danielle Levitt's documentary, exploring "Hiplet", a Chicago based dance pioneered by Homer Hans Bryant that fuses classical ballet training with hip-hop moves, creating a whole new genre of dance. The documentary highlights the young girls at the center of it, showcasing how the dance has shaped their lives, and allowed for an outlet of self-expression through their own evolution of ballet.

Photo by Danielle Levitt
Behind the scenes of Danielle Levitt's documentary, exploring "Hiplet", a Chicago based dance pioneered by Homer Hans Bryant that fuses classical ballet training with hip-hop moves, creating a whole new genre of dance. The documentary highlights the young girls at the center of it, showcasing how the dance has shaped their lives, and allowed for an outlet of self-expression through their own evolution of ballet.

Photo by Danielle Levitt
Behind the scenes of Danielle Levitt's documentary, exploring "Hiplet", a Chicago based dance pioneered by Homer Hans Bryant that fuses classical ballet training with hip-hop moves, creating a whole new genre of dance. The documentary highlights the young girls at the center of it, showcasing how the dance has shaped their lives, and allowed for an outlet of self-expression through their own evolution of ballet.

Photo by Danielle Levitt
Behind the scenes of Danielle Levitt's documentary, exploring "Hiplet", a Chicago based dance pioneered by Homer Hans Bryant that fuses classical ballet training with hip-hop moves, creating a whole new genre of dance. The documentary highlights the young girls at the center of it, showcasing how the dance has shaped their lives, and allowed for an outlet of self-expression through their own evolution of ballet.

Photo by Danielle Levitt
Behind the scenes of Danielle Levitt's documentary, exploring "Hiplet", a Chicago based dance pioneered by Homer Hans Bryant that fuses classical ballet training with hip-hop moves, creating a whole new genre of dance. The documentary highlights the young girls at the center of it, showcasing how the dance has shaped their lives, and allowed for an outlet of self-expression through their own evolution of ballet.

Photo by Danielle Levitt
Behind the scenes of Danielle Levitt's documentary, exploring "Hiplet", a Chicago based dance pioneered by Homer Hans Bryant that fuses classical ballet training with hip-hop moves, creating a whole new genre of dance. The documentary highlights the young girls at the center of it, showcasing how the dance has shaped their lives, and allowed for an outlet of self-expression through their own evolution of ballet.

Photo by Danielle Levitt