Docs Hollywood
Armed with the latest high-tech tools, Beverly Hills dermatologists Peter Kopelson and Sheri G. Feldman are the A-listers' secret weapon.
---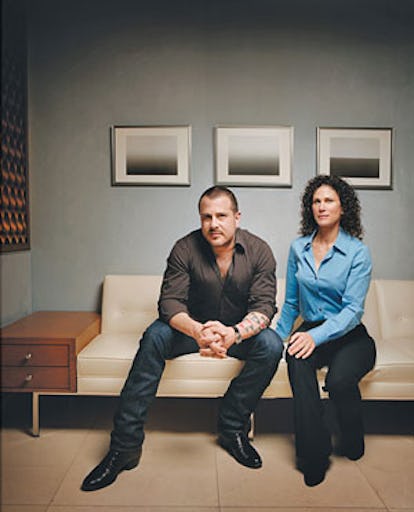 Ask dermatologist Peter Kopelson what it takes to run a successful practice in Beverly Hills replete with A-plus-list Hollywood patients, and, as is his way, he'll tell it to you straight. One must, of course, possess the skill, training and experience of a top physician, but it doesn't hurt to have the negotiating skills (and, frankly, the patience) of a smooth-talking CAA shark. "Honestly, this type of person is used to a lot of hand-holding—being told what to do and where to go," says Kopelson of the stars who frequent his office. "We're good at that. My patients feel comfortable with me in the way they feel with their agents, putting the decision in my hands. I can help them plan their filming schedules around recovery time. They have to trust me."
If anyone is qualified to comment on the subtleties of Beverly Hills medicine, it's Kopelson. The 46-year-old physician has the top-flight training (New York University medical school, chief dermatology resident at UCLA) and the latest high-tech tools that his field has to offer.
But as the son of heavy-hitting producers Arnold and Anne Kopelson (Se7en, Outbreak), he is also an insider. When he was in med school, his dad won an Oscar for Platoon. "I grew up with actors and people behind the camera," he says. "I'd say about 100 percent of my patients are linked to the entertainment business, either behind or in front of the camera. It really helps not to be fazed [by fame]. I feel comfortable talking to people about their careers."
While Kopelson isn't one to name names­ (he takes that doctor-patient confidentiality thing seriously) and, until now, has been generally press-shy, suffice it to say that the men and women he treats are at the tippity-top of the Los Angeles food chain. (Ellen Pompeo, Debi Mazar and Christian Louboutin are admitted loyalists.) And these days, Kopelson is, more than ever, in a position to eradicate every last SAG card–carrying wrinkle and age spot in town. In April he combined practices with Sheri G. Feldman, a dermatologist who had been an associate of Arnold W. Klein's for the past 17 years. The 63-year-old Klein, of course, has been "the guy" to see in L.A. about injectables for the past couple of decades. (He's also famous for being Michael Jackson's dermatologist.) "Arnie Klein is a brilliant man," says Kopelson. "The timing was right for him with fillers like collagen and with Botox. He made his money and his mark. Now it's our turn. As a pair, a team, we are both situated at a perfect point to take over the town."
Klein, for his part, says he's hardly ready to pass the torch, though he seems to find the challenge amusing. "I appreciate Dr. Kopelson's comments and certainly respect him as a fellow dermatologist," Klein responds via e-mail. "But as a connoisseur and collector of art, I don't recall ever reading about any of Michelangelo's students suggesting he retire."
One thing Klein, an old pro with the media, has proven is that a little attention can go a long way. Kopelson is part of a new crop of local dermatologists who've learned that while doctors who hire publicists often don't get a tremendous amount of respect in the medical community, staying afloat in the sea of self-promotion that is L.A. takes a little chutzpah. Case in point: Santa Monica dermatologist Ava Shamban may have graduated magna cum laude from Harvard, but it's her appearances on Extreme Makeover and Extra that drive new patients to her practice. And Rebecca Giles, a recent transplant from Northern California, lures Malibu moms (many of them famous) into FIX, her glam B&B Italia–outfitted skincare clinic, by offering a VIP back entrance and an entirely private waiting room.
Kopelson's swagger isn't the only thing that sets him apart from most dermatologists. Sure, he wears a white coat. But it's a kimono-style side-tie number that hits just below the belt of his black jeans. Then there's the two stainless steel earrings, the elaborate tattoo on his left arm and the black snakeskin boots. Add to this his physical stature—he has the height (six feet one) and presence of a smallish grizzly bear standing on its hind legs—and it's fair to say that he'd be a standout at any American Academy of Dermatology gathering. The offices he shares with Feldman are also unusually chic, with sleek white leather sofas in the waiting room and a Murakami painting on the wall. Credit goes to his life partner, interior designer Peter Dunham. An Oxford-educated Englishman raised in Paris, Dunham outfits the homes of celebrities such as Jennifer Garner and Ben Affleck. He and Kopelson have been together for 11 years, and through their combined efforts much of Hollywood is living and looking far better than they deserve to.
Feldman, 53, cuts a more traditional profile, favoring subtle Manolo Blahniks and trim skirts and a more conventional, if well-tailored, white coat. Her life at home in Manhattan Beach with her husband and eight-year-old twin girls is a little more removed from the industry fray, although she has her own set of impressive insider credentials. A lifelong Angeleno, she was raised in stately Hancock Park and graduated from the elite all-girl Marlborough School and USC medical school. She and Kopelson met 18 years ago as residents at UCLA. Feldman's own entirely lineless skin is also an impressive calling card. "I like to say that I'm the poster child for Botox," says Feldman. "And I'm about to be the poster child for the Pearl."
Feldman is referring to the brand-new $250,000 laser that she and Kopelson just bought for their practice. The very latest in cosmetic technology, the Pearl is said to eliminate fine lines and hyperpigmentation and to improve skin texture with far less injury than more ablative lasers. "With the Pearl, you peel on day two, and then, by day four or five, it's all done," says Kopelson.
Theirs is one of the few practices in Beverly Hills that owns a Pearl, though it's just one weapon in their arsenal. "We also have the simplest lasers that help with acne, pore size and skin texture that even our adolescent patients can benefit from," says Kopelson. "It's not one size fits all."
Like many modern dermatologists, Feldman and Kopelson have come to see Botox and other injectables, which revolutionized the field in the Nineties, as staples in their toolbox. "Botox really is the gold standard for relaxing lines on the upper third of the face," explains Feldman, who says it's still her No. 1 recommendation when people ask, "Do I need Botox?" (Of their cosmetic dermatology patients—those who aren't just coming in for mole checks, in other words—Kopelson estimates that 75 percent receive Botox injections, with most patients beginning in their mid-30s.) Still, what the two doctors seem especially excited about are the possibilities offered by lasers. "[The technology] is developing right now while we're building this practice," says Kopelson. "Lasers can create really soft, youthful, even-toned skin pretty quickly, with fewer treatments. Things like fillers and Botox and plastic surgery just can't do that. Also, the risk is very low, with much less downtime."
Lately, Kopelson and Feldman's patients have been requesting defined cheekbones and a youthful plumpness to the skin more often than the full, exaggerated lips that were the rage in the late Nineties. It's a shift the doctors say they're happy to see. "We use fillers more for volume restoration than gigantic lips," says Feldman, with visible relief.
"Instead of the lips, now people come in requesting Madonna's cheekbones," Kopelson says with a laugh.
After all, the work that Hollywood dermatologists and plastic surgeons perform on their patients is for all the public to view, to imitate and—if it's bad—to critique. Who injects a star's Botox isn't as obvious as what designer labels she wears, but word gets around. So while it's never good marketing for a doctor to disfigure a patient, the stakes are higher for Kopelson and Feldman than for most. "We don't overdo faces," says Kopelson. "It's bad exposure. You don't want your patients to look odd. I always set limits. We came out of UCLA, a very conservative dermatology program, where we were taught to do less rather than more."
"If they don't need it, we're not going to talk them into it," says Feldman.
So when we start seeing furrowed brows and the occasional freckle onscreen, we'll know whom to blame—or congratulate.