Here Come the Groomers
Discreet, glamorous and good with scissors, these women make a living primping Hollywood's biggest male stars.
---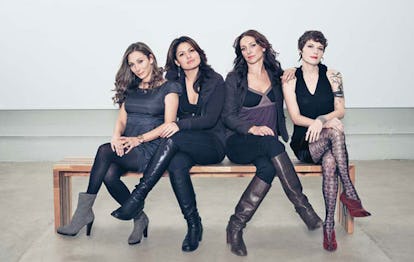 Anyone with a passing interest in the lives of celebrities knows that Jennifer Aniston's BFF and hairstylist is Chris McMillan and that Julia Roberts and Serge Normant go as far back as The Pelican Brief. But these stars' male counterparts—George Clooney, Gerard Butler and Russell Crowe, among them—are seen as lone rangers in the grooming department, their suave red-carpet appearances the seeming result of effortless styling by themselves alone. You might wonder if there's anyone helping these guys, but you'd be hard-pressed to find them gushing about it. After all, when was the last time you heard Clooney plug the gal who applied his under-eye concealer?
But, in fact, she exists. "I like the low-key secrecy," ­says­ Diana Schmidtke, a groomer who has tended to Gorgeous George as well as Christian Bale, Ashton Kutcher and, most recently, teen heartthrob Taylor Lautner for the The Twilight Saga: New Moon tour. A laid-back surfer, Schmidtke is one of four groomers— all of them wom­­en,­­ beautiful, in their 30s and based in L.A.—most in demand by Hollywood's male A-listers.
While actresses often require a team of five or six to meet their beauty needs, actors usually rely on one groomer, a jack-of-all-trades who must serve as hairstylist, makeup artist, barber, aesthetician and, occasionally, manicurist. "A lot of men's grooming is, you know, when your boyfriend or husband is like, 'Honey, do you have nail clippers or a razor?' It's thinking about the little things," says Schmidtke. Though she and her counterparts Cheri Keating, Jamie Taylor and Natalia Bruschi began their careers working on women, they've each found a niche in the small but lucrative field of professional men's grooming. They are on hand for awards shows, press junkets, magazine photo shoots and television appearances, and ultimately serve as key consultants on an actor's overall look.
"Their images are trademarks, and changes to that image are weighed carefully," says Keating, a tattooed gamine who tends to "the big funny guys"—Jonah Hill, Judd Apatow, Seth Rogen and Jason Schwartzman. "Just because they don't wear lipstick doesn't mean that they're not concerned with their appearance." Neil Patrick Harris, another client, says her ability to not make him look "like a newscaster or an infomercial host" is matched by her calm demeanor under stress. "She's very chill, which goes a long way," he says. Keating and her colleagues prefer to go light and natural on makeup (usually concealer, a dash of powder and perhaps bronzer with no shimmer) and often work around hair that has to be kept a certain length for a film or TV project. Above all else, they say, they want "men to look like men," and not shellacked statuettes. Ryan Reynolds wore a Tom Ford tux to this year's Oscars, and to prep him Bruschi parted his hair to the side and trimmed his beard into a faint stubble that unintentionally echoed the designer-filmmaker's manicured five o'clock shadow. "It gave a more formal look," Bruschi says. "A subtle change, but very effective."
Aside from having the chops to turn both boyish goofball types and stone-serious acteurs into debonair leading men, these top groomers must also be able to hang with the guys and keep their mouths shut. "I'm very comfortable with men," says Taylor, a mother of two who works with Butler, Channing Tatum, Paul Walker and Jake Gyllenhaal. "But I don't want to say anything personally about anybody. That's why I've had such a long, successful run." Of Ben Affleck and Edward Norton, Bruschi says, "My clients have become friends." Russell Crowe, another client, "is pretty intense," she admits. "He tells me pretty much how he likes things. It helps."
As these four see it, they've got it good—their clients are loyal, gorgeous and, as Schmidtke says, "you couldn't ugly them up if you tried."