Hollywood's Power Players Respond to an Open Letter Requesting Better Trans Representation and Inclusivity
Actors, writers, and directors show their support for better trans inclusivity in Hollywood.
---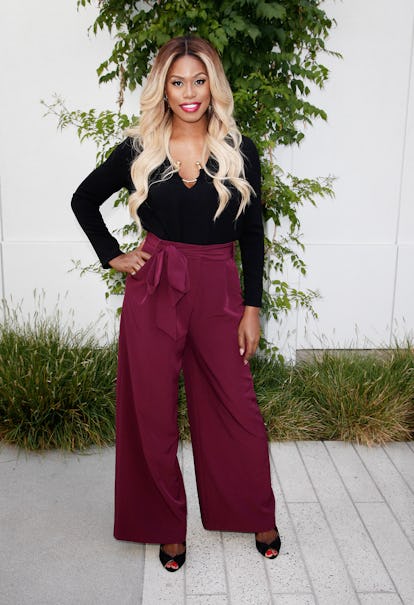 Tibrina Hobson
Transgender representation in Hollywood is at a tipping point—the success of television shows like Pose andTransparent, and even Supergirl casting a trans superhero prove that trans and non-binary actors can carry the roles often taken from them by cisgender actors—but at the same time, the consistent erasure and misrepresentation of trans identity, especially whenever cisgender performers are cast in trans roles, remains. The case of Scarlett Johansson being cast as a trans man in Rub and Tug, before bowing out of the role only after receiving hordes of criticism online, is only the most recent example of many.
After Variety published a roundtable conversation with trans actors including Laverne Cox, Trace Lysette, Jen Richards, Alexandra Billings, Chaz Bono, and Brian Michael, Hollywood also received an open letter demanding equity for trans actors and creators across the industry. With efforts led by Transparent creator and show runner Jill Soloway, GLAAD and 5050by2020 (an initiative which Soloway co-founded to achieve equity in Hollywood by the year 2020) wrote the open letter to Hollywood, calling for an improvement on trans representation in Hollywood, and received signatures from various production companies and Hollywood initiatives led by power players like Shonda Rhimes, Ryan Murphy, JJ Abrams, and Judd Apatow. Shondaland, Time's Up, Bad Robot, Apatow Productions, Half Initiative, and Sony Pictures Classics are just a few of the signatures listed on the open letter to Hollywood.
The open letter is especially salient after the insightful roundtable discourse, where Lysette vocalized her lack of surprise that her former Transparent cast mate Jeffrey Tambor is still working after reportedly sexually harassing her on set. "I'm used to people not wanting to believe us and being at the bottom of the totem pole. So our word doesn't carry weight the same way," she said. Her fellow roundtable participants, including Jen Richards and Transparent cast mate Alexandra Billings, who witnessed the harassment on set, seemed to agree.
The open letter has been met with excitement from transgender, non-binary, and cisgender power players in Hollywood; actors, directors, and writers like Jurnee Smollett, Jen Richards, and Rhys Ernst expressed their individual support of the petition on social media, as did various gender equality initiatives like the Geena Davis Institute and Time's Up.
"The world is unsafe for trans people—and we can do better," the letter says before taking Hollywood to task for only casting and portraying trans talent as "tragic victims, psychotic killers and one-dimensional stereotypes," which is damaging to the world's understanding of trans people, and internalized by the very people who are demonized by such one note portrayals. "Hollywood tells the stories that help people understand how to feel about themselves and how to feel about people around them who are different," the letter states, while outlining that the entertainment industry is by no means the final frontier in terms of the fight for equality.
GLAAD and 5050by2020 also include a guidebook called "Transform Hollywood" in the open letter to Hollywood, which was created to provide information on how to find and cast trans actors, highlight projects created by trans people that need to be developed, and tips for on-set and workplace inclusivity.