Nail Artist Honey Is the Industry Heavyweight You Should Know
Fashion's go-to for nail artistry, Honey, discusses her Brooklyn roots and the treatment she's used lately to soften over-sanitized hands.
Photographs by Naima Green
---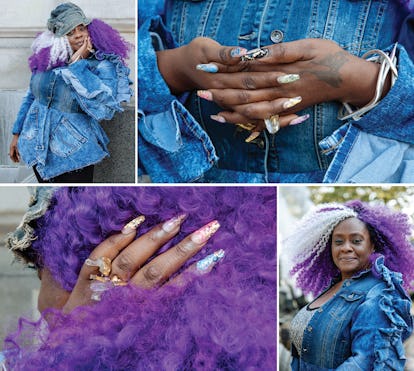 For our annual "The Originals" portfolio, we asked creatives—pioneers in the fields of art, design, fashion, comedy, activism and more—to share their insights on staying true to themselves and pushing the creative envelope in a chaotic year. Read all the Q+As from this year's group here.
You're usually rushing between photo shoots and runway shows to design some of the most original nail art in the industry, from gold bejeweled talons to pearl-embellished cuticles. How did you stay creative when you were in the early stages of lockdown?
I got to actually set up my nail station in the house, which was built by my uncle years ago, from the table to the polish racks. He's a finisher in Trinidad. I spent my time doing that, hanging out with my nieces, gathering, getting rid of things—you know, stuff you never get to.
How have your nails looked lately?
Mine look pretty good! They're actually in great shape. I'm usually doing absolutely nothing besides washing and exfoliating. Everybody's hands have been pretty decent, with the exception of the dryness from all the alcohol, the handwashing. Everyone has a little bit of a crustacean problem. [Laughs]
Have you experienced any silver linings over the past few months?
Even though all this stuff is going on, you still have to be optimistic. You just have to be, or you won't really progress. So this just makes me push a little bit harder. We all procrastinate, but now we all have time. You can't complain that you don't got it, because you ain't doing nothing! I had time to work on my product line, Hive by Honey. Before lockdown, I went to Thailand to find different essential oils, certain coconut oils. I traveled far and deep. I'm doing a cuticle-treatment oil that I've worked on for years, and a scrub—because of all the handwashing. It exfoliates, but also cleanses and moisturizes.
Whom do you think of as an original?
There's Prince, because he moved like a cat. Superprivate, but was a phenomenal artist. You really didn't hear too much about him, except his work. Introvert but not an introvert, superquiet but not quiet, loud but not loud. He was like an exotic wild child: the pumps, the earrings. And then my parents, because they were West Indian comedians, and everything around them was a party.
When did you first start experimenting with your personal style?
I might have been, like, 13, 14. I'm from East Flatbush, primarily a Caribbean and West Indian neighborhood in Brooklyn, so we always did funky things with T-shirts and jeans—we used to cut up T-shirts and get ribbons of neon and put them together and have friends make us clothes. My grandfather would make stuff for me because he was a tailor. Since I was around 13, I would call myself a little special. Because I was like, I don't care. I really don't. I think it's also the attitude of New York. New York is really whatever floats your boat—you rock with it.