Hope Hicks Doesn't Know How to Quit Donald Trump
She reemerged in public on Air Force One and around New York with various Trumpworld figures.
---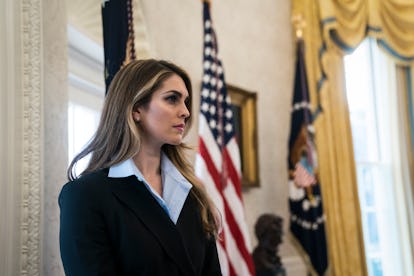 Photo courtesy of Getty Images.
"Hope Hicks?" you might be muttering to yourself. "I haven't heard that name in years."
´Actually, it's been less than four and half months since the former White House communications director—and reportedly one of President Donald Trump's most trusted and loyal staffers—announced her resignation (and shorter still since she officially packed up her desk at 1600 Penn), but in the whirlwind Trump-era news cycle that counts for years. In fact, such rapid collective amnesia might have suited the 29-year-old well as she tried to sort out what to do with the next 40 or so years of her life before she hits retirement age. Having the Trump White House on your résumé could be a bit of a stumbling block toward future employment in all but a few, let's say, niche industries.
Yet in the past few days the former Manhattan fashion PR flack has returned to the public eye in a big way, one that reminds everyone that, after all that, she's still loyal to Trump and those around him.
Over the weekend, Hicks was spotted at a New Jersey airport boarding Air Force One on her way to a Trump rally in Ohio (wearing, might we add, a white dress that many thought wouldn't be out of place in Melania Trump's wardrobe). The news came about a week after Page Six reported that Hicks was spotted having a lunch meeting with Aryeh Bourkoff, a banker and media mogul who was once approached by Jared Kushner about the possible launch of a Trump-branded conservative news television network had Trump's bid for president failed. Then, just today, the gossip column also reported that Senator Rob Porter had been spotted around Hicks's Manhattan apartment. One of the main controversies of Hicks's last few days in her job centered on the White House's defense of Porter after two ex-wives accused him of abuse. Hicks was purportedly involved in helped to craft that message. As it turned out, Hicks and Porter had been dating.
After leaving D.C., Hicks reportedly retreated to her parents' Greenwich, Connecticut, home to lay low and take some time off before job hunting once again in Manhattan. But even though she's only been gone for mere months, there have been been persistent rumors of a possible return to the White House. The Daily Beast, however, reported in July that Hicks's closest friends say she has no desire to return to Trumpworld. At least not anytime soon. Her friends said she wouldn't even think about a return in 2018, even as she was championed in the press as one of the few insiders who could both soothe the president's temperamental ego and read his moods. She was also close to Jared Kushner and Ivanka Trump (indeed, her connection to the family started when she worked on Ivanka's now defunct fashion line), and the pair are keen to keep any allies in the inner circle that they can. Who knows if Hicks has reconsidered that timeline.
Of course, it was never going to be easy for Hicks to put this all behind her and set out on a new career path like nothing happened. Millennials abruptly shift careers in their 20s all the time, but few have such controversial marks on their CVs.
It's never been crystal clear what Hicks's personal political leanings were (assuming she has any at all), nor whether she wanted to continue work in conservative political circles, her most obvious career path now. Still, we can assume that by making her grand return to the public eye by boarding Air Force One and being spotted out in public with Kushner allies, it's safe to say that whatever Hicks's future holds it will still be wrapped up in Trumpworld one way or another.
Related: Hope Hicks's Job as Trump's Press Secretary Included Steaming His Suits While He Was Wearing Them