Hope Hicks's Job as Trump's Press Secretary Included Steaming His Suits While He Was Wearing Them
The latest evidence that the president is either abusive, bullying, masochistic, or just plain stupid. (Or all of the above.)
---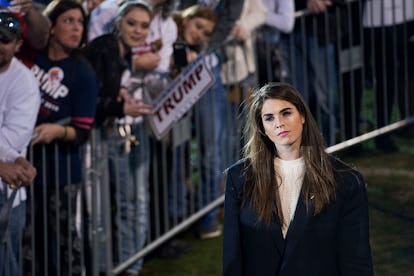 Tom Williams/Getty Images
"Sooner or later, everybody who works for Donald Trump will see a side of him that makes you wonder why you took a job with him in the first place," Corey Lewandowski, Trump's fired campaign manager, and David Bossie, another of Trump's former top aides write in their upcoming book, Let Trump Be Trump, about the wildly amateur adventure that was being on the then presidential candidate's campaign trail. For Lewandowski and Bossie, who nevertheless speak highly of their former boss, that meant getting used to having "moments where they wanted to parachute off Trump Force One"—a feeling that Hope Hicks, currently the White House's communications director, then Trump's press secretary, certainly must have endured as well.
Living on Trump Force One meant sticking to "four major food groups: McDonald's, Kentucky Fried Chicken, pizza and Diet Coke"—a lifestyle even more dangerous because if you ordered anything out of the ordinary—for Trump, that meant "two Big Macs, two Fillet-O-Fish, and a chocolate malted"—you ran the very serious risk of being left behind. ("Let's go," Trump reportedly said when they literally left former staffer Sam Nunberg at a McDonald's because his customized burger order was taking too long.) But for Hicks, like many others, that tight time schedule also stretched over to tasks that were already far outside her usual job description as a spokeswoman. In between fielding calls from reporters about Trump's infamous grabbing women by the pussy comments, one of Hicks's jobs was to make sure that Trump's suits were pressed when they flew on his plane.
For some reason, however, Trump reportedly only called for Hicks to steam his suits while he was actually wearing them. Anyone who's ever used a steamer knows how easy it is to burn yourself when using it on an item of clothing that's on a hanger, which is why doing so when wearing the garment can only be a sign of masochism or stupidity; steaming, of course, involves boiling water, and steam burns are in fact even more damaging than burns sustained from boiling water—as if you would ever want to dip your limbs in boiling water—that's the same temperature. Then, there's the fact that Trump wielded what was essentially a tool of torture against him as a tool of torture against Hicks: he'd reportedly yell for her to "Get the machine!" and at one point said, "Godammit, Hope! How the hell could you forget the machine?" Hicks replied it was "a mistake she would never make again," according to Lewandowski and Bossie.
Of course, there's also the part of this whole mind-boggling scenario where Trump, whom over a dozen women have accused of sexual harassment and assault, would sit in a chair in front of Hicks as she steamed his pants—an all too uncomfortable position for an employee to find themselves in in front of their boss. (Not to mention the fact that sitting down in clothes while they're being steamed defies the purpose of steaming them in the first place, as it means the garment will inevitably be wrinkled anyway.)
In any case, all this explains why Hicks was such an authority on what the New York Times called "the mystery of Trump's suits" in September of last year. "Mr. Trump has indeed been wearing Brioni as Election Day draws near, and he also favors suits by the Brooklyn label Martin Greenfield Clothiers, 'among others,' according to Ms. Hicks," the story noted, underlining Hicks's expertise on the subject.
Lewandowski and Bossie's book, which the Washington Post obtained an advance copy of, hasn't been released yet, but so far there's no word on whether Hicks or any other of Trump's purportedly political assistants had any role in obtaining the piece of Scotch tape Trump attempted to use to keep his tie in place earlier this year. What now is clear, however, is that there exists the possibility that there may be something of a tradition of Republicans burning themselves in the attempt to look suitable on the campaign trail.
Let us never forget the Vine showcasing a clip from the the 2014 Netflix documentary of Mitt Romney's presidential campaigns that captures him attempting to iron his own suit while wearing it. "Ouch, it's sort of working," Romney says while repeatedly placing the iron on himself. "Ouch. Ouch."
Related: A Brief History of Donald Trump Spitefully Pouring Wine Down Women's Backs
62 Fashion Insiders Speak Out in a Powerful Video for International Women's Day: