Hourglass Founder Carisa Janes on the Power of Makeup
The makeup pioneer—and creator of cult products like No. 28 Lip Treatment Oil and Strobe Lighting Powders—talks favorite products and beauty blunders.
---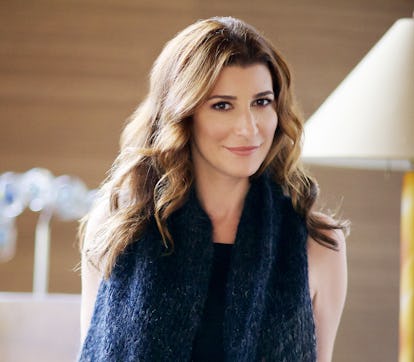 Carisa Janes just wants you to wear some makeup. The founder of Hourglass Cosmetics isn't saying you need to go all "war paint" like her mom did, but a little goes a long way in her book. Here, the makeup pioneer shares her teenage beauty mishaps and her obsession with Céline and Oribe—though not necessarily in that order.
Your line, Hourglass Cosmetics is known for its innovative products, from the cult No. 28 Lip Treatment Oil to your hugely popular Strobe Lighting Powders. How do you come up with these original product ideas? I think about product ideas a lot. Sometimes ideas just come to you. I just like being creative.
How did you get into this business? I studied fashion at Parsons, then switched over to design marketing. After I graduated, my first job was at Urban Decay, in the beginning beginning. There were just a few of us at the time, so I just helped out at first, then I went to product development. I hadn't thought of developing makeup as a job. I thought you had to be a makeup artist to do that. But makeup was always a much better fit for me than fashion because it was the product that I could afford in college, so I bought a ton of it!
A year after I started, I was approached by someone to create a cosmetic line. This man owned boutiques in Hawaii, where he introduced brands like Nars and Stila to Japanese customers, but he wanted his own line. It was called Body & Soul and it had a huge Japanese following. Although I was very young, I did it. After that, I kept consulting with other brands, and then I created Hourglass.
Were there other lines you worked on that you can share? Some I can, some I can't. There was a line for teenagers called Sugar, which was in Sephora and in Nordstrom. Other brands were celebrity collaborations.
Who did you create Hourglass for? When I was creating it, all I could think about was modern luxury. I loved luxury, but at that time—remember, this was more than 12 years ago—luxury was for your mom or your grandmother.
So it was a little…old? Yeah, the foundations all had fragrance and oils and they just weren't modern. It's totally different today, but back then I just wanted something luxurious that also had a modern cool vibe, as well as a lot of innovation and integrity. I was using great materials, so I wanted the products to do something.
Well, you have succeeded! Ok, back to the beginning. What's your first beauty memory? I have two. My grandmother lived in West Virginia. She was a very proper lady and she had a beautiful vanity with all these antique powders and puffs and brushes. I just could not wait to get into that house to play with that vanity! My mother was and is a big makeup wearer. Every morning, she'd watch the Today Show and get her magnifying mirror out and put on her makeup. And she'd do everything. Smokey eyes, lips, the works.
Every day? Yep. No matter where she went.
Was she the same way about her clothing? No, more just about her makeup. It was very transformational. My mother's very pale and she has red hair, so makeup made such a big difference on her.
Do you remember whose makeup she wore? She's a big Chanel fan. I remember the smoky eye quad. She'd call it her war paint. She'd say, "I've got to put on my war paint."
Did she have a perfume that you remember? No!
Ok…What about you? Do you remember your first fragrance? The one that comes to mind is Eternity, but I was a teenager and it was a gift. Before that, I don't know how much fragrance I really wore.
What about now? Yes. I love Le Labo Ylang 49.
Are you a one-fragrance woman or do you have a wardrobe? I have a small wardrobe, but I mostly wear Le Labo. I also like Armani Prive Rose d'Arabie. My wedding fragrance was Quel-que Fleurs.
By Houbigant! Old School! Old school. I don't jump around too much.
What was your worst beauty blunder? When I was young, I cut my own bangs very badly. It was a bad decision. In my next life, I'm coming back with bangs.
What about makeup? Any blunders there? Remember Indian Earth? I probably wore way too much of that bronzing powder stuff. But that's what you're supposed to do, right?
Meaning, it's a rite of passage? Yes! When I see women wearing too much makeup, I feel good about it, because that's the age when you can get away with it. It's wrong, but it looks right. You're experimenting, you're learning. We all did it.
So true. When you walk down the street, do you have an urge to say, "I can make you look so much better…if you just let me…" Yes, it's usually foundation, and it's usually on a young girl. But I do see women who could wear something more hydrating. One little product makes such a difference.
How does it feel to be one of the pioneers responsible for "strobing," or highlighting—the opposite of contouring? I don't really think about that. I think more about wanting to develop products that women are going to be excited about and feel happy about using, which will make them feel more confident. When we have meetings internally and someone says, "Oh my god, women are going to freak out about this," I love that. I'm not a trend person, although strobing is a good one because if done well, it looks good on everyone.
What beauty products are currently in your purse? Hourglass Primer, Concealer, Ambient Palette, 4.5 eyeliner, Illume Trio. I love that product. We have everything now, so there's not much I'm missing.
What beauty trends do you just not "get"? Baking [your makeup] would be a big one. That one just seems so very extreme.
What's your beauty pet peeve? Extreme tweezing. And not enough makeup. That's actually my number one peeve. Women who don't wear makeup.
Why? I'm not talking about someone with the natural look. I'm talking about someone who wears nothing. Even if you're beautiful, a little mascara, a little something to give finish looks like you care and you're trying. I'm not saying you need a lot.
What are you currently obsessed with? Céline. I walk in that store and think, "This is where I want to die." I love the store, the materials, the use of color, the silhouettes. And I'm obsessed with Oribe. I've always loved his products, but meeting him [at the W photo shoot] made me even more obsessed.
What about meeting him made you more obsessed? Because he's such an elegant, kind, inspirational talent. He has so much class and so much grace. It's not something you see every day. To see all that he's accomplished and to still be so generous. We were all dying being on set with him. He put a gigantic hair piece in my hair the size of this table and attached it to my head. Like J. Lo hair. On-tour-J. Lo hair. He just did it because it was a really long day, we had all worked really hard and he said, "I want to do this for you." It was such a cool moment. But he loves beauty. He loves women, he loves hair. I'm going to frame that photo.
Watch W's most popular videos here:
Photos: Hourglass Founder Carisa Janes on the Power of Makeup
Hourglass founder Carisa Janes. Photo courtesy Hourglass.
Hourglass founder Carisa Janes. Photo courtesy Hourglass.
Hourglass founder Carisa Janes. Photo courtesy Hourglass.