How I Learned to Drive … In a Maserati
A shotgun view of a long-suffering writer's quest to finally conquer the road, in the most stylish way possible.
---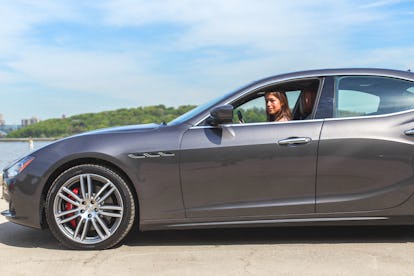 I am plagued by a pretty quotidian array of fears—fear of losing a loved one and fear of failure, chief among them. Perhaps more unusual is my all-consuming fear of driving, which is a product of my upbringing, a tendency towards neuroticism, and a specific, scarring experience.
As a native New Yorker, I spent most of my formative years either on foot or squeezed into some mode of public transportation. On occasion, I would find myself in the backseat of the turquoise, diesel-powered Peugeot, whose non-optional amenities included a bumper held together with duct tape and a growling engine you could hear two blocks away. It was a vehicle that my parents retained partly out of nostalgia, and partly because of its (questionable) usefulness for occasional trips to Westchester or lower Manhattan.
Somehow, this roaring piece of machinery did little to inspire my own motoring interests.
And so when I went through the motions of a high school driver's ed course at 17 and emerged traumatized by my incompetent instructor and a road test taken in a blizzard in Yonkers (11 out of 13 of us failed). I cast aside any notion of ever becoming licensed, content in my bipedal fate.
But over the years, my lack of skills has gone from a piece of annoying party repartee ("You don't know how to drive? Can you ride a bike? Swim?") to a source of frustration. Vacation dreams of the Grand Canyon and Big Sur are quickly dashed by the need to rent a car. And frankly, as an independent woman in 2016, I feel inadequate for having to rely upon someone else, male or female, to chauffeur me.
With flashbacks to my high school driver's ed experience flooding my vision, I determined to grapple with those two tons of four-wheeled steel and, hopefully, come out victorious. And though I may not be able to tell a Toyota from a Honda, I do know that when quelling anxiety, it helps to dress the part. So like a nervous businesswoman donning her sharpest Tom Ford suit for an important presentation, I decided to take an initial driving lesson in a Maserati.
On a warm, late spring afternoon, I sat in the reception area of Masearti's Englewood Cliffs, New Jersey headquarters, shakily eyeing the traffic passing on the nearby street. It would be wrong to pop a Xanax before getting behind the wheel, right?
Fortunately, I had Paige Hope, a marketing and consumer events training manager at Maserati who in her spare time is a recreational pilot of vintage WWII fighter planes; a race car driver at the Sports Car Club of America level; and, possibly most importantly to my cortisol levels, a certified yoga instructor. A statuesque blonde with a wide grin, dressed in a pencil skirt and knee-high boots, she led me, along with a public relations manager and two photographers, to Maserati's garage. For most normal people, this would have been akin to entering paradise; in my case, it felt closer to a fear immersion chamber.
For the purposes of my lesson, I would be test-driving the 2016 Maserati Ghibli S Q4, a 404-horsepower beauty. Sleek and gray, it married Maserati's famous Italian sports-car performance with the safety and accessibility of a luxury sedan. Also notable was its leather interior, featuring anthracite Ermenegildo Zegna (finally, two words I understood!) silk coverage and contrast stitching on the seats, dashboard, and door panel. (With all the add-ons, the Ghibli S Q4 retails for a cool $95,125.)
Paige took the reins to begin with, driving us to a secluded parking lot off the Palisades Interstate Parkway. First, she showed me how to test the pressure in the tires, assuring me that though it seemed like TMI, it was a crucial skill set to have once I became a regular driver.
"If you go to Germany, even the most elegant woman in a Dolce & Gabbana dress will be checking her tire pressure at a gas station," she said.
Sticking the gage into the front and rear tires didn't seem all that scary, but then it was time for me to take my turn in the driver's seat. To my terror-stricken eyes, the dashboard may as well have been the control system for a NASA spacecraft. With Paige's soothing voice in my ears, I adjusted my seat to my diminutive frame ("your right foot should be able to press the gas and throttle with an easy tap") and then my mirrors ("you should be able to see the back handle of our car in the bottom corners of your side mirrors").
"Your hands go at 9 and 3," she said, dismissing the traditionally cited 10 and 2 business as being too cramped to allow for fluid steering. She pointed out my signaling mechanism. And then it was time to buckle in, place my foot on the brake, and switch from "park" to "drive." And suddenly I was, in fact, driving. Well, sort of. Given the Ghibli's horsepower (it goes from 0 to 60 mph in 4.7 seconds, with a top speed of 176 mph), both the throttle and brake pedals were more sensitive than even the ghost of my 17 year-old past remembered. Needless to say, things were a bit jerky (apologies, again, to my backseat passengers!).
"This is a high performance car, but that just means it's also safer. When you can reach such high speeds, you also have to be able to brake quicker, so it will do that more easily," Paige assured me. She added that the Ghibli boasted "on demand" all wheel drive, another safety feature that allows the car to transfer power from both front and rear wheels, making changes based on the road surface. "Think of it as the adjustment between heels and flats."
God love this woman and her fashion analogies.
But here, at this point, even the haute couture of vehicular design seemed incapable of assuaging my anxiety: I was about to merge onto the Palisades. I inched up. Thankfully, on a Wednesday afternoon, traffic was light. On went my right signal. And then as Paige insisted, "Go, go," I was suddenly merging and then moving on the Palisades. Images of Cher and Dionne freaking out on a Los Angeles highway in Clueless permeated my cortex.
Fortunately, there were no oversized trucks and the parkway was relatively empty, giving me time to relax—as much as this was possible—while Paige offered gentle directions.
"More left," as I drifted in my lane.
"More throttle, more throttle," as I was nowhere near the 55 mph speed limit.
I checked my mirrors constantly (the Ghibli has a blind spot alert, but still) and relaxed my shoulders and vice grip on the wheel.
"Hear that noise, that purr? That's a Maserati signature," said Paige of the low-pitched growl, nothing like the choking honk of my parents' Peugeot, may it rest in peace. It did have a calming quality to it. "You're meant to be at one with the car. So you can feel the road."
I was also feeling my racing heart and the sweat pouring off me onto those Zegna silk seats, but I tried to ignore all of this and focus on the road. Soon, I was approaching a cyclist, who kept weaving back and forth in our lane. I slowed down, too terrified to risk passing him, which enraged the driver behind me. Panic coursed through my veins.
"Just pull over and let some of them go by," said Paige. "It's totally fine to do that."
Soon thereafter, we exited the Palisades, so I could practice turns on some of the nearby roads.
"Try using shuffle steering," suggested Paige, watching my arms transform into a riff on the yoga eagle pose every time I went to turn and recover. I tried, but somehow the wheel didn't glide through my hands with the same ease as it did in hers.
That said, my body was starting to unknot itself and, dare I say it, I was beginning to enjoy myself. The Ghibli responded smoothly to my movements (no matter how jerky) and for the first time, I understood why people, a) liked driving and b) liked driving very expensive cars.
I drove us up a steeply winding road. As I was maneuvering us right on an uphill hairpin turn, a group of runners came at me, materializing out of thin air. They may as well have been a herd of horses, but I braked smoothly and easily, letting them continue along their ill-advised route. Then, just as they passed and I continued to climb, a straggler approached, causing me to brake, yet again, on a steep hill, in the middle of a tight turn. A collective laugh-cum-sigh erupted in the car, at the absurdity of the scenario and number of obstacles being thrown at me.
"It's like a dress," Paige had said earlier of choosing the right car. "Everyone needs to find a piece of clothing that fits them and makes them feel good."
And just like a borrowed designer frock, this Maserati Ghibli had to be returned after my hour-long lesson, leaving me as naked as Cinderella. At least I had a glass slipper souvenir in the form of a newfound confidence and initiative to pass my road test.
A few weeks later, I was seated in a car (no idea what make) stamped with a "student driver" seal. Gone was the Zegna silk. Ditto the buttery leather wheel. The brake pedal required more force to draw us to a stop.
A sage known as Blair Waldorf once wisely remarked to Serena van der Woodsen, "Once men have tasted caviar, it baffles me how they settle for catfish." No disrespect to my new ride, but we all have to eat.
Watch W's most popular videos here:
Photos: How I Learned to Drive … In a Maserati