How to Battle Dry Skin and Hair, According to Beauty Experts
Dr. Barbara Sturm, Philip B., Dr. Rosemary Ingleton, and more share their secrets on how to retain moisture during the coldest winter months.
---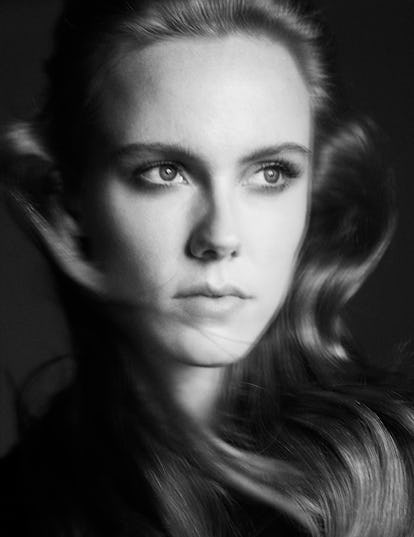 Photograph by Karim Sadli; Styled by Max Pearmain.
Around this time each year, the realization starts settling in: it's high time to deal with dry skin and hair. Winter renders our hands, scalp, feet, and face, dull and itchy, as colder temperatures rob the body of essential moisture and oils. To help accommodate our skin and hair needs this time around, we've reached out to several beauty experts, who weighed on how to properly address these issues to alleviate winter skin and hair woes.
Sarah Bradden, Cosmetic Acupuncturist
Facial Acupuncture, Bone Broth, and Cacao
No matter what products and treatments you apply, I think it is really important to have the right nutrient absorption to benefit your skin. That said, I recommend that during these winter months to support skin best, consuming seasonal broths and root vegetables helps nourish the body and support skin elasticity. Hydration is central because indoor heating robs our skin of moisture. Cacao is an excellent antioxidant and anti-inflammatory that is great for consumption in colder weather.
I encourage my clients to dry body brush and avoid too hot of baths, which dry out the skin. Adapt your facial skincare during winter using a nourishing cleanser. Obviously you can still use your AHAs, but make sure you are listening to your skin and your body.
I perform cosmetic acupuncture frequently during winter, not because it addresses facial concerns, but in the long run it helps rebalance the whole system. Your skin is an organ, and it needs to function properly. My favorite massages in the winter are gua sha facial massages that incorporate acupressure points and facial exercises. It's great to use oils like rose or rosehip for the skin when you do gua sha massages. It keeps the circulation and the lymph flowing avoiding stagnation building up on the skin.
Gina Marí, Facialist
Proper Exfoliation, Quality Multitasking Products and Skin Tools
As opposed to thinking that exfoliation will 'over-dry' your skin, think of it as a way for your epidermis to be prepped for deeper product penetration. This is especially important during the winter months.
Quality products are key when you are exfoliating and I'm a huge fan of those that multitask. Bradley Beauty's Buff-N-Stuff is a wonderful face and body scrub. The combination of fresh lemon enzyme with organic honey and sugar beads is the perfect solution for head-to-toe exfoliation. Furtuna Skin's Porte per la Vitalita Face and Eye serum is another favorite. Their ingredients are sourced from a farm in Sicily and are clean beauty verified. They use a sound bath extraction process for their active ingredients, which is groundbreaking.
Skin tools can also be effective for the body to help with managing dry winter skin. Esker Beauty, which has high-quality body washes and oils, recently launched a Body Plane tool that provides gentle exfoliation without damaging or irritating the skin's moisture barrier.
If you prefer to exfoliate in the bath or shower, exfoliating gloves work great to slough off dead skin. Pro tip: If you're storing the gloves in the shower, make sure to change them regularly, just like you would your kitchen sponge.
Lastly, your feet. I use traditional tools like Deborah Lippmann's Soul Survivor on my feet. It's usually my last step to give that skin a bit more time to heat up, allowing for an easier scrub down. I keep lotion in my night-stand table and apply right when I get into bed and cover them with thin socks. Here is another cool little trick: add some Aquaphor to the most stubborn areas. If you're a dedicated bath taker in the winter months, adding one cup of powdered milk will add the exfoliating benefits of lactic acid and provide additional moisturizing relief.
Garren, Celebrity Stylist and Co-Founder of R+Co
Healing Hair Routines for Dry Hair and Scalp
If a client has dry scalp, dry hair, and dry skin, first I'd ask how often they shampoo their hair and how much product they use. This type of issue has a lot to do with the change in weather and change in skin. You need to update your winter hair and skin routine, so your skin isn't flaky, and your hair isn't dry, brittle and flyaway.
Then, I'd recommend doing a routine in steps. First, use R+Co Acid Wash Apple Cider Vinegar Cleansing Rinse. Work it through the hair, massaging it into the scalp. Let it sit for a few minutes, and then rinse it out. Next, take the R+Co Bleu De Luxe Reparative Masque and apply it through the ends of your hair if it's long, to get moisture in and repair hair. Leave it on for 5-10 minutes, wrap it up and put it on top of your head. Go back in the shower, and rinse once with both, the R+Co Blue De Luxe Reparative Shampoo and Conditioner. Do this ritual twice a month. As your scalp starts healing, the flakiness will go away.
Once in a while, I would also take the Optical Illusion Smoothing Oil, and pump it into hands or onto the scalp where you have flakiness. Rub it in, and let it sit there. Then you can go into the shower and do your routine.
In terms of styling your hair during winter, I recommend that if you have a really dry scalp and you're using products to style hair, don't put products on the scalp. Remember that your hair and body are going to change with the seasons, because of the dryness in the air. Just like whenever you go from the East to West Coast, your hair reacts differently, and you need products to add moisture back in.
To keep the moisture balance on my skin, every day I use Sisley Energizing Foaming Exfoliant for the body. It has lavender and rosemary essential oils and it's a great scrub to help with dry areas. Then I'll use a Dead Sea Mud soap from Whole Foods on the rest of the body that isn't dry. It's a little granulated, and it sloughs off dead skin. I use that daily. Sometimes I'll use an almond milk or argan oil soap, if I want my skin to be really soft. After the shower, I use Sisley Extreme Concentrate Firming Body Cream. It's great to firm any areas where the skin gets rippled as you get older.
Then I'll use the Sisley Restorative Body Cream on the bottom of my legs, and wear cashmere socks. If I go on a plane and don't put this on, I get really dry skin! This doesn't get greasy; it hydrates the skin and keeps pulling in hydration.
For my hands, I use Sisley Hand Care Anti-Aging Concentrate. It lasts me over a month, and I use it often, and I carry it around with me. After hand sanitizer, I put it all over my hands. It has sun protection, too. With my hands in products all day, I don't want to have to have dry nail beds or dry skin, so I use this all the time.
Dr. Barbara Sturm
Hydrating Skin Routines, Milk Baths, Saunas, Lymphatic Drainage Massage
Two to three times a week before showering, I spend a few minutes using my body brush to get rid of dead skin on arms and legs. This also helps to boost my metabolism, and increase blood circulation and lymph flow. When dry brushing, I recommend to always start at your feet and brush upward with slow, clockwise strokes toward the heart using firm (but not uncomfortable) pressure. I follow that in the shower with my Sturm Facial Scrub, which is an essential way to take away dead skin and impurities, reduce ingrown hairs, and give you smoother skin. I also use the scrub on my body (back, chest, knees and elbows), then I use the Sturm Enzyme Cleanser and finally, I top it off with my Sturm anti-aging body cream. It absorbs really fast and specifically helps balance moisture levels.
I also love a good milk bath. They are full of nourishing vitamins and minerals. Vitamin E, which is an antioxidant that helps support cell function and skin health, and zinc, which holds anti-inflammatory properties, are ideal for soothing and healing skin. Milk also contains lactic acid, which acts as a mild exfoliant by loosening the conjunctions between dead skin cells. The fat and proteins nourish and smooth adult skin as well babies and kids. I do it all the time for soft, smooth skin.
In winter, you can use a simple humidifier in your home to help with dry skin. Make sure you place it near your bed at night. Sauna use has also been clinically studied for its tremendous skin, cardiovascular and other benefits. Just make sure to apply a Hyaluronic Serum and Face Cream immediately after finishing the sauna bath, to seal in moisture and avoid dehydration through osmosis. All year round, but especially in arid winter, avoid products that contain dehydrating ingredients, such as mineral oils, fragrance and alcohol, and aggressive ingredients and approaches like acids and harsh lasers that kill healthy skin cells and impair your natural skin barrier function. For hands: it's a must to apply hand cream frequently. My new Super Anti-Aging hand cream just came out and I recommend this tremendously. Remember, we have so much hand washing and hand sanitizer robbing oils from our skin. This cream absorbs fast and it's infused with almond and shea butter, among various antioxidants, to restore your hands to their better days.
Gentle lymphatic drainage is incredible for waking up the skin. The lymphatic system is responsible for carrying away and filtering out toxins and waste from every cell, tissue, and organ. The accumulation of toxins causes blockages and congestion in the flow of lymph, harming its ability to perform its job which shows up first in skin puffiness and other disorders. It's a key part of my facials, but you can also incorporate it into your skincare regimen at home. Here's how:
First, apply a serum all over your face and neck to reduce possible friction. Then, beginning just above the collarbone, gently massage the skin using your fingertips in downward, circular motions for about one minute. Move up the neck, massaging very slowly for seven to 10 gentle pushes, then use the edges of the hands to continue the massage toward the outer sides of the neck. Next, move to your forehead and using your fingers, gently massage the skin from the temples to the jawline, using a downward-facing, sweeping motion. Repeat the same movement from your chin toward your ears and then from the upper lip and cheekbones outward. Moving to the delicate eye area, continue to softly massage the skin in outward-facing motions toward the hairline. You will experience a de-puffing effect and see a boost in healthy, radiant skin.
Dr. Rosemary Ingleton, Rose MD
Foaming Cleansers, Oatmeal Baths, Omega Supplements
The most important steps to incorporate into your skincare regimen during the colder months that differ from the other seasons are to switch to foamy or milky cleansers vs. gel cleansers, and minimize hot showers—take warm showers so the hot water doesn't deplete your skin's natural oils. You can use something as simple even as Dove Beauty Bar to effectively clean but moisturize your skin. Immediately after showering you should always apply a rich moisturizer, even when skin is a little damp. Look for ingredients like glycerin, ceramides, petrolatum, and shea butter in the moisturizer. Consider switching from lotions to cream formulations in the colder months. Creams are richer and thicker.
Applying a body oil before applying moisturizer will also help absorb better. My favorite in this case is something really simple: Aquaphor Advanced Therapy Ointment spray. The spray packaging is very efficient and not messy.
I also think body exfoliation helps skin during colder months. My favorite non-drugstore scrub is from Fresh. Their Brown Sugar Body Polish is both exfoliating (utilizing sugar granules) and moisturizing (using kernel oil and citrus oil).
For feet, I usually recommend Eucerin Roughness Relief Spot Treatment cream because it contains high levels of urea and ceramides to smoothen thick, dry, calloused skin. Baths can help tremendously too, during colder climates. Taking baths with oatmeal can provide relief from itching and skin dryness. Make sure the water temperature of the bath should be warm (not hot). Before going out into the cold it's important to apply a rich hand cream generously to hands and fingertips. It is also essential to protect the face by applying a hydrating serum plus a rich face cream before heading out. I am slightly biased, but I recommend my Rose MD Skin Calming Booster serum as an ideal hydrating serum that has added vitamins C and E to protect and soothe the skin. This serum is ideally topped off with Rose MD Signature Moisturizer, which has ceramides, glycerin, and hyaluronic acid to lock in the skin's moisture.
Lastly, ingesting more fish oils either in foods (e.g., salmon, sardines) or in supplements (omega fish oils) are a good supplement to enhance skin's moisture and deliver needed vitamins for skin health.
Philip B.
Hot Oil Treatments, Humidifiers, Exfoliating Scalp Scrubs, and Areca Plants
Since we are talking environmental dryness, I say hit it systematically at the root to infuse moisture, emollients, and humectants for skin, scalp, and hair. Home humidifiers and humectant products are key for balancing hair, skin, and scalp. I am diligent about this and I take a monitor with me to check humidity levels. I even travel with a portable humidifier nebulizer that goes with me everywhere, especially on the plane.
To deal with a dry scalp, I recommend that you brush hair lightly to eliminate dead skin cells which will allow for better follicle function. Lightly exfoliate with a hydrating scalp scrub weekly. Once there is no buildup, sebum will secrete and the nourishment of moisturizing products will be better adapted so the scalp can receive the benefits of the actives. The Philip B. Peppermint Avocado Scalp Scrub was designed specifically for these instances. I also give my clients Forever Shine Shampoo and Conditioner and my Gentle Conditioning Shampoo that is non-comedogenic and super moisturizing during these colder temperatures.
In terms of addressing dry hair, you should consider skipping a wash and don't touch the hot tools! Give your hair rest and relaxation. Hot oil treatments are a must. My clients use the Philip B. Rejuvenating Oil once a week this time of year like clockwork.
Take this time to use lotions and creams that are luxurious and healing. I am a fan of Natura Bisse's Diamond Body Cream and Diamond Face Cream; for lips: Le Paradis Beauty makes a luxurious lip balm, and to keep my hands soft and hydrated, I love my own Lavender Hand Cream.
Lastly, since we are all spending more time at home, invest in a few Areca Palm plants. These palms release copious amounts of water into the air and remove chemical toxins, too.
Dr. Mariana Vergara, MD
Oxygen-Infused French Facials
Obviously during the winter months, less humidity means that we use more indoor heating, which can affect our skin. The dryness can produce inflammation which leads to itchiness, dry patches, and peeling. Also, because it's colder, we shower with hotter water which then depletes all the moisture in our skin. I recommend that you be very diligent in using a moisturizer all over your body at least once per day. Make sure it's on the heavier side and pay attention to your elbows, knees and feet—better yet, wear socks at night for better results. It may not be as indulgent, but try to take short, warm showers and always immediately moisturize afterward.
A great treatment for winter is the French Facial I perform with an oxygen infusion. It provides lymphatic drainage and hyperbaric oxygen, which helps get skin back on track after so much dryness. Don't forget during winter and these pandemic holidays, it's colder and we eat more and stray away from our healthy diets. This skin treatment will help eliminate toxins from the skin, increase cellular drainage, and improves your circulation. The hyperbaric oxygen will allow the hyaluronic acid serums in the facial to penetrate the skin. Hyaluronic acid draws moisture into the skin, resulting in improve skin volume and hydration. If it's used correctly, it is a total plus for your skin health.
Related: The Over-Anxious Angeleno's Guide to DIY Deep Hydration Masks