I (An Average Person) Got Curly Bangs Like a Top Model
Everything you need to know to get the look in 15 easy steps.
---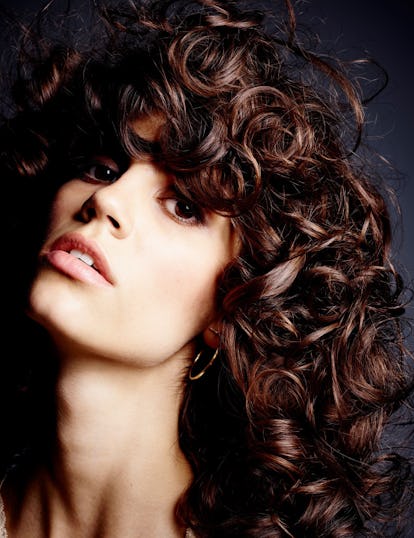 In the span of four short days I moved from Manhattan to Brooklyn, bought a lifetime supply of tupperware, and got curly bangs. I realize that sounds like the opener to Girls Season 5, but a girl's gotta do what a girl's gotta do. And now is the optimal time to try this new 'do, thanks to top models like Imaan Hammam and Mica Arganaraz as well as celebrities like Rihanna, Jenny Slate, and Julia Garner, who are bringing the '80s look back in fashion. (Not to mention a stamp of approval from W's very own Jane Larkworthy.)
Speaking as an average person who has never done anything cool with her hair, here's a step-by-step guide on how to take a risk, make a change, and get bangs like a top model.
1. Don't hesitate. Like with any fashion trend, one day curly bangs are in and the next day they're out—so take the plunge before it's too late.
2. Find a place of Y.O.L.O. zen. The morning of my haircut I woke up to find a giant pimple on my forehead, which I took as a sign from above that this dramatic change was meant to be.
3. Don't ask anyone if you should do it or not. Just do it. And then tell everyone.
4. Book an appointment with someone who knows your hair. I've been going to Devachan salon on Broome Street in Soho for so long that my mom accompanied me on my first appointment. Not only do they know curls there, but they also know my curls, which get extra bouncy when shorter, gravitate towards a triangular shape, and should never, ever, be above my chin. Rick, who did my bangs, knew all this and was conservative when he made the first cut. After my hair was washed and dried, (they only cut dry at Devachan), he then made adjustments based on how much my hair shrunk.
5. Bring inspiration images that are actually applicable. I wanted to look like a Mica Arganaraz in the Givenchy Spring 2016 ad, but my curls made me look like Gilda Radner on Saturday Night Live.
6. Figure out the shape you want. Every curl counts. Two small cuts can give you a rounder look, rather than straight across.
7. Snapchat every step of the way. It will lessen the shock when people see you for the first time. And if your reveal Instagram doesn't get more than 20 likes, it's advised that you don't leave the house again.
8. In the shower, use more conditioner on the sides. This will weigh down your hair to avoid looking like the triangular sushi roll emoji.
9. Comb out the strays. Lean forward and use your fingers or a comb to keep the longer bits back where they belong. Scram!
10. Gel the crown of your head on humid days. Bb.Curls's new anti-humidity gel-oil is nice and light but if you're headed to the rainforest or rave at China Chalet, pack old-fashioned hair spray.
11. Proceed with extra caution when crossing the street. You've lost your peripheral vision. I almost got hit by a bus on my way home from the salon.
12. Use both a headband AND clips when working out. A headband will bring your bangs straight up. I learned this the hard way when my gym crush saw me looking like the Statue of Liberty on the StairMaster.
13. Scrunch before trimming. Don't be fooled! Curls are different every day. Eventually, you'll have to trim, but scrunch 'till you drop.
14. Bless your mess. The best part about curly bangs is they look best when you're a crazy, frizzy, tangled mess. So, all the time.
15. Last but not least, it's imperative that you learn the final routine in Flashdance. What a feeling!
Questions that remain unanswered: Will my grandma recognize me? Will I survive the summer months? And will I ever see my forehead again?
Photos: I (An Average Person) Got Curly Bangs Like a Top Model
Photography by Diego Uchite, styled by Samantha Traina.
Rihanna. Photo by Getty Images.
Rihanna. Photo by Getty Images.
Mariah Carey. Photo by Getty Images.
Mica Arganaraz. Photo by bfa.com.