How to Rock the Vote Like Cleo Wade and Vic Mensa
With just one day to go till polls open, here's how to make sure your voice is heard.
---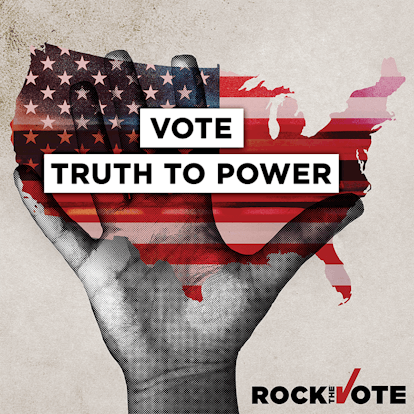 Courtesy Rock the Vote
After more than a year and more plot twists than House of Cards, election day is finally upon us. On Nov. 8, polls open across the country, and voters will cast their ballots in perhaps the most significant election of our lifetimes — and one in which the candidates' perspectives and policies couldn't be more divergent.
Earlier this year, W partnered with Rock the Vote on a massive voter registration push in the lead-up to the election. Now, it's time to make sure seasoned and first-time voters alike get out the vote tomorrow. Regardless of party affiliation, voting is the right of all registered citizens in the country, but it can still be a daunting prospect.
Rock the Vote is here to help. With the itemized checklist on the organization's homepage, voters can create a customized plan for voting day, including links to check registration status and the location of their polling place, tips for what to bring and what to expect — and, of course, how to look the part. The Voting Information Project (conveniently abbreviated to VIP) also provides details about polling places to ensure voters make their way to the right location on Nov. 8, as does our old friend Rock the Vote.
Then, for the on-the-go voters among us, there's an app for both Apple and Android operating systems; that's where you can remind family and friends to be more like Beyoncé and don't forget to vote. Voters can join teams via the app, because the democratic process is one best experienced with the whole squad.
Plus, it's not too late to phone bank. Via Rock the Calls, Rock the Vote provides the resources to talk to potential voters across the country — especially young women and people of color — about their plans for Election Day and how they can ensure their voice is heard at the polls. (And for the graphically minded, Rock the Vote even has a series of highly Instagrammable get-out-the-vote images, perhaps the most accessible tool for voters to spread the word; just slap a filter on it and watch the likes flood in.)
Vic Mensa is voting. Cleo Wade is voting. Kerby Jean-Raymond is definitely voting, up and down the ballot. It's not just about the face-off between Hillary Clinton and Donald Trump; this is our opportunity to determine, for ourselves, who governs the United States at the highest and lowest levels.