How To Get A Dior-Approved Smokey Eye
Courtesy of beauty master Peter Philips.
---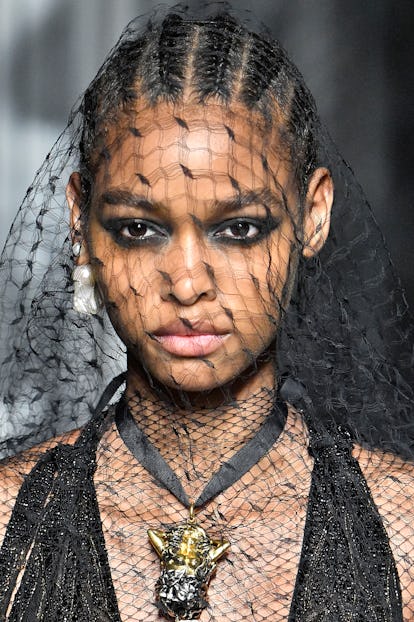 Victor VIRGILE
At yesterday's Dior Haute Couture show in Paris, models walked down the runway in swaths of moody, dramatic black, crafted in layers of tulle, silk-velvet, and plenty of feathers. Each look was topped with a black mesh veil by Stephen Jones—meaning the makeup had to be plenty bold and moody to match Maria Grazia Chiuri's vibe for the season. So, according to Peter Philips, the creative and image director of Christian Dior makeup, this called for one thing, and one thing only: a super dramatic, all-black smokey eye. "It's almost a very traditional, haute couture eye makeup," he explained backstage before the show. "For every woman, whatever skin tone you have, a smokey eye always works."
The idea for the look actually dated back to the spring, when the house presented its Cruise show in Marrakech, Morocco, when Philips showed Chiuri the brand's new tri-color eye palette in a trio of silver, grey, and jet black. "I gave her one customized with the name Maria Grazia, because she loves a black eye," he said. "And like every girl who gets a product she really wants, she was showing it to everyone. And she said, 'I was thinking for couture, we do a smokey eye.' So, voila."
Luckily, you don't need a personalized palette to get the look for yourself, thanks to Philips, who broke down how he achieved this particular aesthetic. First, Philips prepped the face with a natural skin look, using a primer and foundation from the Dior Backstage line. "No shading or contouring," he said. "A little bit of [gel] on the eyebrow, and that's it."
The focus, of course, is on the eye, which Philips wanted to look soft and lived in. First, he primed the eye with the Dior Flash Luminizer Radiance Pen on the eyelids. "It makes sure the the actual powder is applied evenly with no botches," he said. From there, he took a black shadow and began to make the eye by "pushing" the powder into the roots of the lashes. "I'm one of the few people who actually uses sponge applicators," he said. "I'll push it into the roots of the lashes, and then I'll take a soft brush and blend out. I brush it upwards, so it blends out a little bit. And on some girl, if the waterline was too visible, I added kohl liner."
And here comes the real trick to making this smokey eye unlike liner: no mascara. Yes, you read that right. "When you apply mascara, it becomes more about seduction," he said. "Without, it's more poetic. You take the harshness out of it, but it's still strong."
To finish the look, Philips kept the lip natural, with just a minor enhancement thanks to a swipe of neutral lip gloss—with another last minute pro secret, of course. "Last minute, we blot to get rid of the shine, so it just looks hydrated," Philips explained. And there you have: a couture look you can actually get yourself.
See Celine Dion, Nick Jonas, Christina Aguilera, and All the Other Famous Faces in Paris Haute Couture's Front Row
Christina Aguilera attends the Victor&Rolf Haute Couture Fall/Winter 2019 2020 show as part of Paris Fashion Week on July 03, 2019 in Paris, France.

Pierre Suu
Poppy attends the Victor&Rolf Haute Couture Fall/Winter 2019 2020 show as part of Paris Fashion Week on July 03, 2019 in Paris, France.

Pierre Suu
Gwyneth Paltrow attends the Valentino Haute Couture Fall/Winter 2019 2020 show as part of Paris Fashion Week on July 03, 2019 in Paris, France.

Jacopo Raule
Janet Mock attends the Valentino Haute Couture Fall/Winter 2019 2020 show as part of Paris Fashion Week on July 03, 2019 in Paris, France.

Jacopo Raule
Sebastian Stan attends the Valentino Haute Couture Fall/Winter 2019 2020 show as part of Paris Fashion Week on July 03, 2019 in Paris, France.

Jacopo Raule
Naomi Campbell attends the Valentino Haute Couture Fall/Winter 2019 2020 show as part of Paris Fashion Week on July 03, 2019 in Paris, France.

Pascal Le Segretain
Zendaya attends the Giorgio Armani Prive Haute Couture Fall/Winter 2019 2020 show as part of Paris Fashion Week on July 02, 2019 in Paris, France.

Photo by Jacopo Raule via Getty Images
Zoey Deutch attends the Giorgio Armani Prive Haute Couture Fall/Winter 2019 2020 show as part of Paris Fashion Week on July 02, 2019 in Paris, France.

Pierre Suu
Kitty Spencer attends the Giorgio Armani Prive Haute Couture Fall/Winter 2019 2020 show as part of Paris Fashion Week on July 02, 2019 in Paris, France.

Franco Origlia
Nikki Reed and Ian Somerhalder attend the Giorgio Armani Prive Haute Couture Fall/Winter 2019 2020 show as part of Paris Fashion Week on July 02, 2019 in Paris, France.

Jacopo Raule
Sara Sampaio attends the Giorgio Armani Prive Haute Couture Fall/Winter 2019 2020 show as part of Paris Fashion Week on July 02, 2019 in Paris, France.

Pierre Suu
Keith Urban,Roberta Armani and Nicole Kidman attend the Giorgio Armani Prive Haute Couture Fall/Winter 2019 2020 show as part of Paris Fashion Week on July 02, 2019 in Paris, France.

Pierre Suu
Isabelle Huppert attends the Chanel Haute Couture Fall/Winter 2019 2020 show as part of Paris Fashion Week on July 02, 2019 in Paris, France.

Rindoff/Charriau
Margot Robbie attends the Chanel Haute Couture Fall/Winter 2019 2020 show as part of Paris Fashion Week on July 02, 2019 in Paris, France.

Rindoff/Charriau
Marion Cotillard attends the Chanel Haute Couture Fall/Winter 2019 2020 show as part of Paris Fashion Week on July 02, 2019 in Paris, France.

Rindoff/Charriau
Ellie Bamber attends the Chanel Haute Couture Fall/Winter 2019 2020 show as part of Paris Fashion Week on July 02, 2019 in Paris, France.

Rindoff/Charriau
Tessa Thompson attends Miu Miu Club event at Hippodrome d'Auteuil on June 29, 2019 in Paris, France.

Dominique Charriau
Lila Moss attends miu miu club event at Hippodrome d'Auteuil on June 29, 2019 in Paris, France.

Pascal Le Segretain
Adele Exarchopoulos attends miu miu club event at Hippodrome d'Auteuil on June 29, 2019 in Paris, France.

Pascal Le Segretain
Amandla Stenberg attends miu miu club event at Hippodrome d'Auteuil on June 29, 2019 in Paris, France.

Pascal Le Segretain
Mackenzie Foy attends miu miu club event at Hippodrome d'Auteuil on June 29, 2019 in Paris, France.

Pascal Le Segretain
Kaitlyn Dever attends miu miu club event at Hippodrome d'Auteuil on June 29, 2019 in Paris, France.

Pascal Le Segretain
Beanie Feldstein attends miu miu club event at Hippodrome d'Auteuil on June 29, 2019 in Paris, France.

Pascal Le Segretain
Cailee Spaeny attends Miu Miu Club event at Hippodrome d'Auteuil on June 29, 2019 in Paris, France.

Dominique Charriau
Celine Dion attends the Schiaparelli Haute Couture Fall/Winter 2019 2020 show as part of Paris Fashion Week on July 01, 2019 in Paris, France.

Stephane Cardinale – Corbis
Mandy Moore attends the DUNDAS Haute Couture Fall/Winter 2019 2020 show as part of Paris Fashion Week on July 01, 2019 in Paris, France.

Stephane Cardinale – Corbis
Gal Gadot attends the Christian Dior Haute Couture Fall/Winter 2019 2020 show as part of Paris Fashion Week on July 01, 2019 in Paris, France.

Pascal Le Segretain
Rowan Blanchard attends the Schiaparelli Haute Couture Fall/Winter 2019 2020 show as part of Paris Fashion Week on July 01, 2019 in Paris, France.

Bertrand Rindoff Petroff
Priyanka Chopra and Nick Jonas attend the Christian Dior Haute Couture Fall/Winter 2019 2020 show as part of Paris Fashion Week on July 01, 2019 in Paris, France.

Stephane Cardinale – Corbis
Nicky Hilton Rothschild attends the Giambattista Valli Haute Couture Fall/Winter 2019 2020 show as part of Paris Fashion Week on July 01, 2019 in Paris, France.

Dominique Charriau