Beauty Queen Turned In-Demand Model Nuka Karalashvili Swears By Oatmeal And No Mascara
The two-time Ms. Georgia reveals her biggest beauty and style tips.
---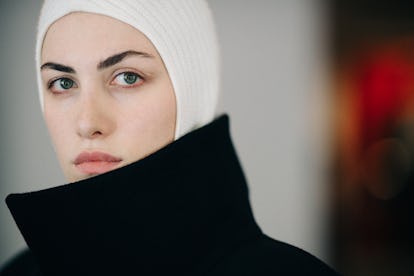 Despite traveling throughout Asia and Europe as a teenager, and walking shows and shooting lookbooks for the likes of Roberto Cavalli, Donna Karan, and Antonio Maras all over the world, model Nuka Karalashvili maintains that her hometown of Tbilisi, Georgia, is still her favorite city. Her national pride even got her crowned as Ms. Georgia in 2015 and 2016, which she says is the biggest accomplishment of her ten-year career. "I was shocked and confused, there were so many girls there, I couldn't believe they chose me!" the 25-year-old model recalled. While this year Karalashvili will crown a different girl, her career is far from over, as she remains a runway fixture at Mercedes Benz Fashion Week Tbilisi, walking six shows a day. "Fashion week here has never been so big – when I started ten years ago, there would be only one show, and everyone would be there." Times have changed, as MBFWT showcases over eighty designers, securing the country a spot on the map as a city-to-watch. Here, Karalashvili shares her favorite beauty tricks of the trade, and more.
Trick you learned from the pros:
The best smoky eye is made from using dark brown shadow, rather than black. It looks so much better.
Favorite beauty trend:
Highlighting your cheek bones has suddenly become very trendy in Georgia in the last two years. I use a light blush to make them stand out.
How to unwind after a day on the runway:
I like to read to unwind. I read English foreign language books—it's how I learn the language, by finding new words. Mostly though I need to sleep to have energy. Unless everyone is going out… then I'll go out. And definitely on the last night, we'll go to a huge afterparty.
Favorite books:
I loved the Amy Winehouse biography that her father wrote it about her so it's very emotional. Also "Fifty Shades of Grey."
Beauty go-to for a night out:
Before I did a ton of red lipstick, but now I prefer to be more natural. My new trick is not using mascara, just concealer and powder. I'm using very natural makeup. But I love red lipstick, I cannot totally give that up.
Favorite Georgian designers:
Anouki and Lado Bokuchava. I've known the designers for so many years, and I've walked in all of their shows. So it's hard to say one is better than the other, they all have their own individual styles.
How you were discovered:
At an Elite model competition when I was 16. It was the first time Elite came to Georgia. My mom brought me there, and there were two thousand girls. I was like, "Mom, there's no chance they'll choose me," and then they chose me.
Model-off-duty look:
Sneakers and a robe. But that's only for between shows. When I leave for the day I tend to go for sportswear, but in the winter I'll wear leather pants because it's so cold.
Beauty product you can't live without:
I love Elizabeth Arden Eight Hour cream. Also a MAC primer, and MAC red lipstick.
Three things that are always in your bag:
Phone, lip balm, and headphones.
Pre-show music to pump you up for the runway:
Jamiroquai—I love jazz rock. Also Earth, Wind, and Fire.
Where do you see yourself in five years?
It's so hard to say, especially in Georgia. Things are changing so much here. I graduated with a degree in international tourism from our state university, so I'm thinking about doing something with that. I speak Georgian, Russian, Italian and English, and I want to study Brazilian Portuguese next.
Exercise routine:
Surprisingly, I'm not very into working out. My maximum work out is walking on the streets!
Friday night activities on the town:
I go to BLOW or Café gallery. I went to Bassiani all the time two years ago. I used to go out Friday, Saturday, and Sunday, now I go out once every two weeks.
Beauty from the inside out:
Oatmeal and sleeping.
Related: What Life is Like in Tbilisi, Eastern Europe's Coolest City
How to Take a Selfie Like a Supermodel