Can Howards End Be the Downton Abbey Replacement We've Been Waiting For?
We already know there will be a lot of good hats.
---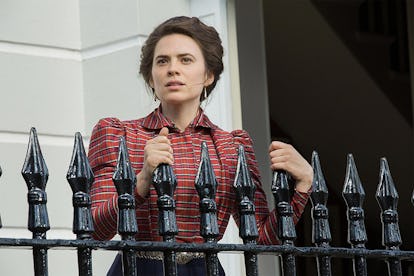 Courtesy BBC
Countless TV series have tried to fill the vacuum left by Downton Abbey when its final episode aired nearly two years ago, whether straight-ahead period dramas like Victoria and The Crown ripped from history or more subversive, cerebral narratives like Alias Grace. And now another contender has emerged: the BBC's new Kenneth Lonergan-written adaptation of Howards End, the 1910 E.M. Forster novel. (It's probably best known now for its epigraph, "Only connect," which adorns many a classroom wall and community library reading room.) Fronted by Hayley Atwell, the former star of Agent Carter and a seasoned member of Britain's corset crew, with credits including Brideshead Revisited and The Duchess, Howards End's new trailer hints at a story set in old-timey London and the lush English countryside. And the whole thing is soundtracked by singer-songwriter Lissie's 2016 song "Daughters."
The parallels to Downton Abbey are irresistible: Like Downton Abbey, Howards End is, by all appearances, populated by a great many fabulous hats: hats strolling down dirt roads, hats having tea, hats delivering heated monologues in the Queen's English. It's also named for the manor where it is set, which is a really meaningful similarity. We'll be listening for one-liners on par with those of Maggie Smith.
But it's not all visually stunning escapism: Howards End is also a rare and nuanced examination of the role of Edwardian women in society. (Forster's original novel also involves such scandalous-for-the-era themes as pregnancy out of wedlock, mental illness, and classism.) As Atwell recently told Deadline, her character is "contradictory, contrary and hypocritical and curious and inquisitive, all of these characteristics that I see present in my life but I don't necessarily see it as much on screen. So, for me, I wanted to tread carefully because I thought it was beautiful and nuanced and wasn't earnest or sentimental," she explained. "It's a dream to be given a female character that is so nuanced," she added in the Evening Standard.
It's also a study of the relationships between classes. The series focuses on three families of different stratums of status—the Wilcoxes, the Basts, and the Schlegels—and how their converging fates impact each other. "What's interesting is this emergence of a business class and the tension between business and art," producer Colin Callender, who also worked on the BBC's Wolf Hall, told Deadline. "Those are themes that are relevant and present today."
Howards End is the culmination of a pretty good year for Lonergan; it's his first effort since winning the Oscar for Best Screenplay for Manchester by the Sea in February. Closing out 2017 with the next Downton Abbey (especially while awaiting the Downton Abbey movie) is a better conclusion than many can hope for this year—and a refreshing palate cleanser for the rest of us.
Dan Stevens blushes at the mention of Goldie Hawn: