Take Note: Downton Abbey's Lily James on the Role of Scents
The British actress and face of Burberry wears a different fragrance for every role she plays, from Downton Abbey's Rose to Cinderella.
---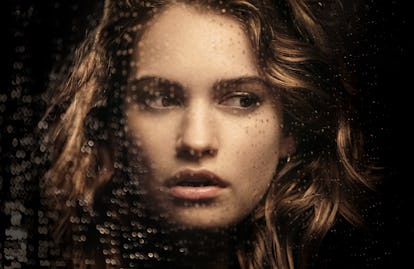 www.danmedhurst.com
W favorite Lily James just wrapped another transportive performance as Juliet alongside fashion veteran Marisa Berenson in Rob Ashford and Kenneth Branagh's Romeo and Juliet. And the face My Burberry Black fragrance isn't at a loss for words when it comes to how her scent habits star in her acting process. Here, the 27-year-old explains why the camera doesn't add ten pounds, how fragrance transports, and what new show everyone should be watching.
How would you describe My Burberry Black fragrance in three words? Seductive. Stormy. Fresh.
Where do you wear it? Well, I like to have a signature scent, so I wear this all the time and I'm quite heavy duty. I spray quite a lot, which is probably unnecessary. But I really like smelling it on me, it feels very sultry–like a black trench.
Where do you like to spray it? I go for the neck, for the arms and then I walk through. I do it all! [Laughs] The walking through is great. I'm sure it's a massive waste of a perfume, but I enjoy it.
Tell me more about this black trench. If you wear it in the day, I like it as more of a uniform all-black look with with sunglasses and trainers. In the evening, it looks great with a cocktail dress. One of the first things I bought when I started acting was a stone-colored Burberry trench. So, I was sort of a convert to the black.
Do you wear fragrance while acting or avoid it? I wear a different scent for every part that I play. I remember choosing a fragrance when I was on holiday in India. When I came back and I sprayed it, it was like I was back in India. It's amazing how smells take you back and remind you of things. It's such a sensual thing. So I started doing it for characters, especially when I was on Downton Abbey, I'd come back after six months off and I'd put on the perfume and it was sort of like stepping into the skin of the character. But then I've read that Helena Bonham Carter goes and makes [her own scents] at Neal's Yard or something like that. So I think it's a thing that a lot of actors do.
That's so cool. How important is it to control your image as an actor? It's something that I really think about, but at the same time I don't want to feel that I can't go out wearing jeans, a t-shirt and no makeup. That said, the more I work, the more I get a sense of what I'm comfortable with and what I like myself to look like in general.
Your body looks fantastic in the campaign, congrats. I heard nothing was retouched, true? Thank you! I really trust the judgement of the photographer. It's part of their craft, and I was in the best hands with Mario [Testino]. When it comes to retouching, anything that changes your silhouette or your body type is not cool.
Do you find that the camera really adds ten pounds? No, I've been really lucky. I haven't noticed a difference in pictures or on film. I think what's really rough is the high res. Film used to be soft and almost airbrushed by itself.
Is there anything that you swear by when it comes to diet and exercise? Well, I warm up before I perform.
Really, like what? Like yoga, and meditation. Especially doing theater, if you're not warmed up, your voice won't project.
Oh, that makes sense. What do you do for your skin? Kate Somerville. I love her products.
And for your hair, do you prefer blonde or brunette? Photographers tell me that I look more striking as a brunette, but I really noticed a different kind of attention when I went blonde.
What's your current obsession? The TV show Mum with Lesley Manville. My mum recommended it went I went home to visit her, it's everything.
Watch W's most popular videos here: