Full House
What does a family with one of the most spectacular private collections of postwar American art do when they run out of space? Give some of it away.
---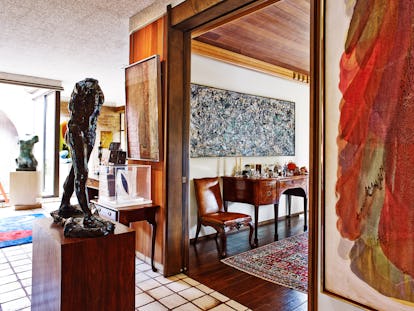 Photographer: Adrian Gaut
There are people who live with art, and then there are Harry W. and Mary Margaret Anderson. Better known as Hunk and Moo, the Andersons, who are 91 and 87, respectively, share their comfortable, unpretentious ranch house in Atherton, California, with a collection of 20th-century American paintings and sculptures that includes works by giants like Willem de Kooning, Franz Kline, Clyfford Still, and Jackson Pollock, whose 1947 painting Lucifer is the crown jewel of the Andersons' holdings and is considered the greatest work by the artist still in private hands.
In fact, the art seems to have the run of the place. In the entry alone, you encounter de Kooning's 1986 Untitled V; Philip Guston's 1977 The Coat II; and Kline's 1952 Figure 8. And you've only just walked in the door. But the couple—along with their daughter, Mary Patricia Anderson Pence (better known as Putter)—are doing a little housecleaning: Last year, they gave 121 pieces to Stanford University. The Anderson Collection will open in September in a new gallery, designed by Richard Olcott of Ennead Architects, on the Stanford campus. "They consider themselves custodians of the work they collect," says Jason Linetzky, the director of the Anderson Collection at Stanford. But, he adds, "they're very down-to-earth and casual about how they live with the art."
In the living room, Sam Francis's 1955 Red in Red has pride of place above the fireplace; over the sofa is Number 64, a 1958 work by Morris Louis, whose 1954 *Pendulum painting hangs in the hallway just outside the dining room—where you'll find Lucifer along with Still's 1947 1947-Y and de Kooning's 1954–55 Woman Standing–Pink—*in a space that is also filled, like much of the house, with English and American 18th-century antiques. The long corridor to the bedrooms, which the Andersons refer to as "storage on the wall," boasts paintings by Ellsworth Kelly, Agnes Martin, Richard Diebenkorn, and Robert Motherwell—to name a few.
Even Putter's childhood bedroom, which is still decorated with equestrian ribbons and an autograph book from the '70s (the first page of which bears the signature "Clyfford Still"), has a good-size canvas by Hans Hoffmann. Indeed, when the Andersons bought their prized Pollock in 1970, they hung it over Putter's bed, because, as Moo says, "we had an empty space on the wall." When the art dealer André Emmerich came to visit, he took one look at the painting and said to Hunk: "Maybe you ought to move that."
For the Andersons, collecting has always been an evolutionary process. At the time they brought the Pollock home, they had almost no place to hang it because, as Putter recalled, the more public rooms of the house were already filled with her parents' earlier acquisitions, by artists like Georgia O'Keeffe, Marsden Hartley, and Frederick Carl Frieseke; a Renoir was moved from Putter's room to make way for the Pollock. The collecting bug bit them in 1964, on their first visit to the Louvre. Before that, as Moo likes to say, "Art was someone you played golf with." They initially considered collecting Impressionist paintings, but, as Moo adds, "Most of the great things were already in museums."
It wasn't until around 1969 that they found their niche in postwar American art, mentored by the Stanford art history professor Albert Elsen and the Bay Area artist Nathan Oliveira, who was also on the faculty, as well as a star-studded cast of dealers, some of whom—like Arne Glimcher, the founder of the Pace Gallery—offered an education of another kind. The Andersons had passed on a piece by Louise Nevelson at Pace but had second thoughts, and six months later they returned, expressing their regret. Glimcher invited them into his office, where the Nevelson was waiting. "I knew you'd be back," he said.
"We were lucky to be in the right place at the right time, and to have the wherewithal to do something about it," Moo emphasizes. (Saga Foods, the food-service company that Hunk and two fellow students started at Hobart College in 1948 and sold to Marriott in 1986, was by that time quite successful.) James Cuno, the president and CEO of the Getty Trust, has said that the Andersons "defined their field early, and pursued it with vigor and good taste."
This isn't the first time the family has parted with a chunk of their collection—in addition to donating individual pieces, the Andersons gave a group of important Pop art works to the San Francisco Museum of Modern Art in 1992, and 655 prints to the Fine Arts Museums of San Francisco in 1996. But that doesn't make parting with the art that they've lived with for decades any easier. "It's like taking your child off to college for the first time," Hunk ventures.
Still, it's not as if the walls will be bare. For example, a painting by David Park, another Bay Area figurative master, will replace the Pollock in the dining room. And the Andersons continue to collect, having moved on to contemporary artists like Terry Winters and Vija Celmins, as well as to younger stars like Julie Mehretu, Tauba Auerbach, and Kate Shepherd, whose works are displayed in what used to be the pool house. Putter's extraordinary early exposure to art and artists led her to have a gallery of her own in the late '80s and early '90s before becoming a private art adviser, and she now counsels Hunk and Moo on their purchases, scoping out the New York galleries in advance of her parents' arrival. "It really is a family affair," Linetzky says. And the family that collects together gives it away together. Hunk puts it succinctly: "Because of what we were able to collect, Moo and I said to ourselves, this is something that really belongs to the world."
In the front hall of the Andersons' home, Auguste Rodin's Walking Man, 1880–85; Jackson Pollock's Lucifer, 1947, hangs to the right in the dining room; on the near wall is Morris Louis's Pendulum, 1954.

Photographer: Adrian Gaut
Hunk, Moo, and Putter Anderson with Susan Rothenberg's painting Patches, 1982, and Puryear's sculpture Dumb Luck, 1990.

Photographer: Adrian Gaut
In the dining room, Clyfford Still's 1947-Y, 1947.

Photographer: Adrian Gaut
Fletcher Benton's Pendulum Sculpture, 1971, flanked by works on paper by Rodin, Elie Nadelman, and Marcel Duchamp in the front hall.

Photographer: Adrian Gaut
Sam Francis's Red in Red, 1955, hangs above the fireplace under Alexander Calder's Happy as Larry #1, 1949.

Photographer: Adrian Gaut
In the studio, Martin Puryear's sculpture Sharp and Flat, 1987, in front of Terry Winters's Dumb Compass, 1985.
Back view of Rodin's Walking Man.
Pollock's Lucifer, with Peter Alexander's sculpture Untitled, 1971.
Sculptures by, from left, Max Ernst, Alberto Giacometti, and Saul Baizerman with Franz Kline's Figure 8, 1952, and Mark Rothko's Pink and White Over Red, 1957, in the background.
Puryear's Lever (#4), 1989.
In the hallway, clockwise, from near left, Ellsworth Kelly's Black Ripe, 1955, Philip Guston's The Tale, 1961, Richard Diebenkorn's Untitled, 1979, Motherwell's Italian Summer, 1963, Agnes Martin's Untitled #21, 1980.
Robert Motherwell's Wall Painting No. IV, 1954, in the guest bedroom.
Puryear's Dumb Luck, in the studio.
In the gallery are Still's 1957-J No. 1, 1957, Rothko's Untitled (Black on Gray), 1969, and Gabriel Kohn's Heteroclitus, 1964–65, on the floor.