Knitwear Designer Magnea Einarsdóttir Is Making Traditional Icelandic Wool Feel Fresh and New
The Central Saint Martins graduate and co-owner of Reykjavik's Kiosk boutique is all about an effortless look with a pop of color.
Photography by Magnús Elvar Jónsson
---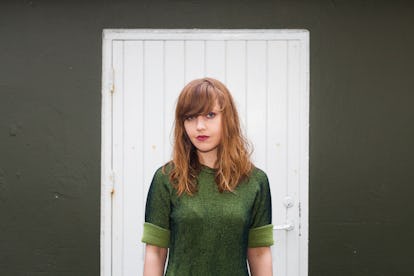 Photo by Magnús Elvar Jónsson.
When she graduated from London's prestigious Central Saint Martins design academy four years ago, designer Magnea Einarsdóttir didn't have any plans to start her own label. But after she returned home to Reykjavik and started a family, she found a niche in the knitwear market — which, in Reykjavik, is dominated by the traditional bulky, patterned sweater worn by just about every local and tourist alike — by combining Icelandic merino with contemporary fabrics.
For Einarsdóttir, who designs as the mononymous Magnea, inspiration is double-edged: she focuses on both a textile and a look. This season, the textiles were tulle and silk punctuated by pops of color, threads of green, pink, and blue incorporated into the designs. But as for the fashion inspiration, "Usually it's something a bit quirky or ugly," she said.
"I was looking at pictures of myself when I was five," she added, laughing, "I'm wearing these really ugly sports suits, like late '80s, early '90s." Vintage nylon turned into an eye for sporty details, elastic, and bold colors — and so Magnea's latest collection was born. She's gradually rolling it out into stores now; over the past year, she's taken up shop in Kiosk, Reykjavik's hot downtown boutique co-owned by Einarsdóttir and six other local designers, including Hildur Yeoman, a favorite of Björk, Nanna Bryndís Hilmarsdóttir of Of Monsters and Men, and Jófríður Ákadóttir of Samaris. Einarsdóttir likened it to a farmers' market; each of the designers takes several shifts manning the shop each month, and they share business responsibilities amid their work in their respective studios.
It's been more than a year since the last Reykjavik Fashion Festival, the now-defunct trade show where Magnea once showed, but interest in her brand has only continued to grow. In March, she showed a presentation at a dance studio downtown for her current Fall 2016 collection, the final pieces of which will arrive in stores in December; and for Fall 2017, she hopes to take her wares abroad and show during Fashion Month in February. During a busy early November afternoon, Einarsdóttir paused to share her style and design inspirations and reveal her favorite places to shop in Reykjavik. (No spoilers here — she's quite fond of Kiosk.)
Age: 30
Describe your style: Minimal — with attention to detail.
Favorite store in Reykjavik: Kiosk, Laugavegur 65, Icelandic design boutique. I am one of the owners together with six other designers and you can always make sure to catch one of us behind the counter when you visit the store.
Favorite vintage store: Stefánsbúð is a new favorite, vintage design-wear boutique, located in Miðstræti 12.
Daily uniform: Lipstick and heels, usually worn with casual t-shirts or turtle neck knits and loose jeans or sweats.
Nighttime look: Lipstick and heels, other things vary.
Style icons/inspirations: Coco Chanel.
Best recent discovery: ANGAN, a new Icelandic skincare brand. Each product is handcrafted and made out of sustainable ingredients from Iceland. Their bath salt makes you feel softer than ever and the scent of lavender and geranium is therapeutic.
Style pet peeve: I love it when women look effortless and natural and have their own personal style, so the opposite to that – trying too hard, wearing trends although they don't suit you and not feeling comfortable in what you're wearing.
Last purchase: I went hunting for some chic winter shoes the other day but had no luck. I brought home some super shiny ankle boots instead.
Lusting after: A weekend in London.
Something you always carry in your bag: My bag is huge and I tend to carry around all kinds of random things… lipstick, gum and my Moleskine diary are essential, though.
Travel essential: I travel quite a lot and have learned that function wins fashion when it comes to travel pillows — I never travel without one.
Something you would never wear: Crocs.
Favorite accessories you own: My oversized handbag. I also have a thing for socks, have a pair for every occasion.
Something you loved this past season: Fishnet tights.
Something you can't wait to wear this winter: I can't wait to mix and match all this season's colorful Magnea knits — a current favorite is a green merino turtleneck dress worn under a burgundy wool coat.
Music you're listening to right now: It's Iceland Airwaves season so I have been making some new discoveries – the Swedish artist Johanan and English band Minor Victories are on the top of my list. The Icelandic band Vök is also a favorite.
Book you're reading right now: The Art of Manipulating Fabric
Favorite Instagrams to follow: Kiosk (@kioskreykjavik), Freunde von Freunden (@fvonf), Islanders (@islanders.is) and Blæti Magazine (@timaritidblaeti)
What were some of your main inspirations this season? Some old pictures of myself as a five or six year old wearing some (quite ugly) bright pink matching sporty outfits which led me to researching details in late '80s/early '90s sportswear.
What's your favorite piece in your Fall 2017 collection, and why? A green silk/tulle dress with some delicate bright green woolen stitch details.