Gwen Stefani's Go-To Apothecary Is Making Holistic Beauty Super Chic
Julie Elliott, the founder of San Francisco-based apothecary shop In Fiore, dishes on everything from her celebrity clientele to the importance of a good bath.
---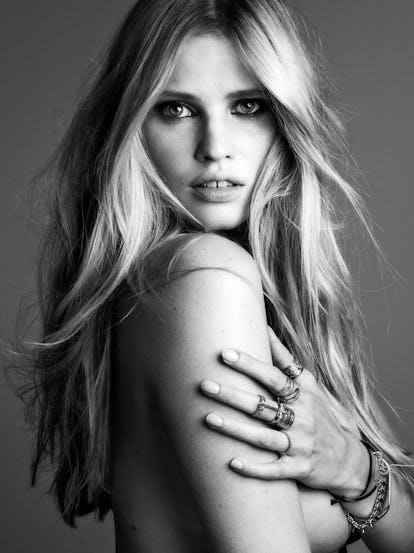 Photo by Kenneth Willardt, styled by Michael Angel, makeup by Charlotte Willer, hair by Stéphane Lancien.
Holistically-minded celebrities, models and tech moguls flock to San Francisco-based cult apothecary shop In Fiore for divine-smelling, chicly-packaged botanical oils, balms and solid perfumes curated by Julie Elliott, the brand's founder and chief apothecary. Here, Elliott discusses the new high-tech, naturals-based product line she developed with Japanese cosmetics giant, Albion, the power of essential oils and the importance of a really good bath.
What distinguishes In Fiore from other "natural" brands, besides the fact they smell lovely and feel incredible? One of the difficulties with natural products in the U.S. is that anyone can put out a product line and there isn't a lot of regulation governing what they can say about what the products contain or what they do. It's not like that in Asia or the EU. Products go through vigorous research. We sell in Japan, so we've always done that sort of due diligence. When people ask me if we test our products, I say, you have no idea! We also infuse our own oils in house, and make our own extracts and tinctures, which distinguishes us from a lot of other brands. We use only the highest quality certified organic or wildcrafted essential oils, herbs and floral waters. And our newly redesigned glass bottles are as functional as they are beautiful–they are non-porous, heat-tolerant and totally protect our plant actives.
What influenced you to become a naturals-oriented apothecary? Being born and raised in California, natural is in my DNA! But I was also influenced by my mother's French lotions and potions. I love French women's approach to beauty. They go to the department store for their favorite serum, and the apothecary for herbs, tinctures, etc.. It's a nice balance. I've been a student of natural materials like essential oils for so many years, I know how potent and powerful they are. That said, I'm not some hippie from San Francisco. I am a luxury consumer, and there is nothing more luxurious and decadent than working the way we do with naturals. It takes a LOT to get there.
A lot of celebs use your products. Can you name names? Off the top of my head, Gwen Stefani, Anne Hathaway, Liv Tyler… We're lucky enough to work with a lot of high-profile stylists and makeup artists, and they end up telling their model and celebrity clients about us. Nicki Ledermann, a makeup artist for film and TV, uses all of our products, and has sent us a lot of clients. And Danilo, the hair stylist, is one of my best friends, so he sends people, too. Everyone wants to go natural. We get emails all the time from makeup artists in New York and Paris who say, "we want to change our kit over to naturals–can you help?"
Besides the fact that the products are natural, what draws people to them? I actually didn't start In Fiore products in order to be green or eco, I started it because I can't stand synthetic fragrances and heavy perfumes. Scent is a very big part of what we do. Our skin is a sense organ. There are scientific studies being done that show that when skin smells sandalwood, for example, it starts healing itself. In the future, I think we will see a sort of scent medicine. We call it "perfumery as medicine."
What is your favorite essential oil? I would have to say jasmine, which is one of our key signature scents. It has a warming quality, and we need warmth to heal. The ancient Romans used it to treat injuries and sore muscles. I talk about essential oils like people! Jasmine and Rose love everyone. They are great harmonizers. I also love calendula. Calendula is like kale for the skin, it's nutritive and it works on any skin type or skin problem. And sea buckthorn berry is another wonderful material. For me, though, there's something really magical about the combination of jasmine and calendula–it practically vibrates.
What is your biggest seller? People love the body balms. There are a lot of balms on the market, but most of them are either waxy feeling, or there is a lot of butter in them, which makes them too heavy. It was really important for ours not to be at all greasy. A little dewy is nice, but greasy–not so nice.
You're big in Japan. Tell me about the botanical anti-aging skincare line you just launched there. Are you planning to bring it stateside? We teamed up with Albion, one of Japan's oldest and most respected cosmetics companies, to formulate a line of naturals that incorporates cutting-edge technology. They have some of the best chemists in the world, but they had no experience with naturals. The thing with naturals is they don't always hold up in larger productions. So we spent three years trying to figure out how to create natural products with the look and feel you expect from a prestige brand. It was challenging, but the great thing about collaborating with a Japanese company is that failure isn't an option. We will introduce the line stateside in early 2017.
What aspect of the new line are you most stoked about? Definitely the Transparence and Regenerant Botanical Waters. The Japanese have really mastered waters. In Asia they refer to them as essences or lotions. Women there want maximum hydration, but don't want to feel oily. Toners and essences aren't huge here in the States, but I think these botanical waters will replace serums for a lot of people. I also love the Brilliance Cleansing Balm. I have always wanted to bring back good, old-fashioned cold cream. This balm utilizes different oils and waxes to create a smooth, creamy, beautiful texture. It's quite rich, so it's great for mature skin.
The Japanese also use some, er, more esoteric ingredients in their skincare, don't they? When you go to a Japanese pharmacy, you see all sorts of strange products. One of our partners have a farm in northern Japan where some of our ingredients are grown. It's pretty remote, so I stayed at what was essentially the only hotel in the area. An associate warned me off the little complimentary products in the bathroom, saying, "they're all made with horse oil, you know, from horse fat." I was like, horse oil? Well, I'm not touching those. I can't get my head around horse oil, sorry. The only animal product we use at In Fiore is beeswax. Which I know a vegan won't apply to their skin. But it's such a nice ingredient and has a natural preservative quality.
I know you travel a lot. Where is your happy place? I try to go somewhere different each time I travel, but I would have to say my favorite holiday spot is Greece. A friend got married in Crete, so I went for two weeks, and fell in love with the lifestyle. There is no better water in the world for swimming. And they have such a rich history of homeopathy. I usually travel with my own remedies, but I don't need to worry when I go to Greece.
What was your favorite work-related travel experience? A company we work with in Paris has farms in Morocco, and they invited me to the northern part of the country for the orange-blossom harvest, and then we traveled south for the rose-petal harvest. I was never into black soap before, but that trip made me a believer. I didn't go to local hammams, as I didn't feel it was respectful, but I went to tourist or hotel ones every day. It affirmed my belief in the significance of scrubbing. It's more important than washing. Many people go to the baths to wash once a week, but in between they scrub. Scrubbing not only exfoliates the skin, it can also move your lymph. With massage, you can press too deeply and miss the lymph, but if you dry brush lightly several days a week, you can gently move it.
Besides dry brushing and scrubbing your skin, do you have other secret wellness weapons? What about diet? I work with Dr. Linda Lancaster, an incredible naturopath who splits her time between New York and Santa Fe. She's the one who taught me the importance of dry brushing and bathing. She has released me from diet labels like paleo, vegetarian, vegan. We all have individual needs when it comes to food, so no one diet is right for everyone. Like a lot of Californians, I shop at the farmer's market, and try to eat locally and in season. If I have one food ethic, it's that everything I take in be super-nourishing. I don't do raw food. Dr. Lancaster is not into that at all. As beautiful as the idea of it is, our bodies need warmth. I've been drinking bone broth for ages.
You talk about water and bathing a lot. Why is bathing so important? Besides whole foods, baths are the most effective way to cleanse the body of toxins. Many of us who live an urban lifestyle breathe in a lot of toxins. Not to mention the electrosmog all around us. In the United States, we don't really have a culture of bathing rituals or anointing our bodies with oils. But most other cultures have a history of scrubbing the skin, and anointing the skin.
Do you add anything to your bath water? I often mix in a pound of baking soda and a pound of sea salt. It is incredibly detoxing. Another simple but effective bath for eliminating toxins is to add a quart of apple cider vinegar to your bath–not only does it help you detox, but it's good for your skin, too!
I have a terrible cold. Any holistically-minded advice? Dr. Lancaster formulates homeopathic remedies for me, and she makes a great one for colds. It's a combination of osha root and various herbs in a honey base. If you feel like you're coming down with something, you make a lovely tea by putting it in warm water, and maybe add a little whiskey if you feel like it. It's like a healthy hot toddie. The osha root is a traditional native American herb that fights respiratory problems. Another trick–slice an onion into segments, put them in a jar, and cover them with honey. Let it sit overnight. In the morning, pour off the honey and take two tablespoons straight. It's not as bad as it sounds, and I swear it works, especially for coughs and bronchial congestion. It's a trick employed by rock stars and performers for whom the show must go on.
You must have gotten that one from one of your rocker clients! I think I'll opt for the healthy hot toddie. Do you drink other spirits, or wine? I don't drink wine–there's too much sugar. But I do sometimes indulge in really good tequila.
San Francisco is an eater's paradise. What are your go-to restaurants? I'm pretty obsessed with Tartine's new concept, Tartine Manufactory. It's got a great vibe- you feel like you're in Berlin, and the food is amazing. I mean, Chad Robertson is probably the best bread maker in the country. They are starting a dinner service this week, and I can't wait to try it. I also love Izakaya Rintaro for authentic Japanese food. Cala for tacos. And on a rainy Sunday at about 3:30 p.m., I can't think of a better place to be than Zuni, which after all these years is still amazing, and a go-to for local foodies. In Chinatown, I go to Mister Juis for really well-executed Chinese food. I like their bar a lot, too. You can order a good mezcal or tequila with a coconut-oil float. It's my new detox-tail. Hey, it's all about balance!
Do you use anyone else's beauty products? I live in Pacific Heights, near Fillmore Street, which has turned into a serious beauty destination. You have Space NK, Le Labo, Kiehl's, MAC, NARS, etc.. I haven't completely converted to naturals when it comes to makeup or hair products. My signature beauty look is a red lip. There's just nothing better than a red lip to pull things together. I don't wear a lot of other makeup, but my features are such that I need that pop of color. My favorite shades are by Lipstick Queen and Kevyn Aucoin. As for my hair, Danilo works with Pantene, and hooks me up with their products. Hair science in general is getting so interesting. Unfortunately, naturals don't come close. Our Japanese partner launched a product for men that over time gets rid of gray hair. Every time I see the guy I work with there, his hair is darker. It freaks me out! The scientist who developed the product was instrumental in developing nanotechnology. I think where naturals do work in haircare is scalp detox. Christophe Robin makes a hair balm with salt. I have a bit of trouble dispersing it around on my scalp, but I love the idea. I also massage my scalp with rosemary oil, which helps get the circulation going.
You used to work in high-end retail. Where do you like to shop these days? I'm not really a big shopper anymore. I spend my money on travel. But my guilty (read: expensive) pleasure is March, an absolutely gorgeous homewares store on Sacramento Street in Pacific Heights.
Speaking of travel, you're in Japan a lot for business. Where do you stay? The Aman Tokyo has to be one of the nicest hotels in the world. It's a splurge, and it's not in the most convenient area, but once you are there, you don't want or need to leave. They have a well-honed wellness focus. There is fresh-pressed juice in your minibar, and instead of a chocolate on your pillow, housekeeping leaves aromatic shaved cedar wood for the bath. And needless to say, the spa is amazing. If you don't want to spend so much, I recommend the Cerulean Tower hotel, a good business hotel conveniently located near Shibuya.
Any favorite cafes or teahouses in Tokyo? I head to Higashiya (higashiya.com/en) for tea and beautiful Japanese wagashi, or confections. Yakumo Saryo is also super chic and a great place for breakfast and tea.
The Japanese have a long tradition of "onsen," or bathing in medicinal hot springs. Where do you bathe in Japan? I'm dying to do a comprehensive onsen tour of Japan. The best onsen ryokans (or inns) are in the countryside. I love Hoshinoya Karuizawa. Karuizawa is a beautiful, old resort town in Nagano with great food and stunning scenery. The color palette of the historical buildings there- deep midnight blues, dark woods and high-gloss black tile roofs- was the inspiration for my shop in San Francisco. It's one of the things I love about Asia- they aren't afraid of dark rooms. Hoshinoya just opened a location in Tokyo across from the Aman hotel. I can't wait to try an authentic ryokan experience right in the middle of the city (hoshinoyatokyo.com/en).
Watch W's most popular videos here: