Jazmin Whitley is in the House
Now that Lauren Conrad has left the building (the former Hills star is not returning for season 6), MTV wasted no time filling her Louboutins with another aspiring Los Angeles fashion designer with a propensity...
---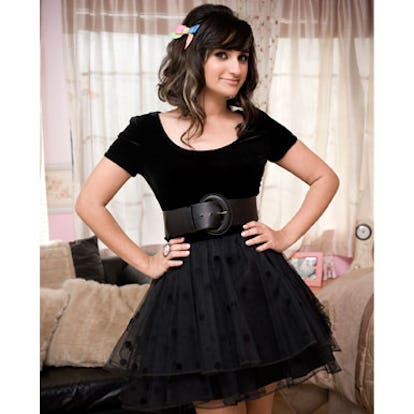 When did you start your collection? Well, my first collection was in high school when I was a junior. So I was, like, 16 and then I finished that up and then I had, like, my first fashion show at my high school when I was 17.
Did you formally study design in school? I studied with a personal [instructor], like one on one, who coached me on fashion and styling. I also work with my grandmom. So I took classes in Brazil and in Italy.
Why the name Li Cari? Translated from Italian to English it means 'dear to your heart,' and it's also my grandparents' last name. So it's really personal.
How do you describe the look of your collection? I think it's sophisticated and chic and I think there are pieces in my collection for everyone. It's, like, really versatile. There are pieces that you could see on a 14-year-old girl or a 50-year-old woman. And I really try to create timeless pieces that you don't look back and say, 'What was I thinking when I wore that?' You know, stuff that you can pass down to your children.
In the pilot you mention Coco Chanel as someone you admire. Who else inspires you? I think my biggest influence and inspiration would be Coco Chanel because just, like, the cuts and the fabrics and everything are so, like, my personal style. And so it's so, like, exciting to see all of her work and how she started with hats, and when I was young I started designing, like, sketches of perfume bottles. I was just attracted to design in general and so then as I got a little bit older it, like, went, like, all the way toward fashion.
How were you approached for the show? Well, there's this producer named Adam [Vetri]. We met, like, at an event. He attended a few of my fashion shows and it kind of just went from there. Like, I don't even know. It was meetings and kind of just creating this whole thing. It sounded like something that I definitely, like, would want to do, I mean, at this time in my life. Kind of just to show young girls out there that you can be hard working and you can be a positive good influence, like a role model, and you can still have fun and do what you love and…yeah.
What do you think about the way the characters are portrayed on other reality shows like The Hills and The City? Um, I think that it's different from this show because my show is kind of more like a documentary type of a show, because it shows the steps and the hard work that's put into [the collection] and kind of just a different element than the vibe you would see on The Hills and The City.
In one of the first scenes you get in an altercation with one of your models. Tell me a little bit about what happened there. Oh my gosh. Um, well, in that situation there's this model, her name was Alex, and she was kind of, like, complaining. It was kind of hard because most designers are a lot older than I am, and so they work with models but I am the same age as my models. So it kind of gets hard because they look at me more like their peer or their friend because I'm really friendly…So when I have to be the boss sometimes it's, like, hard to work with them because they don't really, like, you know, know how to distinguish, 'OK I'm working for her.'
What other kind of drama can we expect from the season? Just the tension and hecticness that's in the world of fashion, which never dies down.
Photos: Jamie Carey