Ina Garten Has a Serious Appetite for Taylor Swift
The Barefoot Contessa and author of the new Cooking for Jeffrey dishes her "1989"-heavy culture diet.
---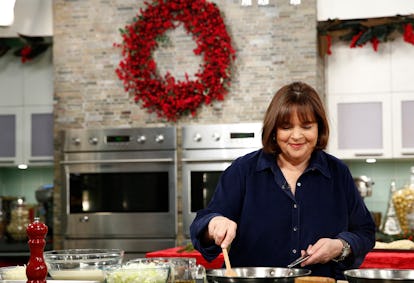 NBCU Photo Bank via Getty Images
Though she's cooked for everyone from Mario Batali to Michelle Obama in her dozen-plus years as the Barefoot Contessa, Ina Garten has only ever had one real priority when it comes to mouths to feed: her husband Jeffrey's. The pair has been married for just shy of half a century now — a time studded with saffron challah, fried oysters, chocolate crème brûlée, and more recipes now memorialized in Garten's tenth cookbook, Cooking for Jeffrey. From her now-familiar home in East Hampton, she shared what else she's been digging into lately in her culture diet, here.
First thing you read in the morning: Instagram. [Laughs.] Surprisingly, because I was probably the last person to social media. When my assistant suggested we do an Instagram, I said, "I don't have time for Instagram." I also look at the New York Times online.
Books on your bedside table right now: The last thing I read was Dead Wake, Erik Larson's book. Right now I'm reading The Last Days of Night by Graham Moore, which is kind of a fictionalized story about Thomas Edison.
The TV shows keeping you up at night: Well, "The Crown," of course. Everybody's watching that. And "Occupied," a Norwegian series about Norway being secretly occupied by Russia. It's really good. And a British crime series called "Happy Valley."
Last movie you saw in theaters: I just saw Loving last week, which was amazing.
Last thing you saw at the theater: Falsettos and Hamilton. Both were so spectacular.
Last piece of art you bought, or ogled: I collect the still lifes of a guy in Provence, whose name is Julian Merrow-Smith. He does a painting almost every day, which is usually a still life, and I just think they're beautiful. And recently I bought these huge photographs of polar bears at a gallery in Paris. [Laughs.]
Last museum exhibition that you loved: Frank Stella at the Whitney, which was wonderful.
Release you're most eagerly anticipating: I can't wait to see Manchester by the Sea, which is supposed to be amazing. And Michael Lewis has a new book [The Undoing Project], too. I love his books.
What you're most excited to cook this holiday season: I'm always trying to figure out what to make on New Year's Eve, and I've been thinking that baked potatoes with caviar might be the thing.
Last song you had on repeat: Well, I always have Taylor Swift on when I cook — I love to listen to Taylor Swift. [Laughs.] Is that surprising? "1989" was amazing.
Last concert you saw live: Taylor Swift. [Laughs.] At MetLife Stadium with my whole team, the summer before last. It was incredible, just incredible. We're all fan girls.
How you get your news: The New York Times, The Washington Post, and HuffPo.
Favorite social media accounts to follow: It's mostly Instagram — my friend Miguel Flores-Vianna, who's a photographer; Debby Tenquist, who's a garden designer in South Africa; Danny Meyer, because I just adore him, and I'm dying for Union Square Cafe to open again; Yotam Ottolenghi in London; and various design things.
Last thing you cooked for Jeffrey: Breakfast for dinner, which was great. I made overnight waffles from my Make It Ahead book, with crème fraîche and smoked salmon.
Last thing you do before you go to bed: The New York Times crossword puzzle — it puts me right to sleep. [Laughs.] I do it on my iPad; it's a great app.