Ina Garten's Extra-Large Quarantine Cocktail Will Wash Away Your Coronavirus Anxieties
When you're in quarantine, any hour can be cocktail hour if you try hard enough.
---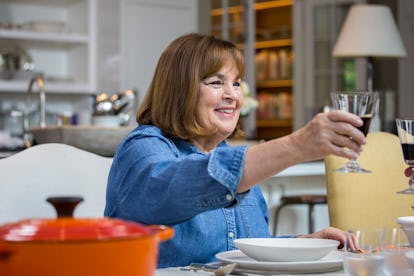 Photo courtesy of Getty Images.
"During a crisis, you know, cocktail hour can be almost any hour." Wiser words have never been spoken, but this sort of truism is par for the course when you're watching a cooking lesson from Ina Garten.
On Instagram, the Barefoot Contessa chef shared her recipe for a mouthwatering quarantine cocktail that's actually large enough to take some of the edge off from thinking about the coronavirus in the time of social distancing. From her East Hampton kitchen, she introduced the recipe by saying, "During these stressful times, it's really important to keep traditions alive."
"You never know who's going to stop by—wait a minute, nobody's stopping by," she laughed. The only guest Garten will be serving is her husband, Jeffrey, who is quarantined in the Hamptons with her.
To start this recipe, you need a big pitcher and some "good vodka." Garten recommends two cups of the alcohol, though she is not a stranger to a heavy pour (and at least her idea of "two cups" appears to be a lot closer to reality than Sandra Lee's idea of what constitutes "two shots" of vodka) Add in a cup of triple sec or orange liqueur, one cup of cranberry juice cocktail, and half a cup of freshly squeezed lime juice. In this instance, store-bought lime juice is not fine—it is "very important" that it has to be freshly squeezed, according to the chef.
Shake that bad boy up in a large shaker halfway filled with ice for 30 seconds because "you have lots of time, it's not a problem," according to Garten.
As for the final touch? A good martini glass. And by good, Garten means big. Like, really big. Big enough to fill about 36 ounces worth of cosmopolitans and wash away your quarantine anxieties.