Invisible Touch: Is Infrared Light Your Friend or Foe?
Doctors and wellness gurus weigh in on the "good" vs. the "bad" forms of infrared's mysterious, invisible force.
---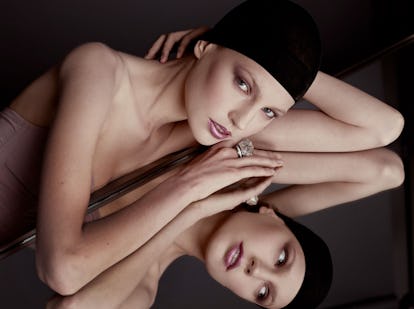 Are natural beauty treatments always better? We've certainly been led to believe so, but when weighing the effects of infrared light sources on your skin and health, for what feels like the first time, the answer may surprise you.
Infrared (or as it is commonly referred to, IR) technology's recent catapult into popularity, touted as a miracle cure for everything from skin laxity to a sluggish metabolism, has created a cult-craze of LED bed treatments, sauna memberships, and portable at-home beauty devices that are racking up five-star reviews from satisfied customers. "I think many are experiencing the health benefits and spreading the word," said Sophia Gushee, author of The A to Z of D-Toxing, and firm believer in the power of infrared's invisible forces. "I meet people all the time, like cancer survivors and others with serious health issues, who find IR saunas and lamps to be essential in managing symptoms and feeling better. From my personal experience, I'm immediately relaxed, awakened in a soothed and gentle way, plus my complexion improves."
An instinct to shy away from the concept of self-inflicted radiation would be nothing short of logical (especially when much of its packaging is alarmingly reminiscent of the harmful tanning beds of yore), but at this point, is an unfounded one. "The safety and efficacy of the use of IR in cosmetic dermatology has been validated by a plethora of peer-reviewed studies," explained Dr. Neil Sadick, whose Manhattan dermatology clinic counts supermodels like Naomi Campbell and Adriana Lima as members of its A-list clientele. Employing IR-based treatments like Omnilux (which stimulates hair follicles) and Velashape (used for cellulite improvement and stretch marks) in office, Sadick notes that manmade forms of infrared have the ability to spark cell repair, produce collagen and elastin, and reduce inflammation. In short, it has the potential to help you heal.
On the opposite end of the spectrum, forward-thinking skin care brands are finding that natural infrared light inflicted by the sun is even more damaging than we previously understood. "Studies show that more than 50% of all light that hits earth is infrared rays," revealed Dr. Lieve Leclercq, VP of Basic Science Research at Origins. "This means we have only been considering a fraction of light, and then as a natural corollary, skin." On the short list of companies addressing the issue, Origins just launched their A Perfect World collection, designed to strengthen skin's barrier and help protect from infrared rays as well as environmental stressors like pollution. Harnessing antioxidant-rich botanicals like edelweiss, white birch, and silver tip tea, the line tackles the premature signs of aging which can manifest in your complexion as dark spots, fine lines, and sagging from overexposure. Supporting the uptick in IR awareness, Dr. Jacqueline Hill, Director Innovation and Science at La Prairie, seconded these new discoveries. "Photo-aging and skin damage caused by solar radiation is well-known," she said. "But scientists have recently learned that this damage results not just from UVA and UVB (ultraviolet), but also from longer wavelengths such as infrared radiation." The brand's new Line Interception Power Duo moisturizer utilizes carnosine, an anti-aging peptide which stops oxidative damage and stimulates collagen synthesis while boosting skin's defense system. Bolstering last year's anti-pollution product arsenal, the next wave of season-less elemental protection is officially on the table, not to mention top of mind.
When pressed about the long-term safety of manmade infrared treatments and tools in the wake of the latest findings, Leclercq admitted that knowledge is still limited, though as of now, there's no reason to cancel your next laser hair removal appointment or toss that favorite new blow dryer. "The IR that comes from mechanical devices emits a different type of energy," Leclercq explained. "These rays cannot be compared to infrared rays that occur naturally in the environment." And in the short term, the potential benefits of IR beauty treatments may be enough to understandably cross your fingers and simply proceed with a fully informed outlook—all while applying an extra layer of your favorite new barrier-boosting sunblock.
Related: The beauty secrets of supermodels