9 Instagram Accounts We're Thankful For in 2017
From @justinbieber to @dietprada.
---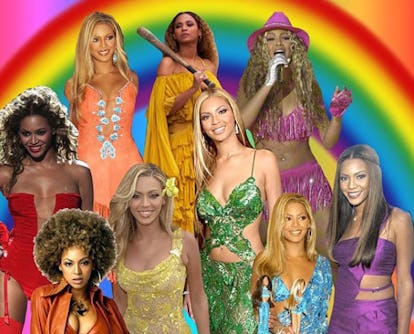 Photo via @OfficialSeanPenn
Facebook is full of fake news. Twitter is full of trolls. Tumblr is a mess. Our only social media refuge these days is Instagram. Yes, sometimes your friends post way too many drunk stories and the influencers' #sponcon for various health miracle teas gets annoying, but curate your feed correctly and Instagram can still be your retreat into pure digital bliss. Whether it's the beautiful, the weird, or just a picture of your friend's lunch, it's still a relatively stress-free scroll.
As we celebrate the holidays, W's editors share the accounts they're thankful to follow this year. The list runs the gamut from fashion's new eagle-eyed whistleblower @DietPrada to 'Gram mainstays like Justin Bieber. If you're looking to make some additions to your following list, or just hoping to find something to distract you from stalking the account of the high school crush you're suddenly thinking about while you're back home, give these a try:
Justin Bieber, @JustinBieber
"I still ride for @justinbieber. What other human that famous and relevant and interesting and narcissistic lets you follow their id that nakedly since Kanye left social media? (Who isn't Trump)." – Fan Zhong, Digital Culture Editor
Diet Prada, @DietPrada
"Fashion, sometimes, takes itself very seriously. And, paradoxically, fashion sometimes doesn't know its own history. That's why it's been such a gas to see @diet_prada gleefully take the piss out of fashion's sacred cows and, at the same time, educate those amateurs out there who think of themselves as connoisseurs. Though started in 2014, I've only discovered the account in the past year, and I like to think of them as the Justice League of fashion social media, calling out the lazy, the clueless, and the copy cats who dare to think they can get away with murder. To all the hucksters: Careful, someone's watching. – Erik Maza, Digital Features Director
Candice Bergen, @BergenBags
"Though her bio reads 'Tired-ass Honky Ho'" the Murphy Brown star's Instagram is my vision board for the future. In between customizing priceless bags with paintings of pets, Candice often likes to play with her food and jet set with fellow recurring stars of syndication." – Taylor Ford, Associate Director, Social Media
Maurizio Cattelan, @MaurizioCattelan
"What's the difference between art and meme? Maurizio Cattelan, the artist who, among other things, installed a 24k gold toilet in the Guggenheim, is the perfect person to explore the question—or confuse the answer even more. The conceit is he only posts a single image (and increasingly a video story) at a time and deletes it when he finds a new one. It's a mix of ever-so-slightly unsettling web ephemera, some of which you may seen before, and other that will leave you wondering where he found it. Sorry, you already missed Tuesday's story of a man being overtaken by a small army of inflatable whales." – Kyle Munzenrieder, Digital News Editor
Official Sean Penn, @OfficialSeanPenn
The first thing you should know is that, no, the account does not belong to the actor Sean Penn. That's really the only constant thing we can tell you to describe their feed of weird web finds and pop culture oddities. – Aaron Kurlander, Digital Visual Editor
Fran Fine Fashion, @WhatFranWore
"The meticulous tracking of The Nanny's outfits—from Moschino to Todd Oldham —brings me more joy than it should." – Sarah Leon, Digital Editorial Director
Pete Souza, @PeteSouza
"Former White House photographer Pete Souza's subtle Instagram shade features a mix of classic and new images of President Obama, strategically posted as a quiet but provocative response to some of the more jaw-dropping moments of the Trump presidency." – Anne Sachs, Executive Digital Director
Overheard New York, @OverheardNewYork
"I'm thankful for Overheard New York because I can count on it to make me laugh whenever I look through my feed. It also makes me feel better about the silly things people probably hear me say when I'm walking around the city." – Jenny Oliver, Social Media Coordinator
How You Glow, @HowYouGlow
"My favorite health and wellness account, started by L.A.-natives Tara Sowlaty and Jessie De Lowe. But it's not just devoted to salads and smoothies, but beauty products, new hotels, and exercise classes. The way the girls capture their world of all things 'glow,' totally draws you in." – Gillian Sagansky, Contributing Editor
Related: See Last Year's Picks
See What's Trending in W Video: