Introducing Permanent Collection, the Vintage-Inspired Label That Calls Itself "Slow Fashion"
Fanny Singer, daughter of food world pioneer Alice Waters, and Mariah Nielson have created an artfully curated line of jackets, scarves, and more inspired by pieces they've collected from around the world over the years.
---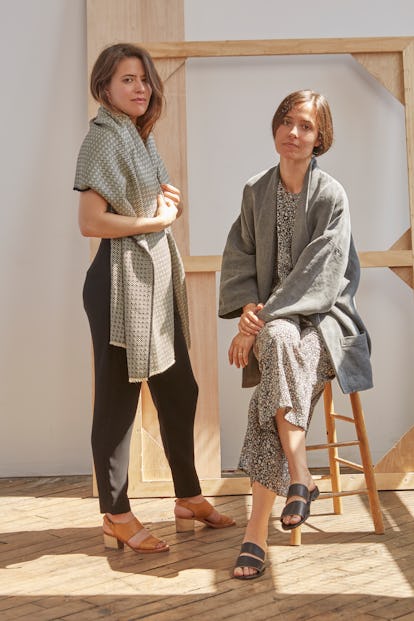 It all started in 2012 at a block party in London, where Fanny Singer and Mariah Nielson bonded over the vintage outerwear they were sporting.
"We were both wearing these navy coats that we were admiring and learned that they were of vintage provenance," said Singer, the daughter of acclaimed restaurateur and food activist Alice Waters and winemaker Stephen Singer, who was doing a Ph.D at Cambridge University in art history at the time. "That ultimately is what inspired Permanent Collection."
The duo's newly launched lifestyle label, named Permanent Collection, includes a navy jacket (the Agnes) that's based on that same jacket Nielson was wearing during their first meeting. "I bought it about 15 years ago at a second-hand shop in Ashland, Oregon. My grandma lives up there and trained me from a very young age to thrift," said Nielson, the daughter of Bay Area-based, multidisciplinary artist J.B. Blunk and organic textile pioneer Christine Nielson, who was in London doing a joint program between the Royal College of Art and the Victoria & Albert Museum in design history.
After the two spent time organizing exhibitions together (they were both working as freelance curators and writers before launching Permanent Collection), they kept coming back to these coats and finally decided to remake them, which quickly led to the idea of a bigger project.
"They were coats that our friends coveted and when we casually mentioned the idea of remaking the coats, many of our friends said well if you are going to remake them once or twice we should put an order in," said Nielson. "We started with a selection of 22 vintage pieces from both of our closets and after meeting with several people in the fashion industry and receiving very good counsel we decided to narrow that down to just five, which is now our first collection."
The inaugural range ($300-$1,200) includes three jackets, a pair of Italian leather sandals, a scarf, and a set of four porcelain cups, all sold through their website and select retail stores like Hero Shop in San Francisco and General Store in the Bay Area and Los Angeles. The pieces, which are primarily made in New York's Garment District, are made of luxe, ultra fine materials they have sourced from around the globe. The Asawa oversized scarf is a one-of-a-kind piece custom loomed in Japan to match the textile of a vintage jacket they loved; the leather shoes, based on vintage sandals, are handmade by Atelier Attal in Paris; and the lightweight, Barbara wool coat is made in New York but the boiled wool was made in Italy.
"This is not just a fashion project," insisted Singer. "We started with primarily fashion in terms of what it looks like, but that's because we are starting so small. As we start to open up what this project will be, it will take many forms. It means that fashion will be a thread that runs through it. Maybe one season we will focus on publications, or maybe there's a publication beyond words on paper, like an art book, to supplement the collection in some way."
Having not come from a fashion background, the two spent a great deal of time doing their research and consulting with their fashion industry friends, including famed costume designer Jacqueline West (she was nominated for an Oscar for The Revenant), Suzy Tompkins Buell (founder and co-owner of Esprit and co-founder of The North Face), and Nielson's mom. "Suzy is a fairy godmother of mine and she said to come out with the highest quality you can. You aren't approaching this as designers or as the new, hot kids coming out of fashion school," said Singer. "This is fundamentally about quality, so make sure it is quality when you launch."
Singer's mom's philosophies also played a part in the brand's ethos. "Alice's dedication to slow food obviously influenced the philosophy behind this project and in many ways, you could describe it as slow fashion," said Nielson. "We are not a venture capitalist's dream project. We want to grow it slowly and sustainably."
The two are working a collaboration with Waters on a range of kitchen utensils for the brand, along with a bedding line with Nielson's mom, more design objects, and a second collection due out in November.
"We do imagine keeping a lot of these styles around and just tweaking things, since that is what Permanent Collection is all about," said Singer. "We will be working, for lack of a less objectionable word, on making it a lifestyle collection."