Is Amy Adams a Shoo-In for an Oscar Nomination?
At the premiere of Arrival, one of her two critically-acclaimed films this year, the past Academy Award nominee wouldn't comment on her chances for 2017. She said she taking things one day at a time.
---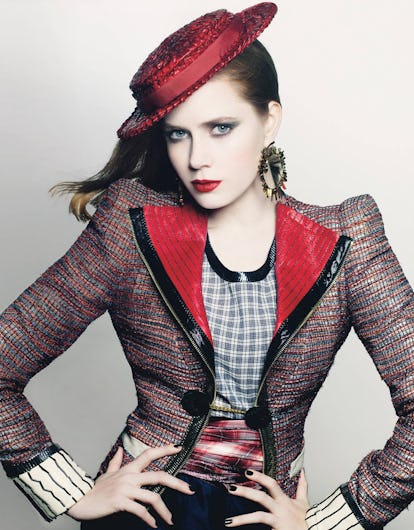 Photo by Craig McDean.
As far as the film industry goes, the next few weeks are critical. It's campaign season, the precious time before voters, the Hollywood variety, submit their votes for Academy Awards consideration. And with two just-released, super buzzy films – Tom Ford's Nocturnal Animals and sci-fi thriller Arrival – Amy Adams is busy, busy, busy. She was promoting the latter on Tuesday night at a Cinema Society hosted screening.
"It's a new experience, it's definitely new. It has its disadvantages and its advantages," the actress said, asked of the grueling task of simultaneously promoting two films. "I try to focus on the positive as much as possible" she continued, totally lovely and equally diplomatic. "That's how I like to think about it."
She was tucked into a cushy banquette on the second floor of Metrograph, the hipster movie theater on the Lower East Side that typically boasts more esoteric indies on its marquee. It's an art house cinema that sees the virtue of 35 mm film and the interior design sensibility of someone who's seen every Wes Anderson film. The second floor is normally a bistro but it had been semi-cleared out for the evening to make room for partygoers. As it customary at film screenings as of late, it was an eclectic hodgepodge of attendees: Sienna Miller made an appearance early on, as did Ben Foster. Christina Hendrix, Geoffrey Arend, Michael Stipe, Patti Smith and Paul Haggis were also roaming around.
"There was a quality to the script that felt very different to me," Adams continued of her role as Louise Banks, a linguist recruited to communicate with aliens. "I had a strong connection with the material. That's what sealed the deal for me. I knew that I had found an emotional soulmate [in director Denis Villeneuve] as far as filmmaking, a very compassionate, earnest human being."
As things wound down, Adams was a trooper, staying until near midnight and graciously chatting with anyone who approached, clearly ready to hit the trail.
"Don't even say that word," one partygoer visibly flinched, when the word "campaign" was uttered. "I'm still suffering an emotional hangover."
Sienna Miller, Trevor Noah and Spike Jonze Take Over Metrograph for "Arrival"
Darren Le Gallo and Amy Adams at the screening of Paramount Picture's Arrival

Paul Bruinooge/PMC
Sienna Miller at the screening of Paramount Picture's Arrival

Paul Bruinooge/PMC
Spike Jonze at the screening of Paramount Picture's Arrival at Metrograph.

Paul Bruinooge/PMC
Trevor Noah at the screening of Paramount Picture's Arrival

Paul Bruinooge/PMC
Lindsay Ellingson at the screening of Paramount Picture's Arrival

Paul Bruinooge/PMC
Ben Foster at the screening of Paramount Picture's Arrival

Paul Bruinooge/PMC
Chris Benz at the screening of Paramount Picture's Arrival

Paul Bruinooge/PMC
Tyson Ballou at the screening of Paramount Picture's Arrival

Paul Bruinooge/PMC
Geoffrey Arend and Christina Hendricks at the screening of Paramount Picture's Arrival

Paul Bruinooge/PMC
Sienna Miller, Trevor Noah and Spike Jonze Take Over Metrograph for "Arrival"
For Ellie Bamber, Bedtime Snacks Are an Important Part of Any Nightly Beauty Routine