Is or Is Not Kim Kardashian Returning to Public Life?
Kim Kardashian was spotted at her husband Kanye West's L.A. concert, but is she finally returning to life in the public eye?
---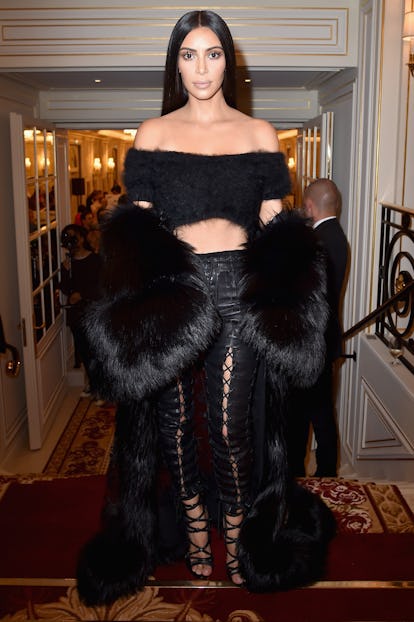 Getty Images for Buro 24/7
The sky is blue. The grass is green. Kim Kardashian is an intensely public person. These all seemed like axioms until, of course, one fateful night during Paris fashion week. The sky and grass remain the same hue, but does that even matter when the most famous Kardashian has retreated into a highly guarded private state ever since she was robbed in her hotel room? Doesn't the world – or at least your favorite celebrity news site – seem less colorful without her omnipotent presence?
After the incident, Kim has understandably only been spotted in public, briefly, while en route back home from Paris via New York. She hasn't made a peep on social media, and she's reportedly put filming of Keeping Up With The Kardashians on hold.
On Tuesday night, however, Kardashian was spotted attending the Los Angeles date of her husband Kanye West's Saint Pablo tour. Of course, put in the most basic human terms, this was merely a wife attending a husband's work function that happened to be held in the town in which they live. It would have been weird if she hadn't shown up, no? Pair this with another brief recent citing: she was spotted picking up ice cream a day earlier with BFF Jonathan Cheban. Is a woman not allowed to get froyo with her bestie without signaling an imminent return to Queen of All New Media status?
Yet, rumors began floating that this was a sign that not only was she definitively venturing back out into the public (both literally and figuratively) but that she had also resumed filming the E! reality show.
This, however, does not appear to be the case. The Kardashians are masters of press relations, and it seems a few "anonymous sources" have been deployed in friendly media outlets to downplay the significance of the outings.
Entertainment Tonight's unnamed source says that while E! cameras were filming at the Kanye concert, they weren't there for Kim. Rather they trained on other present Kardashian members who still continue to film.
"However, another source tells ET that while she did attend Kanye's concert, Kim did not participate in the filming of the reality series," reports ET.
Meanwhile, People's source claims that Kim loves her current low-key life and has no plans to jump back fully into the spotlight.
"She is still figuring out her life. She still has no plans for any work appearances, but her outlook on life seems more positive," says their source, adding that Kardashian is relishing the chance to have something of a normal life staying home with her two children, North and Saint.
So, to recap, a woman got ice cream with her best friend and attended her professional performer husband's performance, and the tabloids went crazy with speculation that she was set to return to her old ways. As if Kardashian's only choices are to remain locked away in private or return fully to life as a globetrotting VIP with no in between options.
The reality is that this probably signals some sort of new – if perhaps only temporary – era of Kim Kardashian. One in which she'll probably be spotted out in public from time-to-time, as most people under the age of 95 tend to do, doing completely mundane and normal things and yet they'll be reported on as if they were the moon landing. In other words, get ready for weeks and weeks of tabloid stories with writers trying to figure out what deeper meaning can be found in Kim's trip to the grocery store or run to the nail salon. "Kim buys low-fat cheese! Does that mean she's dieting for a new project?" "Do Kim's red nails signal a return to the red carpet?" This to be followed up by People's exclusive scoops from an inside source that Kim just prefer the taste of low-fat cheese and got her nails painted red at her daughter's suggestion.
Besides, it's not like the Kardashian are known for subtlety. When and if Kim returns to public life we have a feeling the family will make sure we know it.
Update: According to Variety, E! has confirmed that Kim has now resumed filming for the family's reality show. What this means for Kim's future official public appearances remains to be seen.