The Story Behind Rihanna's Sparkly "This Is What You Came For" Jumpsuit
How a recent Pratt graduate named Isabel Hall ended up designing a look for one of the biggest pop stars on the planet.
---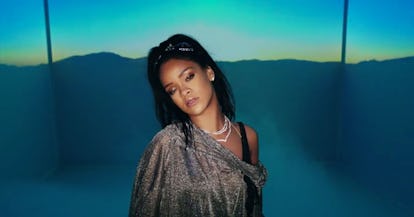 The video opens on a desolate landscape. A white cube occupies the center. Then the scene cuts to a harshly illuminated warehouse, then again to a forest clearing, the same cube once again squatting in the middle. But this isn't an extraterrestrial Kubrickian invention — with the next cut, Rihanna appears in the center of the screen. Shrouded in a gauzy, semi-transparent silver jumpsuit, she slowly lifts her chin, daring the camera to move in closer. The jumpsuit billows slightly — it's slouchy, more full-body sweatshirt than anything, really — as she sways to the jittery beat.
The video for "This Is What You Came For," Calvin Harris's most recent single, is relatively simple in concept — the track's featured star, Rihanna, bounces from virtual reality to virtual reality via projections on the walls of her cube. It has already racked up more than 35 million YouTube views. And, unlike the decadence of Beyoncé's "Lemonade`" or the vivid frenzy of Grimes's "Kill V. Maim," "This Is What You Came For" features just one look, designed by a recent Pratt graduate named Isabel Hall as part of her senior thesis.
"That sparkly fabric, I fell in love with it immediately," 22-year-old Hall said of her design. "I knew I wanted to use it and I didn't know how, but I loved how super-feminine it was, but it was mesh, it was sheer, it wasn't physically putting glitter on anything." She planned initially to make a pair of boxers out of the fabric, but at the behest of a professor, she went bigger — full-body bigger. The resulting look, which first waltzed down the runway at the Pratt fashion show in May, is a study in carefree ease.
It's that simplicity that drew Rihanna's stylist Mel Ottenberg to the look in the first place when he accompanied designer Adam Selman, a Pratt alum himself to the thesis show. (Hall has interned in Selman's studio since January, assisting with tour preparations for Rihanna and Sufjan Stevens.) Selman and Ottenberg have been working together for five years, Ottenberg estimated; the designer worked with Rihanna on the ANTI tour and the singer's now-infamous 2014 CFDA Fashion Awards sheer dress.
"It felt like something Debbie Harry would wear in the '70s, like Stephen Sprouse, but it didn't look retro," Ottenberg said, recalling the show. "It doesn't look like what anyone else is doing or thinking."
Following the show, Ottenberg pulled the look for consideration for a few other projects, but it didn't click until the video arose — and since it's the only garment Rihanna wears in the video, it had to count.
To adapt the look for the video, Ottenberg laid the semi-transparent suit over a catsuit and a corset to create an exaggerated silhouette that showed through the material. Like Hall's collection as a whole, the video look juxtaposes traditionally masculine and feminine silhouettes. Depending on the angle or the catch of the light, the impression can radically change.
"Mel takes the time to pull from really good student work," Hall said, citing a graduate from the class before her, Giovanna Flores, whose denim design Rihanna wore on Saturday Night Live. Ottenberg also worked with Selman on Lion Babe's 2016 CFDA Fashion Awards look — he was in the studio for a fitting when Hall arrived for work just before the awards and filled her in on all the details of the video.
Prior to her work with Selman, Hall had also interned with Erica Bradbury of Species by the Thousands and another Pratt grad, Kelsy Parkhouse of Carleen. Her studies all culminated in the 10 looks of her senior thesis. It explored the gendered coding of American sportswear, both in terms of literal sports like football and boxing and athleisure more broadly, finding the intersection of, and collapsing the distinction between, masculine and feminine.
Rihanna's Sparkly "This Is What You Came For" Jumpsuit
Rihanna in "This Is What You Came For."
Rihanna in "This Is What You Came For."
Isabel Hall's thesis presentation, look 4.
Isabel Hall lookbook. Photo by Lyndsey Kamide.
Isabel Hall lookbook. Photo by Lyndsey Kamide.
Isabel Hall's thesis presentation, look 1.
Isabel Hall's thesis presentation, look 6.
Isabel Hall's thesis presentation, look 9.
"Once you take away that separation, what does masculine even mean? What does feminine even mean? What happens when you put them together, they meet in the middle, or you do away with it entirely?" she asked.
It's a salient point in contemporary fashion — brands like Vetements send men and women down the same runways, doing away with separate collections divided by gender. (Or season, for that matter.) J.W.Anderson and Alessandro Michele's rebooted Gucci both, in their own ways, subvert the way gender is interpreted through wardrobe; they question the constructs that dictate certain details indicate masculinity or femininity. And, as Hall found, an outfit's significance matters to the wearer.
"We would be fitting the models in the garments," Hall recalled of her senior show, "and you can see her kind of slouch into it and feed off the clothes and get an attitude from it." Fashion lends a certain power to its wearer — for Rihanna, personal style transcends tour costumes and red carpet attire.
Though Hall is still feeling out her post-graduate options, with a Rihanna music video credit already under her belt, her future looks promising.