Isabel Marant's Guide to a Stylish Summer, From Shopping Her New Store In Miami Beach to Beaching In Ibiza
Plus, she's got some surprising opinions on jorts.
---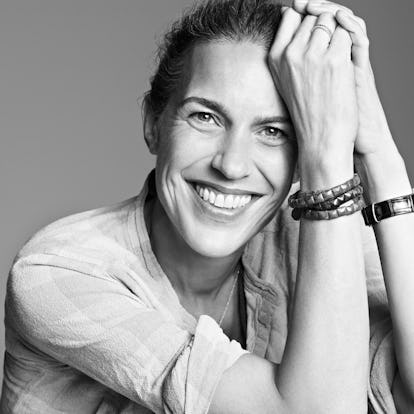 Karim Sadli
As a French woman, it's no surprise that Isabel Marant is a professional when it comes to both summer style and summer vacations. Europeans in general take their holidays very seriously, and the period of all play and no work is quickly approaching. And just in time for beach season, Marant opened her first store in Miami, Florida this month.
Designed by the French architect Laurent Deroo (who's also done A.P.C.'s stores), the space brings some earthy minimalism to the otherwise boisterous city of suntans and neon. It's a physical embodiment of Marant's now-signature laid-back, Parisian bohème style, which also includes splashes of prints and flirty frills. A furry white couch, for example, sits smack in the middle of the brutalist concrete space.
As for the clothing on the racks, Isabel Marant's mini skirts, tunics, and sandals have become summer staples for women around the world, and Miami customers (as well as vacationers) will no doubt gravitate towards the brand's beach-all-day/party-all-night styles.
Marant herself will be spending the summer at her new home in Ibiza sipping burgundy wine and catching up on some ready. When it comes to her own summer wardrobe though, you might be surprised to hear what she has to say about jorts.
What made you want to open a store in Miami?
I have always thought that women in Miami would like my work; they have this cool and sexy vibe for sure. Of course, it takes time to find the best place, but I am very confident that women either from Miami or on vacation will identify with my brand. Also, the beach, the light, and free-spirited attitude fit well with our brand DNA.
What inspires you about Miami?
The art-deco architecture, vibrant and pastel colors, and booming art scene. There is a unique laid-back vibe and multicultural atmosphere. The sunshine and warmth is perfect for yoga at sunrise.
What makes the Isabel Marant Miami store different from the others?
Every single one of my stores is unique. I think that as a brand, I really need to make shopping special for my clients and avoid the "traveling without moving feeling" that you can get when stores look alike all around the world. For this store, we have worked for the first time with Laurent Deroo to design a unique space inspired by the French brutalist movement. We developed new materials specifically for this location: terrazzo made of concrete and lava stone and textile-on-cork paneled ceiling.
Your pool and beach essentials:
Fins, swimming goggles, and a good book. I read a lot when on vacation. And my friends!
Favorite beaches to visit around the world:
Aguas Blancas in Ibiza, but it is getting busy in the summertime; Playa del Carmen in Mexico; all of the south coast of Sri Lanka. I am also a boat person; sailing has been part of my summers since I was young.
Summer drink of choice:
Punch and burgundy wine.
Preferred summer footwear:
Flat sandals with stones that I redesign season after season are really part of my summer wardrobe.
Hats or sunglasses?
Both!
One-piece bathing suit or two piece?
Two piece on holidays; one piece in Paris when I swim every morning.
What are your opinions on jorts? And flip flops?
Jorts, I love! I wear them almost daily in the summer! Flip flops for sure, but more so my sandals. I wear them all the time, even to go in the water. That's what makes them beautiful—at the end of the summer when they have been worn out by salt and sun.
Three things pinned to your spring/summer mood board:
Broderie anglaise blouses, stone bracelets, and a beautiful African handbag.
American style icons/inspirations:
Basquiat, Patti Smith, The Rolling Stones.
Spring/summer fashion pet peeve:
Don't really have one… Maybe too much make up?
Last purchase:
A house! In Ibiza!
Lusting after:
Time.
Random things found in your bag right now:
Sunglasses, Kanebo Sensai cream, Vespa keys, cigarettes.
Something you would never wear:
A traditional red carpet dress.
Favorite memory of summer from your youth:
Being in the Caribbean on a boat with my father as a teenager.
Store Location
175 NE 40th St, Miami, FL 33137; (305) 576-7180.
Open Monday through Friday, 11 a.m. – 7 p.m.; Sunday 12 p.m. – 6 p.m.
Tribes
Tourists spilling over from visiting the Wynwood Walls, locals looking for high-end shopping after visiting the Perez Art Museum.
The Mix
Summery floral tops, separates with a bohemian feel, chic sandals and ankle boots.
Prices
$200 – $2,000.
Design
Located in the heart of the Design District, the space was designed by the French architect Laurent Deroo, who has also done spaces in the past for A.P.C. Inspired by the French brutalist movement, textured concrete is juxtaposed with an enormous furry couch, and of course, Florida greenery is scattered throughout.
Watch Nina Agdal take Art Basel Miami Beach: