Ivanka Trump's Clothing Brand Grows But Its Ethics Are Egregiously Lagging Behind
The Ivanka Trump apparel line continues to prosper financially, but is very slow to catch up to its founder's sudden political ideals.
---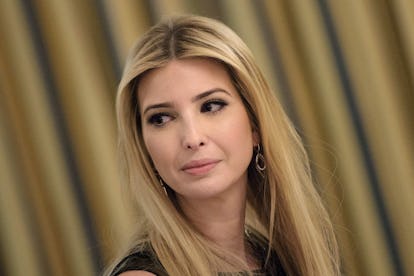 BRENDAN SMIALOWSKI
While Donald Trump was running a campaign promising to put America first, his daughter Ivanka Trump was running a bustling apparel line that relied on overseas labor. That dissonance has been duly noted, but coupled with the controversial nature of the Trump name at the moment, it hasn't slowed down sales. Revenues were up 21 percent in 2016, and executives tell the Washington Post that they still continue to see growth in 2017 despite ire from the left and dustups with department stores like Nordstroms.
The label has repositioned itself in some ways to appeal even more to demographics who support the Trump administration, in some cases slashing prices. Yet while that administration has promised to bring back jobs form overseas, the Ivanka Trump brand has not committed itself to manufacturing items in America. More troubling, the brand has historically done far less than many other brands to ensure that the items manufactured overseas are done so in a non-exploitive manner.
The Post provided the biggest look yet into the inner workings of the Ivanka Trump brand (which Trump herself no longer runs as of January, but continues to own, and according to sources, still has veto power over major deals). The story combines international shipping data, interviews with factory workers, and discussions with the brand's current president Abigail Klem to paint a picture of a brand that seems not to have put particularly much emphasis on making sure that its items are manufactured ethically, and a company that seems very slow to catch up to its founder's publicly stated, if dubious political ideals.
Klem tells the Post that when the Ivanka Trump label "was a small, young brand, we did not have the chance to influence the debate around social compliance issues, but that has obviously changed during this past year." Klem says she's currently "planning" trips to some of the factories where the brand is manufactured for the first time latter this year. The company is also "exploring" domestic manufacturing. It will also "explore" the possibility of hiring a nonprofit workers' rights group or consultant to help oversee the brand's ethical guidelines, and if they suggest certain changes, Klem "would consider doing so." Emphasis on "consider."
There's a whole lot of possibilities and planning going on on Klem's part, which also suggests that Trump paid very little attention to such matters while running the label herself.
While it's quickly becoming more and more common for brands to provide more detailed information to consumers about the factories where its products are manufactured, pushing for change, and hiring auditors to monitor labor conditions, the Ivanka Trump brand had done no such thing.
This, even as the brand seeks to align itself even closer with Ivanka's own stated political agenda of championing working women and mothers. Quite the contrary, in fact, as the Post finds Trump clothing is manufactured by mothers who have to leave their children with their own parents and can only see them on weekends, or in some cases, just once a month.
"The mission of this brand has always been to inspire and empower women to create the lives they want to live and give them tools to do that," Klem said. "We're looking to ensure that we can sort of live this mission from top to bottom with our licensees, with our supply chain."
Klem is at least aware of the dissonance, but it's not clear if the woman who she replaced as president and now has an office in the White House is.
Trump didn't comment for the story, and only had a lawyer comment that she is indeed "concerned" but "expects that the company will respond appropriately."
Related: Is Ivanka Trump Purposely Staging an Image Revamp?
See What's Trending in W Video: