Is Ivanka Trump Purposely Staging an Image Revamp?
Ivanka Trump has been spotted in $35 dresses, getting Starbucks, and on the cover of a curious Us Weekly.
---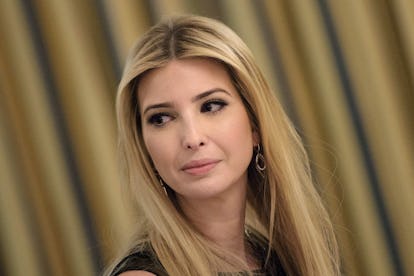 BRENDAN SMIALOWSKI
This week's Ivanka Trump-fronted cover of Us Weekly shook the internet this morning. The "Why I Disagree With My Dad" cover line, rendered in the magazine's trademark yellow sans serif font that's usually reserved for Kardashian drama, was met with both amusement (it's already spawned memes, of course) and speculation.
Despite the first person cover line, the actual online preview of the article gives no hint that she was directly involved. The only quotes attributed to Trump are cribbed from previous interviews with other outlets, and the new information comes from anonymous "Ivanka insiders." Though, some are speculating that Trump herself may have played some part (her family enjoys a cozy relationship with the chief executive of tabloid's new corporate owner, but we'll get to that later). In any event, it certainly comes at a time when there's other signs that the first daughter is purposefully trying to save her own image and shield herself—and her brand, both personal and business—from her father's increasingly controversial presidency.
After all, it was just earlier this week that she stepped out in a $35 dollar dress from Victoria Beckham's Target line. That came just weeks after her step-mother Melania Trump took criticism for dawning a $51,500 Dolce & Gabbana jacket in Italy. The affordable fashion choice may have also been inspired by the previous First Lady Michelle Obama's flair for mixing in mass-market brands like The Gap, J. Crew and, yes, Target into her wardrobe.
Then there's the matter that while her father seems to refuse to issue an official White House proclamation on behalf of LGBT Pride month, Ivanka took to Twitter to offer her own:
Her Twitter reaction to the recent London attacks were also much more diplomatic than her fathers:
And of course she continues to position herself on Twitter as a champion of Women's Rights, especially on behalf of working mothers:
Then, just this morning, the first daughter and official paid adviser to the president was spotted casually ordering a Starbucks latte in D.C. amongst the plebes:
As Us would put, "Stars! They're just like Us!"
Which, of course, brings us back to the cover story.
The famed tabloid recently changed ownership. Once owned by New York-based Wenner Media (where it shared an office building with former corporate sister Rolling Stone), the magazine was bought in March by Florida-based publisher American Media Inc. That's the outfit that also owns The National Enquirer and happens to count David J. Pecker, a noted chum of the Trump family, as its boss. Some, including Vanity Fair, have even wondered during the campaign whether the Enquirer was already strategically in bed with the Trumps.
Of course, even before the corporate owner change, the tabloid had developed something of a habit of shielding and separating Ivanka (and Melania) from Donald Trump's negative reputation. A February cover also speculated on Ivanka's difficult time in D.C., and previous Melania-focused covers, which included cover lines as "Separate Lives" and "Separate Bedrooms," also tried to set the First Lady apart from her husband.
Whatever the case, it's clear that Ivanka Trump is increasingly under pressure for not speaking out more publicly, nor being able to moderate her father better behind the scenes, if she's doing that at all. The sudden image rehab attempt comes right after the administration's decision to pull out of the Paris Accord, despite Ivanka's reportedly behind-the-scenes efforts to convince her father to stay in.
The eldest Trump daughter once seemed set for life as the heir apparent to her father's business (even Donald Trump openly credited her with the only recent business decision that is actually making the company major money), the steward of her own personal brand, and a favorite of New York society in a way that her father never quite was.
Now, at just 35 and the mother of three young children, she's starring down a possible future in which she's forever associated with her father's historically unpopular administration. One wouldn't blame her from hedging her bets and trying to make a concentrated effort to separate herself form her father's policies.
But it may take more than just planted stories, Starbucks runs and Tweets. Ivanka says she prefers to keep her criticism of her father private, but there's increasing calls for her to speak up more publicly.
Some may think that's not fair. She is the man's daughter after all. Yet, was it fair that a good chunk of the criticism that Hillary Clinton took during her campaign stemmed back to decisions made by her husband during his own presidency?
Related: Sarah Silverman Slid Into Ivanka Trump's DMs to Tell Her To Get It Together on Women's Rights
See What's Trending in W Video: