Ivanka Trump's Dating History Includes Topher Grace As a Rebound From Bingo Gubelmann in 2005
Because no one escaped the aughts without making bad decisions.
---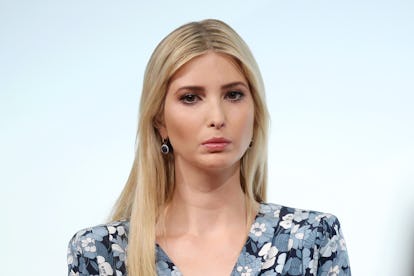 Sean Gallup/Getty Images
Before she and Jared Kushner officially combined their real estate portfolios and tied the knot, Ivanka Trump was just a single girl looking for love. Her search brought her to some unlikely places, including,, apparentl,y, Topher Grace, the star of That '70s Show. Even though that was over 10 years ago, Grace is still embarrassed about it.
The actor, who is currently promoting Spike Lee's BlacKkKlansman, in which he plays KKK leader David Duke—a staunch supporter of Ivanka's president father, it should be noted—opened up about the moment in a new interview. When asked if they ever dated, Grace told the Daily Beast, "Uh… I did."
He then elaborated on their brief dating history, clarifying, "Certainly it wasn't a political statement. This was a decade ago. I met her here in New York and we went on a couple of dates. I wouldn't say that we 'dated,' ut… I didn't do it for political reasons."
Though Grace confirmed he "never met her father," he did share his opinion about Donald Trump's White House reign, saying, "It's a daily deluge. I can't even think what the scandal was five weeks ago."
In both of their defense, the pair were romantically linked in 2005, during the aughts, which few celebrities escaped from unscathed. Their union was first noticed after they celebrated Trump's 25th birthday in Las Vegas at the Pure club, where "Trump and Grace…danced and cuddled on the VIP bed and even shared a quick kiss during the party, which was also attended by Ryan Cabrera, Chelsea Handler and Maroon 5's Adam Levine," as People noted at the time.
Interestingly, Maroon 5 plays another role in Trump's past relationships: The ex-boyfriend she was rebounding from when she met Grace was arrested a couple of years ago in a cocaine bust with Levine's bassist, Mickey Madden. His name was James "Bingo" Gubelmann, who Trump dated from 2001 to 2005, before she met Grace.
But, shortly after she and Grace fizzled out, Trump met her now-husband. "They very innocently set us up thinking that our only interest in one another would be transactional," she told Vogue in 2015, revealing that their meeting was masterminded by one of her father's friends and a commercial real estate broker. "Whenever we see them we're like, The best deal we ever made!" Of course, Trump said that years before Kushner would be potentially faced with making a plea deal with Robert Mueller.