Is Ivanka Trump Moving to Florida's Billionaire Island?
There are also speculations that she may run for Governor.
---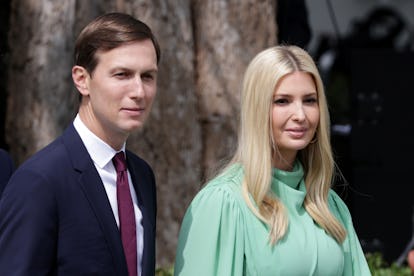 President Donald Trump has yet to officially acknowledge he won't be getting a second term, but Ivanka Trump and husband Jared Kushner are already deep into planning for their post-White House life, according to several reports. Once welcomed in all corners of Manhattan society, the couple's future has been a hotly wondered-about topic. According to Page Six, the family may very well end up in Miami.
The gossip page reports that Trump and Kushner have paid more than $30 million for a plot of land on Miami-Dade County's exclusive island village of Indian Creek. The ritzy isle is among the most exclusive neighborhoods in the country, and currently is home to only 34 houses (well, 34 mansions, to be precise). As its own incorporated municipality, it also has a dedicated police department. The CEO of Sears, the former owner of the Philadelphia Eagles, the co-founder of Hotels.com, Sheik Mohammed al Fassi, and Victoria's Secret model Adriana Lima all currently or formerly have called the island home. Most of the island's landmass is taken up by a ritzy golf course, though homes are located on the waterfront portions.
Though the local property appraiser's website hasn't confirmed the sale, Page Six reports that the waterfront lot was purchased from Spanish singer Julio Iglesias. The crooner is one of Indian Creek's longest residents and biggest property owners (he owns four other lots, which he has struggled to sell in the past). Son Enrique Iglesias and his partner Anna Kournikova also reportedly live on the island.
For what it's worth, their new next-door neighbor may or may not be Sheikh Tamim bin Hamad al-Thani, the Emir of Qatar.
In other words, it's exclusive, out-of-the-way, and well-protected—perhaps perfect for the couple. The island's voting precinct only recorded 53 votes this past election, but nearly 80 percent were for Donald Trump; even better for Javanka (though not so much for the GOP's new storyline that it's the party of the common folk).
Ivanka, in particular, has some ties to Miami-Dade. When the Trump Organization purchased the famed but troubled Doral Country Club, located in the county's inland suburbs, in 2012, Donald gave all credit to his daughter for the deal. She helped oversee remodeling of the property, and purportedly spent enough time in the area to scoop out some favorite local hangs. The property is also an hour-and-twenty-two-minute drive (depending on traffic on I-95) from Mar-a-Lago.
Though, don't expect the family to immediately move in come January 21st. The lot is, after all, empty. According to the report, the couple is also reportedly expanding a "cabin" located on a Trump golf property in New Jersey and plans to keep their Manhattan apartment on Park Avenue.
While some have speculated that Kushner and Trump could continue their business pursuits with an international focus, others believe the couple may instead attempt to keep a stronghold on GOP politics.
A recent report from CNN gives credence to the later, with sources claiming Ivanka may be eyeing a run for Congress in New Jersey or, quite possibly, one for the Governor of Florida.
Related: Ivanka Trump Reportedly Thinks New York Society Will Welcome Her Back with Open Arms