J. Brand meets Duarte
J. Brand has been the go-to denim line for a certain in-the-know fashion girl—think starlet or editor—for the last five years, so it makes sense that Henry Duarte (he of the custom-made, sexy lace-up trousers...
---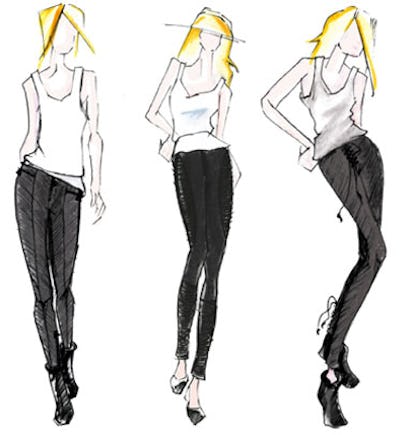 "When Jeff [Rudes, the co-founder of J. Brand] approached me, he knew I've done rock and roll for so many years," Duarte says, via phone from his L.A. studio. "J. Brand makes such a simple jean, so it was easy to collaborate because Jeff doesn't really have all these signature things all over the jeans." Duarte's three styles all work in his signature skin-hugging silhouette along with lacing details, yet are far less pricey than Duarte's usual creations.
"[Custom jeans] are great, but they're almost $2,000 dollars," explains Rudes. "And we actually did this for $250-$270 retail, it's phenomenal." And not fleeting: both men say the collaboration will be continue, with suede and leather playing a big role in next season's collection. Duarte, however, won't be turning his back on those rock n' rollers, as he continues to field the inevitable stadium stage-ready requests. "The ones that I made for Steven Tyler were always pretty out there," says Duarte. "Steven always requested the crazy things."
The J Brand/Henry Duarte collection launches in December.