Jackie Aina Tests 5 TikTok Makeup Hacks
The beauty YouTuber, who is said to be launching her new Black-owned brand soon, tries out DIY highlighter and using eyeshadow as a brow pencil.
---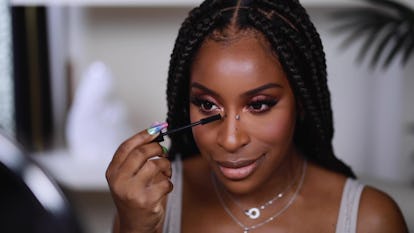 Beauty hacks featured on TikTok run the gamut in terms of efficacy—from genuinely helpful tips (DIY highlighter! Eyeshadow as lipgloss!) to the outright absurd (using glitter to cover blemishes).
The beauty YouTuber Jackie Aina has put these hacks to the test in a new video for W magazine. Using products from Nuban Beauty, Tatcha, and her own collaboration palette with Anastasia Beverly Hills, Aina picks up some new pointers and identifies the duds.
Aina made headlines on Monday, when she posted a cryptic Instagram photo teasing a new project under her Forvr Mood brand imprint. She said she's launching a new company owned and created by her—"not makeup." Some fans are speculating that the new venture will be a candle company, based on the second photo in the carousel, depicting Aina holding a long wand lighter.
Branching out to other fields of industry makes sense, given, as Aina explains in the video, that "Beauty gurus like myself have been put straight out of business since TikTok hit the scene.
"Shout out to everybody over 30 on TikTok," Aina adds, before testing a Lanolips gloss on her cheekbones. "Sometimes I be feeling out of place. But it's cool, though, because the kids be dragging me. I haven't quite perfected the dance moves yet, but I'm working on it."
Related: Essential Summer Hair Treatments Prescribed by Celebrity Hair Experts