Jackie O's Publishing Day Job to Be Chronicled in New Film 'The Editor'
Super-producer Greg Berlanti is set to direct.
---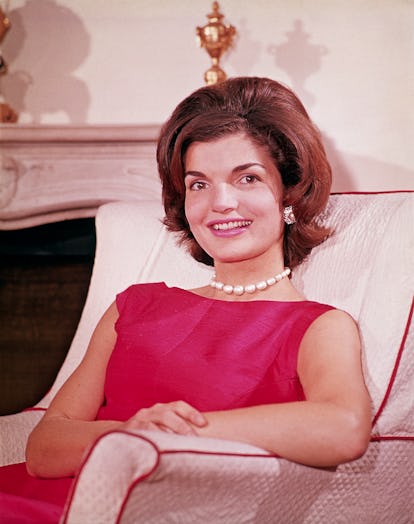 Bettmann
Jackie O's story is set to be told through a new lens in a new feature.
According to Deadline, Jacqueline Kennedy Onassis' life as a book editor in New York City during the 1990s will be the subject of super-producer Greg Berlanti's next feature film The Editor. Berlanti will not only produce, but will also direct his forthcoming work. Stephen Rowley, who wrote the novel of the same name that the film is based on, will also pen the script and serve as an executive producer.
The film will tell the story of a struggling author named James whose work is helmed by Onassis to create a "more authentic ending" to his autobiographical book that details his complex family. The idea of how far the book goes to expose his family causes him to stop writing. But his relationship with his editor Onassis helps him confront a family secret and his relationship with his mother.
While Onassis held the role of former First Lady, it wasn't until years later that the public recognized her longtime commitment to the publishing industry as a book editor during the 1970s, 1980s, and early 1990s. In 19 years, she acquired almost 100 works of fiction and nonfiction. While she was receiving treatment for cancer, she still continued to read manuscripts and send notes to authors. Onassis published authors including Diana Vreeland, Louis Auchincloss, George Plimpton, Dorothy West, Naguib Mahfouz, and even Michael Jackson.
In 2011, author Greg Lawrence, who had three of his own books edited by Onassis, penned Jackie as Editor: The Literary Life of Jacqueline Kennedy Onassis, detailing her often overlooked career as an editor. Lawrence spoke to over 125 of her collaborators and acquaintances to tell an unknown story about Onassis' career path.
Onassis' life has already been depicted many times on-screen. Natalie Portman portrayed her in 2016's feature film Jackie, while Katie Homes portrayed her in the miniseries The Kennedys After Camelot. It will certainly be interesting to see Onassis' life and relationships outside of being the First Lady on-screen.