Jacob Elordi Can't Stop Wearing His Fendi Baguette Bag
The Fendi Baguette proves to be timeless and genderless.
---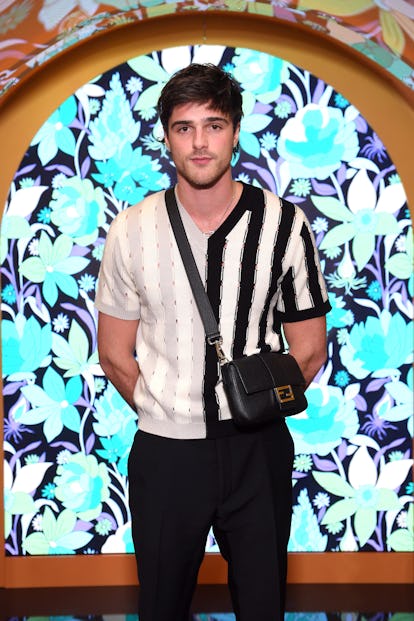 The first time we saw Jacob Elordi with a Fendi Baguette bag we just assumed he was carrying it for his alleged gal pal, Zendaya. "Cute," we thought. Then we noticed that Elordi kept wearing it again and again and again. At this point, he's been spotted toting the bag in public more times than he's been seen with his Euphoria co-star. Elordi and his purse have been photographed picking up coffee, going to Broadway shows, shopping for books at the Strand and checking out flea markets. He seems to love it even more than Timothée Chalamet loves that Prada jacket he's almost always in now.
The Fendi Baguette, of course, holds a special place in fashion history. Along with Dior's Lady Dior bag, it's credited with pioneering the It bag trend of the late '90s. While the Lady Dior has Princess Diana to thank for its popularity, the Baguette owes its status to another distinctly '90s fashion icon: Carrie Bradshaw.
Early in Sex and the City's run, the Italian luxury house leant the small underarm bag to the show's wardrobe department. Bradshaw then carried multiple versions throughout the show, and viewers rushed to get their own. The phenomenon proved SatC's status as a fashion powerhouse, and led to other brands vying to get their wares on Carrie's back. Sarah Jessica Parker also kept a few of her own in her personal closet, and the bag even made an appearance in The CW's short-lived spinoff The Carrie Diaries.
Though the Bradshaw effect helped launch the bag to It status, its fetching design did the real work. The baguette's size and simple but distinct shape meant it worked for day or night. And the fact that Fendi produced countless colors, special editions, and novel materials only heightened the hysteria. A coffee table book was even published to celebrate the bag's 15th anniversary.
Back then, the bag rarely crossed the gender divide, but last summer Fendi decided to revamp it for gentlemen, slightly tweaking it as an alternative to hypebeast-approved belt and strap bags.
While red carpet looks that break fashion's gender barrier have received most of the attention, it's interesting to see a more subtle version play out on the street — and in paparazzi shots.
Related: Jacob Elordi Calls Zendaya "The Ultimate Artist"
Euphoria's 10 Boldest Beauty Looks
Dubbed "sad clown" makeup by Davy—and the internet—Rue's shimmering under-eye makeup is a recurring theme, challenging the notion of how addicts are depicted on screen.

Courtesy of HBO.
Dreamy, technicolor makeup has been Jules' calling card all season: from minimalist clouds to neon liner she is the most experimental on the show, but this painterly approach is some of Davy's finest work.

Courtesy of Doniella Davy.
As Alabama Whitman from True Romance, Cassie departs from her typical look of softly touseled waves, sultry shadow, and pink lips in lieu of a glittery aqua eye and red-orange lip.

Courtesy of Doniella Davy.
Maddie's laser-precise eyeliner is think-piece worthy in and of itself, but this cotton candy shadow accented with rhinestones is the perfect blend of bitter and sweet.

Courtesy of Doniella Davy.
Jules makeup prominently features bright pops of pink throughout Season 1, but her almost red-rimmed eyes, black accents and magenta extensions in Episode 7 veer away from the softer tones earlier on.

Courtesy of HBO.
Upside down crosses, blood-red eyes, and boldly lined lips make Kat's take on the vengeful spree killer come to life.

Courtesy of Doniella Davy.
While Iris "Easy" Steensma may seem like a questionable costume, there is no denying the impact of Maddie's glitter-encrusted eyes and a glossy red lip, not to mention the parallels between the two characters.

Courtesy of Doniella Davy.
While Kat's neon green shadow gets a lot of attention, her grungey purple lipstick, brown shadow and Ghost World-inspired hair shouldn't be overlooked.

Courtesy of HBO.
Doing Claire Danes justice, Jules' graphic, gilded eye with hand-applied foil and rose gold accents elevate her angelic costume to new heights.

Courtesy of Doniella Davy.
Bringing some levity to Episode 6, zoom in to see Maude Apatow's colorful nails inspired by the painter.

Courtesy of Doniella Davy.