Confessions of a Denim Addict
Jacqueline Cameron, the cofounder of AYR jeans, on how she fell madly in love with denim and launched her own line.
---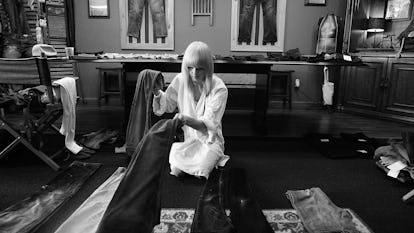 Jacqueline Cameron, a former designer at Madewell, and Maggie Winter, a former merchant at J.Crew, struck out with their own denim line two years ago. Now, AYR – short for All Year Round, natch – is a cult favorite. In between talk of her fashion icons and some industry secrets, Jac, as she's commonly known, recalls how she accidentally fell in love with the trade that launched her business.
What's your favorite pair of jeans you've ever owned? My favorite jean ever is based on a pair of jeans I created from Japanese fabric that got discontinued. As a denim designer, I personally wear test every fabric that gets put into the line to ensure its recovery and quality are up to our standard. I wore this particular jean for about 7 years. It only touched water once, in the sea in Nicaragua. The natural wear and level of distress had reached its optimal when I decided to recreate it for AYR. It's the perfectly broken-in dark saturated wash that you can literally wear every day with anything.
Is there a color or wash you're excited about? I'm also very inspired by washes that look and feel authentically vintage in a heavier weight – rigid denim at the moment, like our Slouchy Jean in Monolithic.
What do you try to accomplish with every collection? With each season there are three main goals I try to achieve.
I like to make sure we're introducing a new shade, layering on top of what we have already covered and making sure there is enough newness. Denim is the foundation of any outfit and I want our girl to have enough options to really have fun throwing a look together with ease.
How did you get into denim? I fell into denim rather by accident while I was interning at Marc by Marc Jacobs 12 years ago. It was not a fabric that I focused on at fashion school in London; however, I always had a love for indigo in an abstract sense. My first experience in a wash laundry confirmed my passion for it. The boundaries are completely limitless in fit and fabric and wash. The craft is very particular and specialized and as a style the 5-pocket jean has global appeal at all levels.
Tell us one industry tip about creating your perfect pair of jeans When we fit a jean I have a trick that I use that makes the wearer look visually slimmer. I call it the "magic number." In its most basic sense, it is the location of the side seam in relation to the center front. I make that number smaller and wrap the side seam more forward, which in turn brings the pockets less on the hip and more towards the front of the body.
What's a denim style that you wish you could resurrect from the grave? I like the idea of not just resurrecting but reinventing and improving on iconic styles from the past – i.e. the Wide Leg Flare jean which I added in a higher rise for a bit of modernity, or the Ciggy, our take on a French girl cigarette pant meets jean.
Is there a city that inspires you? Tokyo will forever be a huge source of inspiration for me, everything from how people wear and style their denim to the fits themselves.
Who is your favorite denim icon? I love Patti Smith for her love of denim. And a bit of an oddball reference but it always makes me smile – David Dundas. "Jeans On" is brilliant song all about pulling on blue jeans and feeling great. There's nothing more fitting!
Photos: Confessions of a Denim Addict