Jacqueline Kent Cooke, Daughter of Redskins Owner Jack Kent Cooke, Charged After Anti-Semitic Assault
Jacqueline Kent Cooke was arrested after allegedly attacking a Jewish man on the Upper East Side on New Year's Eve with her Lulu Guinness purse.
---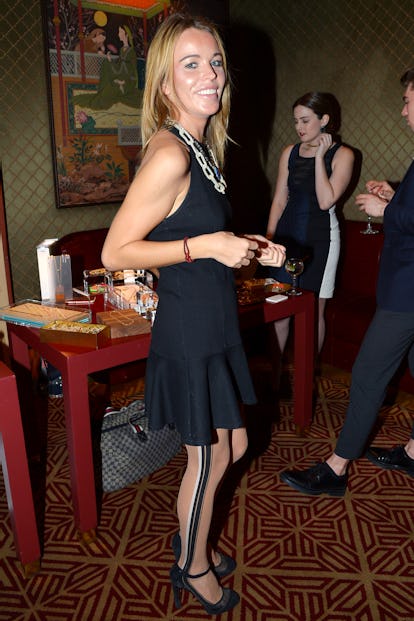 Patrick McMullan/Patrick McMullan via Getty Images
Jacqueline Kent Cooke, the 29-year-old best known as the daughter of former Redskins owner Jack Kent Cooke, was involved in an anti-semitic assault on New Year's Eve. The incident began before midnight at the Upper East Side restaurant Caravaggio when the socialite was waiting in line for her coat on the way out of the establishment, reports The Washington Post. Cooke grew impatient and reportedly lashed out at the family ahead of her in line, telling San Francisco lawyer Matthew Haberkorn, "Hurry up, Jew."
Cooke reportedly repeated the phrase once again, saying "Hurry up, Jew. I got places to be," to Haberkorn, who was with his 77-year-old mother, wife, and four daughters. Her boyfriend, who has not been identified by name according to The Washington Post, then issued an anti-semitic remark to Haberkorn's wife Linda Thomas, saying, "Happy bat mitzvah." Afterwards, Haberkorn reportedly confronted Cooke about the remarks.
"I walked up to her and asked her why she said that," Haberkorn told the Daily News, per The Washington Post. "She took her purse, which was a mirrored glass purse, and smashed me with it."
Cooke allegedly used her Lulu Guinness Chloe Perspex Lipstick Clutch as a weapon, which resulted in blood dripping down the side of Haberkorn's head, as you can see in images obtained by People. "The damage was what you saw in the photo, but it goes beyond that," Haberkorn's attorney Andrew T. Miltenberg told the publication, adding that the pair intend to press charges and sue Cooke for a hate crime and civil rights violation.
Jacqueline Kent Cooke, who has not yet given a statement or announced who would be representing her, has since been arrested and charged with the felony count, second degree assault. Today she was arraigned and, since the incident, she has filed a cross complaint against Haberkorn, according to The Daily News.
In a video of the incident, obtained by TMZ, Cooke tells Haberkorn, "You called me a f—— bitch. You called me a c—," to which he replies, "You called me a f—— Jew." After Cooke attempts to bring Haberkorn to the ground, her boyfriend told the lawyer, "What are you doing? You're throwing a woman on the floor," to which he responded, "I didn't f—ing touch her."
Related: Billionaire Scion Harry Brant Instagrams About His Arrest