Victoria's Secret Model Jacquelyn Jablonski Loves a Good Russian Novel
A model who loves to multitask shares what she's consuming in her culture diet.
---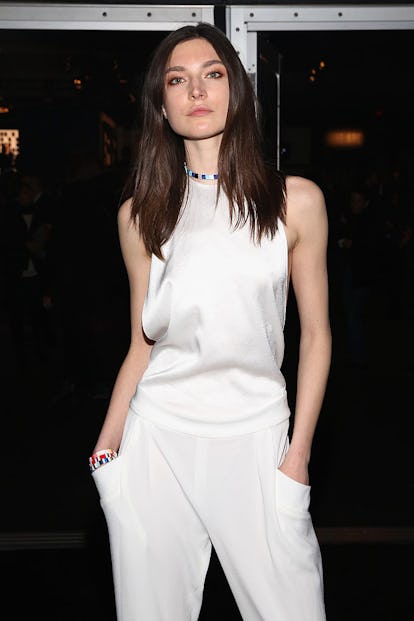 The model Jacquelyn Jablonski might be among the legions of New Yorkers making their way out east this Memorial Day weekend, but she's not just there to get some sun: the Victoria's Secret alum is hosting a dinner at Montauk hang-out The Surf Lodge on Saturday night for Autism Tomorrow, her new nonprofit that supports those on the autism spectrum, like her younger brother, with transitioning to adulthood. Jablonski likes to stay busy: Just back from the Cannes film festival, where she was supporting amfAR, Jablonski's already found her way to East Village house shows, Pilates classes, and a classic Russian novel. Read on for the rest of her culture diet and go-to New York spots.
First thing you read in the morning: I am guilty of checking my group chat with messages from my crazy friends first. Then the news.
Books on your bedside table right now: The Master and Margarita by Mikhail Bulgakov.
The TV shows that have been keeping you up at night: Game of Thrones, and It's Always Sunny in Philadelphia for a good laugh.
Last movie you saw in theaters: The Revenant.
Last piece of art you bought, or ogled: I am currently interested in Daniel Heidkamp and Bernard Frize.
Current workout of choice: Pilates.
Favorite summer drink: Spicy margarita.
Nights out at: Forgtmenot, Loosie Rouge in Williamsburg, and my friend's new restaurant Café Henrie for drinks.
Shopping hot-spots: I love to vintage shop, and Front General Store in Dumbo is one of my favorites. I also just had a shopping spree at Acne and Alexander Wang.
Hamptons hang-out: The Surf Lodge! I'm hosting a dinner there Saturday for the nonprofit organization we recently launched, Autism Tomorrow. The foundation will strive to provide more opportunities for adults with autism when their schooling ends. Nearly half a million teens with autism will age into adulthood over the next decade and they need our help.
Last song you had on repeat: "Fade" by Kanye West.
Last concert you saw live: My friend Mickey Madden's new project Collapsing Scenery. They played at a house party in the East Village.
How you get your news: News apps.
Favorite Instagrams to follow: @bonappetitmag, @mynewroots, and @eyeswoon. I have an obsession with food blogs at the moment.
Last thing you do before bed: Do not disturb mode on.
Photos: Victoria's Secret Model Jacquelyn Jablonski Loves a Good Russian Novel
Jacquelyn Jablonski at New York Fashion Week 2016. Photo via Getty Images.
Jablonski with her brother, Tommy, at her Autism Tomorrow benefit earlier this month at Milk Studios. Photo courtesy of @jacquelynjablonski.
Jablonski walking the 2015 Victoria's Secret Fashion Show. Photo by Adam Jeffery/CNBC.
Jacquelyn Jablonski at amfAR's 23rd Cinema Against AIDS Gala in May, 2016. Photo via Getty Images.