Natural Insticts
For Jacques An Lanh, the stuff of dreams lies in the organic.
---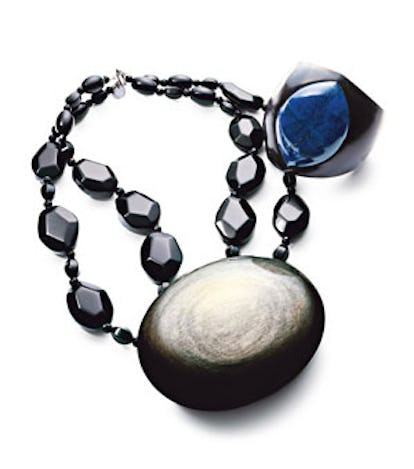 There's something slightly clandestine about meeting Jacques An Lanh at Harry's Bar, a storied watering hole situated a stone's throw from Paris's Place Vendôme. Once settled into a dark corner of the wood-paneled room, the jewelry designer begins to meticulously empty the contents of a black leather case. He reveals a palm-size pendant: a smooth slab of a mushroom-colored mammoth tusk. On it, ivory pegs hang from leather cords, clattering against one another like wind chimes. He then snakes a faceted onyx necklace, with a shimmering planetlike obsidian stone at its end, across the table.
Jacques An Lanh's 18k gold, antique ivory, Andamooka opal and gold nugget necklace, $34,000, to order, jacques .an.lanh@wanadoo.fr.
"I like to work with rare materials not typically used in jewelry," says An Lanh, who notes that all the ivory in his designs is antique, sourced from licensed suppliers and merchants. Today, An Lanh is dressed in a black Prada suit, his coy demeanor offering a stark contrast to his bold, look-at-me creations. He currently has a particular penchant for fossils. "I find the transformation of matter, and the textures, fascinating," he says, sliding his hand over a petrified dinosaur-bone pendant nestled among a cluster of Botswanan carnelian beads.
"Jacques is madly talented," says Dauphine de Jerphanion, an accessories and perfume stylist for the tony Paris department store Le Bon Marché. "He has a very unusual way of mixing materials, producing bold ethnic-chic pieces that have a modern allure. They're collector's items."
Jacques An Lanh.
With awesome combinations of unwonted stones, wood and bone, An Lanh's jewelry ranges in price from about $500 for a stingray skin bangle to $40,000 for more exceptional creations such as a necklace made from a ragged plaque of Tanzanian ruby and green tourmaline beads. "I never think about the prices of stones, as I know I will always find a collector who admires them as much as I do," he reasons.
Indeed, the designs have caught the eye of the fashion crowd during An Lanh's 19-year career. In 2000 Hanae Mori made a suit for Princess Masako of Japan and commissioned An Lanh to craft its pebble-shaped, polished jet buttons. The next year Jean Paul Gaultier recruited him to design accessories for his couture show, a collaboration that continued through spring 2005. Pièces de résistance included bold turquoise stingray skin cuffs for Gaultier's tribal-chic spring 2004 couture collection and drop earrings in petalesque ebony clusters for the designer's African-inspired spring 2005 couture show.
Born in Saigon, An Lanh, 53, grew up under the influence of such Asian traditional heirlooms as his family's "ancestors' altar," an ornate ritual stand decorated with engraved mother-of-pearl that dates back to the early 19th century. Yet aside from a two-year stint in the Eighties working for jeweler Christian Astuguevieille, who at the time supplied costume designs for both Lanvin and Claude Montana, An Lanh is completely self-taught. "I was intrigued by Astuguevieille's work, but it wasn't my sensibility," says An Lanh, who was eager to create a timeless line rather than ephemeral looks for the fashion set. "I wanted to design pure ethnic-inspired pieces with a modern allure."
Jacques An Lanh's sterling silver, tourmaline and Tanzanian ruby necklace, $40,000.
In 1989 An Lanh launched his own company, crafting audacious Babylonian costume jewelry honed from bronze and semiprecious cabochon stones. Forms were inspired by the plant and animal kingdoms, with An Lanh sketching the designs and outsourcing production to various ateliers around Paris. The items quickly attracted the attention of jewelry collectors and buyers alike; his first order came from Henri Bendel.
It was an invitation to participate in a jewelry exhibition at Saint Germain des Prés's Richard Treger gallery in 1995 that awoke the designer's fascination with natural stones. For the event, An Lanh crafted a monumental algaelike breastplate from blackened bronze and showered it with drops of rock crystals. "It was the first time I had a go at shaping and polishing raw stones myself," he recalls. Eager to learn more about the technique, he embarked on a series of journeys, first to Germany—home to some of the world's finest stonecutters, An Lanh says—and then to the United States, on a mission to locate prospectors of rare rocks.
Still, the designer points out that he's no Indiana Jones. "I could never picture myself scrabbling down mines or traveling to Siberia in search of mammoth tusks in the ice," says An Lanh, adding that he sees himself as a stylist and that his main concern then was to get a solid production team in place to quickly turn pieces around. "Today it's the stone that drives the piece," he notes.
To illustrate that point, An Lanh raises one rare specimen—a piece of quartz shot with a star-shaped burst of golden rutile—up to the light for inspection. "I need to be surprised by the elements that I work with," he says, "before I can surprise others."