Jaden Smith Skates Into Action in Skate Kitchen Trailer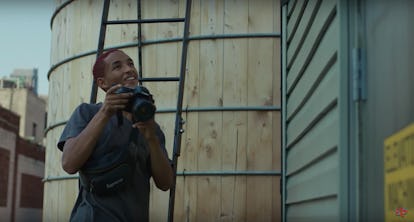 YouTube/Magnolia Pictures & Magnet Releasing
The first trailer for Skate Kitchen debuted on Thursday, and even though it's a little light on the Jaden Smith action, the gritty coming-of-age narrative digs a lot deeper into the power of youth counter-culture and female friendships.
Revolving around a ragtag group of diverse skater girls in New York City dubbed the "Skate Kitchen," an introverted girl from the suburbs (Rachelle Vinberg, a real-life professional skateboarder who's guaranteed to be the film's breakout star) soon becomes embroiled in the group, mostly because she too is a skater who wants some sort of acceptance from her peers. Everything begins just fine—who wouldn't say no to some youthful hijinks involving stolen UPS carts?—but when she begins smooching and doing solo-skating outings with Smith's character, let's just say the other girls aren't amused. Don't be tempted by his charming vernacular and colorful dye job, ladies.
Skate Kitchen debuted at Sundance this winter, where it generally received solid reviews from critics. Interestingly, Smith became involved in the movie because he was already familiar with Vinberg and her fun Instagram account, which gave him the extra boost he needed to sign on to star. "I remember hearing about the project and we got a script, and I started thinking about skateboarding in New York," he explained. "I had already known [Vinberg] for, like, a year, the way that the world worked at that point in time. I was like, Wow, this must be meant to be. We had a meeting and then it was on after that; I came to New York and began skating with everybody. We would go out and skate so hard. It was beautiful."
You can see the film when it ollies into theaters on August 10. In the meantime, get things rolling with the full first trailer, below.
Related: Jaden Smith Actually Has a Good Reason for Dying His Hair Red and Never Letting Go of His Skateboard