Jaden Smith Actually Has a Good Reason for Dying His Hair Red and Never Letting Go of His Skateboard
The enigmatic actor is just trying to fit in with New York's coolest teen girls, you guys.
---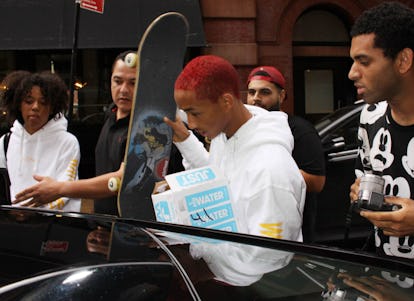 VMAL/Star Max/Getty Images
Remember last year when Jaden Smith begrudgingly stowed away his beloved dreads to come into his own as an actor with the crew of promising up-and-comers as part of Netflix's most expensive series ever, The Get Down? If you don't, that's because the show was in fact cancelled in May, though it looks like Smith's now upgraded his crew: a group of intimidatingly cool-looking teen skater girls that are totally down to hang with him—as long as he's willing to make another hairy sacrifice.
The skater girls will be Smith's costars in the upcoming, under-wraps movie directed by The Wolfpack's Crystal Moselle they all just finished filming in New York. Details about the movie are hard to come by at the moment, though there have been hints as to what's to come thanks to Smith's even more eye-catching appearances as of late. After cutting off his signature dreads—and bringing them along as an accessory to this year's Met Gala—Smith has recently adapted to his suddenly shorn locks by bleaching them blonde. Over the last week or so, though, his buzz cut has suddenly turned bright red. (The better to see his unreal eyes with, I guess.)
Luckily, his younger sis Willow already set the stage for him when it comes to telling mom and dad: Their father, Will Smith, recently opened up to Jay-Z about how Willow shaving her head actually taught him a lesson about fatherhood. To their mother, Jada, that message was about empowerment: She's always wanted her daughter to have "the power to always know that her body, spirit and her mind are HER domain," she wrote on Facebook at the time.
For a 19-Year-Old, Jaden Smith Has Certainly Had a Lot of Interesting Hairstyles
At six years old, Jaden Smith attends the Shark Tale New York premiere with father Will Smith in 2004.

Photo by Getty.
A young Jaden Smith arrives for a taping of the Late Show with David Letterman in 2006.

Photo by Getty.
Attending the The 79th Annual Academy Awards in 2007, the young actor wears his hair in tight curls.

Photo by Getty.
In 2008, Smith attends the Kit Kittredge: An American Girl premiere in New York wearing his hair in voluminous curls.

Photo by Getty.
Posing alongside sister Willow Smith at the Hannah Montana The Movie premiere in Hollywood in 2009.

Photo by Getty.
At the 2010 BET Awards in Los Angeles, Smith pairs his brushed out curls with a pair of black sunglasses.

Photo by Getty.
Attending the Transformers: Dark Of The Moon premiere in New York in 2011, Smith wears his hair in tight braids.

Photo by Getty.
Debuting his freshly chopped buzz cut, Smith attends the 2012 Nickelodeon Kids' Choice Awards in Los Angeles.

Photo by Getty.
Adding a touch of golden blonde frosted tips to his buzz cut, Smith attends BET's Rip The Runway in 2013.

Photo by Getty.
Ditching the blonde highlights, Smith attend the Los Angeles premiere of the Ender's Game in 2013.

Photo by Getty.
At the 2014 American Music Awards in Los Angeles, the actor wears his hair in wild curls topped off with a baseball cap.

Photo by Getty.
Attending the 2015 Harper's Bazaar ICONS Party in New York City, Smith debuts his new freshly shaved do with grown out dreads.

Photo by Getty.
Attending the Fashion Awards 2016 in London, Smith wears his dreadlocks in a tousled high pony.

Photo by Getty.
Going back to blonde, the actor debuted his new do while carrying around his own chopped hair at the 2017 Met Gala.

Photo by Getty.
There's no word yet on how the Smiths are feeling about their son's new lawsuit against a vegan mayo startup, but judging by the cast's Instagrams, there definitely don't seem to have been any feuds on Smith's new film set. Besides Elizabeth Rodriguez of Orange Is the New Black, many of the actor's fellow stars—Dede Lovelace, Nina Moran, Ajani Russell, Kabrina Adams, Rachelle Vinberg, and Jules Lorenzo—were part of the group the Skate Kitchen that Moselle, whose directorial debut was 2015's acclaimed documentary The Wolfpack, captured for a short film titled That One Day that premiered at last year's Venice Film Festival. The tight-knit crew seems to be getting along just swimmingly with Smith; they're even putting up with him matching his hair to his hat—and to his Supreme bag.
Related: Bella Hadid Is A Master Skateboarder, According to Her New Nike Campaign Anyway
Willow Smith Fondly Remembers Her Short-Lived Pink Mohawk: