Will Smith Learned a Lesson About Fatherhood After Daughter Willow Smith Shaved Her Head
The 11-year-old was a fashion icon back then.
---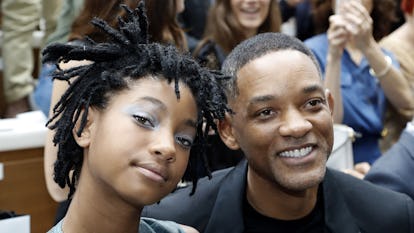 Francois Guillot/AFP/Getty Images
When Willow Smith shaved her head in 2012, no one was more surprised than her father Will Smith.
The actor opened up, alongside Chris Rock, Kevin Hart, and Mahershala Ali, and more in Jay-Z's new video "Footnotes of Adnis." According to E! News, the men discuss what they've learned from their fathers and what their children have taught them. In the beginning of the video, Jay-Z can be seen talking about his own tumultuous relationship with his father and how he has expressed that anger through music. Will Smith's story revolves around Willow, who buzzed her head at the age of 11 in the middle of her "Whip My Hair" tour.
Smith says that Willow expressed she wanted to leave the tour, but he pushed her to continue on until the end. "We came downstairs and she had shaved her head bald," he says. "She shaved her head bald in the middle of her 'Whip My Hair' tour. I was like, 'Oh, s—.'" Smith realized that he had been overlooking his daughter's needs. He continued, "I'm looking at that girl and I'm like, 'Got it. I understand. You will not have this trouble out of me ever again. Let's go, baby. We can go.'"
So what did Willow teach Smith? "For me, it was that soldier that was pushing and wasn't paying any attention whatsoever to what was going on emotionally with this beautiful little creature in front of me," he said. "That was the first part of the collapsing of my father's suit that I was wearing that wasn't mine."
Jada Pinkett Smith spoke out about Willow's hair at the time, posting on Facebook, "The question why I would LET Willow cut her hair. First the LET must be challenged. This is a world where women, girls are constantly reminded that they don't belong to themselves; that their bodies are not their own, nor their power or self determination. I made a promise to endow my little girl with the power to always know that her body, spirit and her mind are HER domain. Willow cut her hair because her beauty, her value, her worth is not measured by the length of her hair."
Willow has definitely had a transformation since her teen rock star days. She is now, at the age of 16, a Chanel muse, musician, actress, and, no less importantly, a budding style icon.
She can definitely rock any hair style—shaved head, pink Mohawk, or otherwise.
Related: Willow Smith Is Really, Really Into Covering Joanna Newsom Songs
Willow Smith Fondly Remembers Her Short-Lived Pink Mohawk:
Willow Smith Graduated to Style Star in 2016
December 6th: Willow Smith attends 'Chanel Collection des Metiers d'Art 2016/17: Paris Cosmopolite' Show in Paris.

Photo by Getty Images.
May 2nd: Willow Smith attends the 'Manus x Machina: Fashion In An Age Of Technology' Costume Institute Gala at Metropolitan Museum of Art in New York City.

Photo by Getty Images.
Willow Smith arrives at the Chanel show as part of the Paris Fashion Week Womenswear Fall/Winter 2016/2017.

Photo by Getty Images.
February 25th: Willow Smith and singer Janelle Monáe attend the I Love Coco Backstage Beauty Lounge at Chateau Marmont's Bar Marmont in Hollywood.

Photo by Getty Images.
APRIL 14th: Willow Smith is seen at LAX in Los Angeles, California.

Photo by Getty Images.
October 22nd: Willow Smith attends the 26th annual EMA Awards at Warner Bros. Studios in Burbank, California.

Photo by Getty Images.
May 3rd: Jada Pinkett Smith and Willow Smith attend VH1's 'Dear Mama' Taping at St. Bartholomew's Church New York City.

Photo by Getty Images.
December 8th: Willow Smith and Jada Pinkett Smith leaving LAX.

Photo by Getty Images.
June 4th: Singer, actress Willow Smith performs during 9th Annual Roots Picnic at Festival Pier at Penn's Landing in Philadelphia, Pennsylvania.

Photo by Getty Images.