Jaden Smith's Bottled Water Startup Is Suing a Vegan Mayo Startup in a Feud Made for the Big Screen
It's JUST vs. just, Will Smith vs. Peter Thiel.
---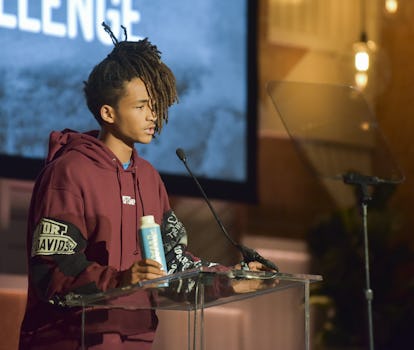 Rodin Eckenroth/Getty Images
We were all a little perplexed when Jaden Smith started bringing bottled water as his date to a red carpet last year, holding it up to his ear the way some hip-hop artists have been known to hold up wads of cash. Towards the end of the year, it emerged that Smith had invested in a bottled water startup, Just Water, which produces sustainably sourced and priced cardboard bottled water, sold at such eco-friendly strongholds as Whole Foods.
Smith, according to a story for New York magazine last year, can "definitely taste the difference in different kinds of water," and he reports Just Water's profile as "crisp and natural."
Smith, it seems, is holding tight to the "Just Water" name and its crisp, natural taste: In the latest in a string of setbacks for Just Mayo—a vegan mayonnaise substitute manufactured by the startup Hampton Creek—Just Goods, the parent company of Just Water, has filed a suit alleging Hampton Creek has violated a previous trademark agreement.
When Just Mayo launched several years ago, its logo was styled with a cursive "Just" and a block-capital "Mayo." Earlier this year, Hampton repackaged the faux-mayonnaise, replacing the cursive "Just" with a lowercase, sans-serif "just." At the same time, its website URL became "eatjust.com"—and, amid the rebranding, Just Goods is alleging the new logo creates confusion with Just Water's own. Even further, the suit purports Just Mayo is rebranding to distance itself from its own struggling reputation. Given Hampton Creek's recent controversy—even before its entire board resigned en masse, it had been confronting a backlash over reportedly urging its own employees to buy its products, over its failure to list GMO ingredients, and over its attempts to grow meat in a lab—it's certainly not a brand with which Smith's noble bottled water wants to be affiliated.
Just Goods is planning an expansion into flavored water territory later this year, giving it all the more reason to be a bit uncomfortable with Hampton Creek's plans.
There is a precedent for the suit, too: According to Bloomberg, which first reported the latest litigation, Hampton Creek's chief executive Joshua Tetrick (the sole remaining member of the board) signed a contract in 2014 that "stipulates that the food maker must adhere to a previous design, with cursive and smaller font, unless it receives permission from Just Goods." That means all caps for Just Goods, lowercase for Just Mayo.
The suit has all the trappings of a big-screen draw: The beloved celebrity scion versus the obscure startup; the roster of good guys versus supervillains (on Smith's team, we have, of course, Will Smith, as well as Queen Latifah and Lionel Richie, while Just Mayo's team boasts, well, Peter Thiel). In the battle of vegan mayo versus bottled water, who comes out on top?
Jaden Smith's sister Willow spent her birthday chilling on the beach with friends: