Jaden Smith on Saving the Planet, a Brand New Album, and Why Prom Was More Stressful Than the Met Gala
"With your girlfriend and stuff, there's expectations."
---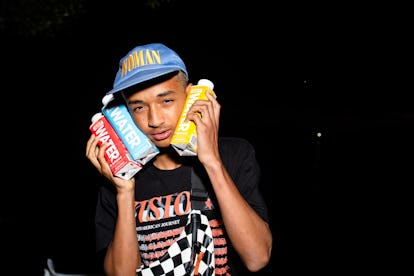 Madison McGaw/BFA.com
If you were in the Hamptons last weekend and thought you may have spotted a certain Hollywood scion surfing at Ditch Plains Beach, that wasn't your hangover playing tricks on you. That was in fact Jaden Smith, taking Montauk.
It was World Ocean's Day on Friday, June 8th, that took Smith to Montauk's perennially popular destination The Surf Lodge, who was hosting a full on World Ocean's Weekend, complete with an intimate luncheon on Saturday that brought together Smith, the Surfrider Foundation CEO Chad Nelsen, The Surf Lodge's Jayma Cordoso, and pro-surfer Evan Valiere, among others. Later that evening, there would also be a performance by Smith, as well as an intimate dinner hosted by the Surfrider Foundation and JUST Water, and, the next day, a tea ceremony hosted by Cynthia Rowley.
For his part, Smith was there because of JUST Water, the sustainable boxed water company where he has served on the board for nearly eight years. Which, if you're doing the math, means, yes, he got onboard when he was 11 years old. "I started surfing, and then I started learning about what was happening to the environment and what is hurting the environment," he recalled. "That's when I decided I wanted to do something better for the world. In my small corner of the world, I wanted to be a part of doing something better, and at least pushing the envelope and starting something for the next generation of humanity. I wanted to create something that didn't have such a big carbon footprint as a start."
In fact, you might be familiar with the boxed waters, which were plentiful all weekend at The Surf Lodge, thanks to the red carpet and paparazzi pictures of the 19-year-old carrying them. Which is by design. "We were hoping [people would notice]!" Smith said. "It was something we created. It's our child. We were hoping people around us would want to do the right thing and once they knew, they would want to do the right thing around us."
Most recently, however, Smith made headlines for another red carpet prop: his framed gold record for his latest album Syre, which he proudly carried at the Met Gala in May. "I got it that day," he explained. "It was totally spur of the moment. I told everyone I was bringing it. I mean, I didn't tell anyone from the Met, but everyone on my team knew."
On July 8, he'll release a completely new version of Syre. "I wanted to do a version of the album with just guitars," he said. "I always bring my guitar to the beach. It's a very grassroots feel. So I wanted to have more of a grassroots version of my album where I could just pull out my guitar and be like, 'Hey guys, gather around.'"
But wait, there's more. Last week, he teased a surprise drop on his Twitter: "On June 22nd I Have A Surprise For You And It's Not An Album," he tweeted. Turns out, the surprise is a new music video for a song no one has heard yet; in fact, it's a track from an unannounced album he hopes to release in January 2019. "I've been recording here in New York and it is very rap heavy. It's a lot of raps," he said. "L.A. is more slow, chiller, more colorful. New York is darker and faster."
In between helping to save the world and recording albums, Smith is also finding the time to enjoy the simpler things in life; namely, attending prom with girlfriend Odessa Adlon. But, as it turns out, the simple things can be the most difficult. "Actual prom was more stressful [than the Met Gala]" he said. "I was more stressed at actual prom. Because with your girlfriend and stuff, there's expectations—prom is supposed to be like this and boyfriends are supposed to act like this. At the Met, I was just a free bird and really living my best life. But prom was really stressful. I had to really sharpen up for prom."
With prom under his belt, Smith is now moving on to the next rite of passage: saying goodbye to his teens. He turns 20 on July 8—not that he's worried about aging out of his teens. "I feel like I'm not [turning 20]." he said. "Tyler the Creator is still crazy, so I'm still going to be crazy, too."
Related: Willow Smith Says Growing Up in the Spotlight Has Been "Absolutely, Excruciatingly Terrible"