Willow Smith Says Growing Up in the Spotlight Has Been "Absolutely, Excruciatingly Terrible"
The 17-year-old got really, really real in a new interview.
---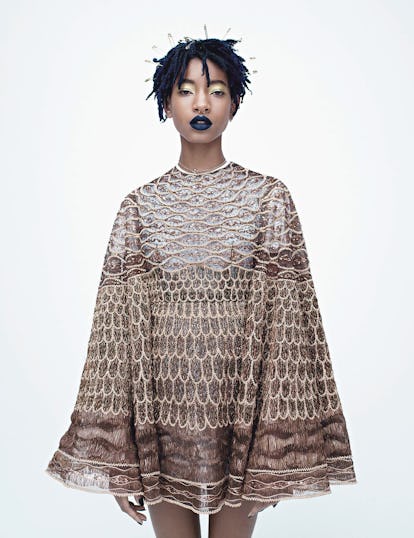 Willow Smith was just 10 years old when she released her single "Whip My Hair," an amusingly accomplished entrance into stardom that, in retrospect, seems more like evidence of the inhumane pressure on child stars. Indeed, seven years later, Smith now seems much less enthusiastic about her early start than she did in 2010, when she simultaneously sang and swung her long braids around with unbridled enthusiasm in a video that's since gotten over 216,000,000 views.
"Growing up and trying to figure out your life while people feel like they have some sort of entitlement to know what's going on, is absolutely, excruciatingly terrible," Smith, now 17, told Girlgaze in a strikingly honest interview, published on Friday. "The only way to get over it, is to go into it. You can't change your face. You can't change your parents," she continued of what she's learned from having Will Smith and Jada Pinkett Smith as her mom and dad. "When you're born into it, there are two choices that you have; I'm either going to try to go into it completely and help from the inside, or… no one is going to know where I am… and I'm really going to take myself completely out of the eye of society. There's really no in-between."
Smith, of course, opted for the former option, though she hasn't exactly been pleased with the results: "I'm going to be completely and utterly honest, it's absolutely terrible," she continued of what it's been like to grow up as a teen in the public spotlight. "I feel like most kids like me end up going down a spiral of depression, and the world is sitting there looking at them through their phones; laughing and making jokes and making memes at the crippling effect that this lifestyle has on the psyche."
Willow Smith Graduated to Style Star in 2016
December 6th: Willow Smith attends 'Chanel Collection des Metiers d'Art 2016/17: Paris Cosmopolite' Show in Paris.

Photo by Getty Images.
May 2nd: Willow Smith attends the 'Manus x Machina: Fashion In An Age Of Technology' Costume Institute Gala at Metropolitan Museum of Art in New York City.

Photo by Getty Images.
Willow Smith arrives at the Chanel show as part of the Paris Fashion Week Womenswear Fall/Winter 2016/2017.

Photo by Getty Images.
February 25th: Willow Smith and singer Janelle Monáe attend the I Love Coco Backstage Beauty Lounge at Chateau Marmont's Bar Marmont in Hollywood.

Photo by Getty Images.
APRIL 14th: Willow Smith is seen at LAX in Los Angeles, California.

Photo by Getty Images.
October 22nd: Willow Smith attends the 26th annual EMA Awards at Warner Bros. Studios in Burbank, California.

Photo by Getty Images.
May 3rd: Jada Pinkett Smith and Willow Smith attend VH1's 'Dear Mama' Taping at St. Bartholomew's Church New York City.

Photo by Getty Images.
December 8th: Willow Smith and Jada Pinkett Smith leaving LAX.

Photo by Getty Images.
June 4th: Singer, actress Willow Smith performs during 9th Annual Roots Picnic at Festival Pier at Penn's Landing in Philadelphia, Pennsylvania.

Photo by Getty Images.
Smith has recently made her own contribution to that commentary with her second album, The 1st, which she wrote and produced herself. She's described it as the "emotional regurgitation from the depths of a burgeoning woman," but it also doubles as a PSA for the importance of self love—something she points out kids her age, whom she described as the "most anxious," need more than ever. "This generation is hypersensitive spiritually, physically, mentally, emotionally. So when we look on our phones and we see people dying right next to us and we're sitting there about to go get a latte—that breaks you down. It's not just the phones. The phones are just a tool. The phones just heighten what was already happening," she said.
Somehow, however, Smith is already aware of all this at just 17, and she has a refreshingly mature take on other matters that adults would do well to listen to, too: "If other women aren't going to respect other women," she continued, "we are pretty much f—ed. I try to talk to other women about, you know, listening to misogynistic music and paying to see misogynistic rappers and putting their energy into things that are only going to hurt them in the long run, and we just all need that awareness I think."
Meanwhile, her 19-year-old brother Jaden has dealt with growing up under a similar spotlight by carrying around his dreadlocks and suing a vegan mayo start-up—moves that seem simply ridiculous at first glance. But coming from a set of siblings who proved themselves to be philosophers three years ago, when they were both in their early teens, Jaden's most perplexing recently moves may have all this time actually been cutting cultural commentaries.
Related: The Lesson Willow Smith Taught Her Dad Will Smith When She Shaved Her Head
Willow Smith Fondly Remembers Her Short-Lived Pink Mohawk: