Jaden Smith, Dedicated Environmental Advocate, Made a Powerful Statement by Carrying Boxed Water on the Red Carpet
That's one way to use your plus one.
---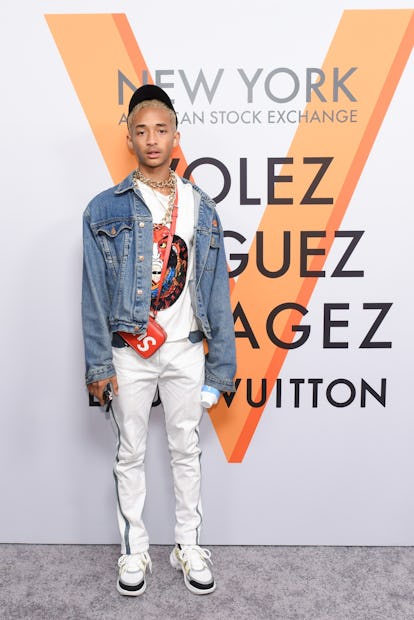 Zach Hilty/BFA.com
Louis Vuitton has long held a passionate place in the hearts of many, and in the traveler's heart in particular. Last night, the house's exhibition Volez, Voguez, Voyagez made its way to New York and arrived downtown in the sprawling former New York Stock Exchange. First shown in Paris, Tokyo, and Seoul, the exhibition showcases Vuitton's developed history of crafting trunks, bags, and sea-, air- and train-ready apparel, looking back to pieces from the 1800s and up to recent collections.
Need a better picture? Think picnic sets and copper trunks from the early 1900s, letters written by the original Mr. Louis Vuitton, the library trunk owned by Ernest Hemingway that held the manuscript for The Moveable Feast for years after his death, as well as dresses by Marc Jacobs, that very-coveted Supreme board by Kim Jones, and of course, recent pieces by Nicolas Ghesquière, including Alicia Vikander's sweeping canary yellow Oscar gown. As in the case of the Olivier Saillard-curated exhibition, there was an air of fantasy in the mood last night as the show was unveiled.
As always, Ghesquière's faithful and very famous devotees populated the space. There was Léa Seydoux in a gilded baroque coat from the Spring 2018 collection, Jennifer Connelly making her way in with husband Paul Bettany, and Vikander herself arriving hand in hand with the designer. Also in attendance: Zendaya, Laura Harrier, Riley Keough, and Alexander Skarsgård, sporting an unusual new haircut.
"[When I wore Vuitton to the Golden Globes] I got fitted for the toile, which is the fabric that you wear before they do the actual dress, and I remember thinking, 'I would wear this to my wedding,'" recalled Ruth Negga from the exhibition's entrance. "The toile even is just exquisite. I remember thinking, 'This is true artmanship.' And that's what I appreciate about art in general, and it doesn't matter where it is- if its in painting or acting or anything else. That attention to detail is really special."
Jaden Smith arrived with his token boxed water—the seemingly perennially thirsty scion is the founder of the eco-friendly water company JUST Water—as his plus one, making a beeline to greet Harrier, as Jeff Koons and Natalia Vodianova made their way in together. Nearby, Adèle Exarchopoulos and Michelle Williams waxed poetic about their favorite Vuitton memories. "I think the bags are what stay the most [in my life]," said Exarchopoulos. "I still have my first malle actually!"
"It's so nice to come out and support Nicolas because he is truly a wonderful human being," mused Williams. "Every time we see each other it's just catching up on what's been happening."
After the opening, guests headed over to Pier 17 where Mark Ronson deejayed many of his own hits and the champagne flowed. "I love the excess," noted one photographer, as guests made their way to the bar and danced through the hallway. "We all work so hard in this industry—we need it."
Related: Even French Actress Adèle Exarchopoulos Wants the Return of Destiny's Child
Willow Smith Spent Her Birthday Chilling on the Beach with Friends